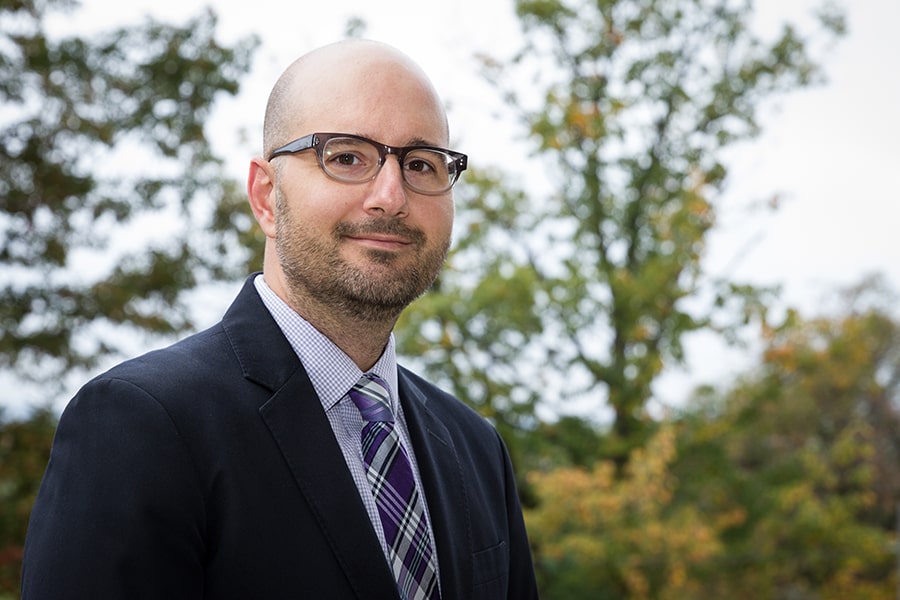 February 20, 2019
Personal Mentions
Professor Costa Samaras was recently named the 2019 American Society of Civil Engineers Pittsburgh Section's Professor of the Year for his commitment to the profession and to cultivating young students. "Professor Samaras is welcoming and supportive with all of his students and colleagues. He is a humble person, motivated by a spirit of service and has unique abilities to connect with and inspire students," said Dave Dzombak, head of the Civil and Environmental Engineering Department. Samaras' research focuses on topics relevant to modern civil engineering, including design, construction and operation of infrastructure that uses new technologies, minimizes environmental issues and addresses the future impacts of climate change. Samaras directs the Center for Engineering and Resilience for Climate Adaptation and is an affiliated member of CMU's Scott Institute for Energy Innovation. He also is an adjunct senior researcher at the RAND Corporation. Learn more.

Benjamin Moseley, assistant professor of operations research at the Tepper School, has earned a $500,000 NSF CAREER Award to support future research in the development of large data processing algorithms for problems arising in graph processing, data mining and bioinformatics. Moseley's research will analyze various approaches to design algorithms, which will give data scientists tools to learn more from the large amount of data being gathered from domains such as social networks, biological sequences and online consumer behavior. Moseley, who joined the Tepper School in 2018, also is an assistant professor of machine learning in the School of Computer Science and a member of the Ph.D. program Algorithms, Combinatorics and Optimization. The NSF CAREER Award supports early-career faculty who will serve as research and education role models and is the most prestigious award granted by the National Science Foundation for early-career faculty. Find out more.

Kathryn Roeder gave the 2018-2019 Norman Breslow Endowed Lecture at the University of Washington on Feb 7. She presented the lecture, "Transcriptome: Analysis of Single Cell and Bulk RNA Sequence Data." The Norman Breslow Endowed Lecture was established in 2006 in recognition of the late Norman Breslow's contributions to the field of biostatistics. The lectureship is awarded to a biostatistical scholar who has significantly contributed to methodology and applications in the health sciences. Roeder is an elected fellow of the American Statistical Association and the Institute of Mathematical Statistics, and an elected member of the International Statistical Institute. In 2013, Roeder received the Norwood Award for Outstanding Achievements by a Woman in Statistical Sciences. Roeder is vice provost for faculty and a professor of statistics and computational biology in the Department of Statistics and Data Science. Learn more.

Mohammed Larri, a first-year student at Carnegie Mellon in Qatar, won a gold medal at the 11th International Invention Fair Middle East (IIFME) last week in Kuwait for inventing an offside detector for football matches. The system detects the position of the players, and sends an automatic notification to the referee when a player is offside.  Larri, who is studying information systems, was the youngest inventor to win a gold medal in this year's competition. He is part of the Qatar Scientific Club, which sent a large contingent of inventors to the competition. A competitive football player, Larri joined the Qatar Scientific Club in 2016 and developed his idea with the help of QSC experts. "My plan is to use it here in Qatar in the 2022 FIFA World Cup," said Larri, who continues to develop and refine the system. Find out more.

Alex Hills, distinguished service professor of engineering and public policy, has been elected a senior member of the National Academy of Inventors for his work as a wireless innovator, his 19 related patents and their commercialization. Hill's inventions have resulted in two successful products —  "Site Scout," a wireless design tool sold by Helium Networks, Inc. and Skymark, Inc., and a second-generation Wi-Fi system sold by Airespace, Inc. and later by Cisco Systems, Inc. The two wireless products were offshoots of his work leading the team that built "Wireless Andrew," the world's first large Wi-Fi network. Previously, HIlls spent years living in rural Alaska, where he worked to provide telecommunication services to people in more than 100 remote Alaskan villages. He is an IEEE Fellow, a member of the Alaska Innovators Hall of Fame, and a former Alaska Engineer of the Year. In 2014, he was awarded an honorary Doctor of Humane Letters degree by the University of Alaska.

Anne Bock has been named head coach of Carnegie Mellon's volleyball team. An assistant coach for the Tartans for the past eight seasons, Bock succeeds Kim Kelly, who announced her retirement from coaching to become associate director of athletics. "Anne is the right person at the right time to take the reins of our program," said Director of Athletics Josh Centor. "She has worked alongside Kim Kelly to build the national reputation of our program, and she has an inspiring vision for our future success. Most critically, Anne models important values for our players, and the university community. I couldn't be more excited to work with her to achieve our goals." During Bock's eight years as an assistant, the Tartans advanced to the NCAA tournament the last three seasons, reaching the Sweet 16 round last fall. Prior to joining Carnegie Mellon, Bock was an assistant coach at Princeton and West Virginia. She also was head coach at Plum High School and worked with the Pittsburgh Elite Volleyball Club as an assistant coach. Find out more.