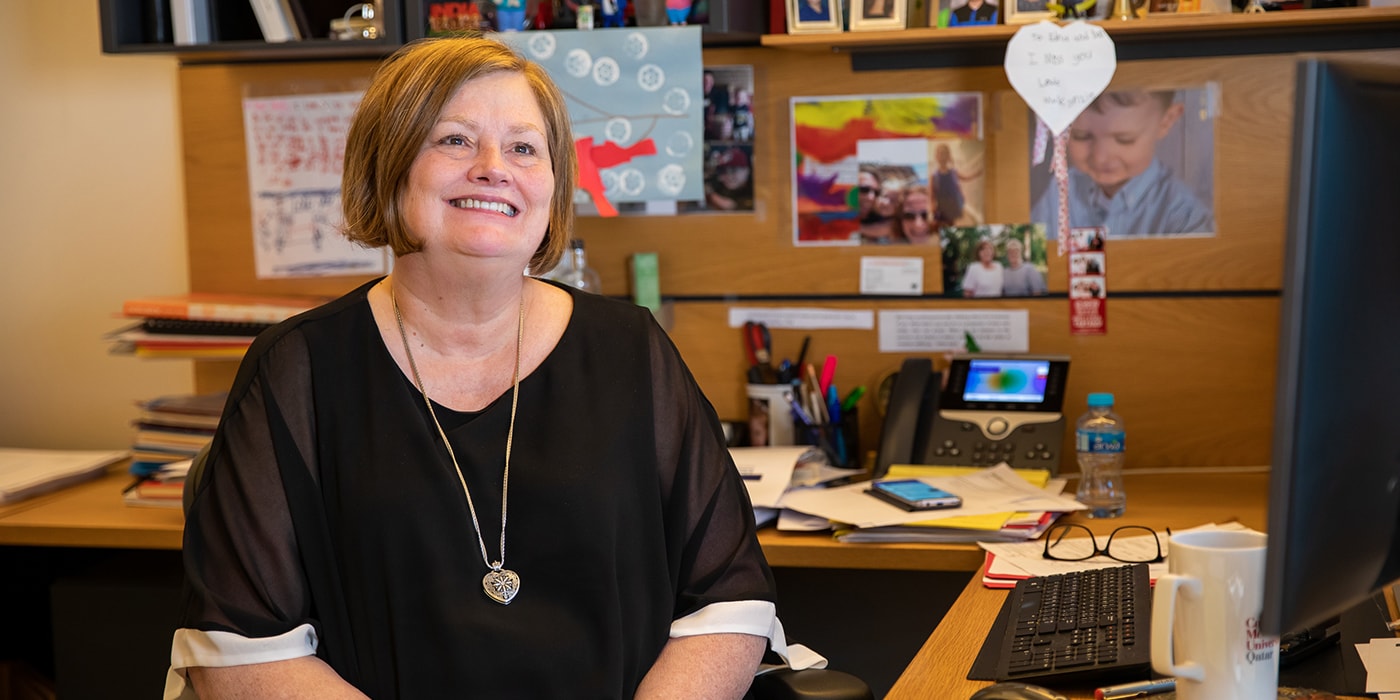 April 16, 2019
From Pittsburgh to Qatar, Jackson Has Unique View of CMU
Edna Jackson has had quite a worldly view of Carnegie Mellon University. In 30 years, she has worked for three provosts, helped establish the campus in Doha, Qatar, and then in 2014, returned to Qatar as director of the Dean's Office.

"Moving to Qatar has changed my view of the world," Jackson said. "I grew up in a small farming community of about 3,000 people, where it was a big trip to cross the state line. Since moving to Qatar, I have realized that people are the same the world round. They want to provide for their families. They want to make a difference."

Working as the assistant to three provosts during her first 25 years, Jackson had an insider's perspective of Carnegie Mellon leadership. She liked what she saw.

"Every provost approaches the job differently, but all of the provosts I have worked with have been very fair, and approached the job with integrity," she said.

Jackson first worked for the late Angel Jordan, who served as CMU's provost until 1991.
"He was very dramatic, and also very kind. I thought of him as a father figure," she said.

The next provost was Paul Christiano, who served from 1991 to 2000. "Paul and his wife, Norene, were very special people, and we became close friends. Paul was methodical and calm, and very dedicated to CMU."

In 2000, Mark Kamlet was named provost, and it was an appointment that would change the trajectory of Jackson's life.

In 2001, CMU began discussions with Qatar Foundation to establish a campus in Doha's Education City. The campus was scheduled to open in August 2004, and in February Kamlet approached Jackson with an unusual offer — would she be open to moving to Qatar for a few months to assist with the setup of CMU-Q?

"He said, 'by the way, you have to go in three weeks,'" she recalled.

By coincidence, Jackson's husband Bob had just begun a sabbatical year. With all of their children out of the house — two of Jackson's sons are now CMU alumni — she accepted the offer. Jackson spent three months helping set up the new campus with a small group of faculty and staff members.

"Bob and I were sad to leave. We wondered if we would ever be back in Qatar," Jackson said.

She did remain close to the campus, and in 2014, Jackson received an offer to join CMU-Q as director of the Dean's Office. She's been there ever since.

Reflecting on how things have changed at CMU since she started in the late 1980s, Jackson remembered a uniquely Carnegie Mellon moment from her early days in the Provost's Office.

"It was about 1990, and Raj Reddy came to the office and pulled up this new thing on my computer called the world wide web," she recalled. "How many people can say they were introduced to the world wide web by Raj Reddy?"

Although technology has dramatically changed how co-workers now interact, Jackson notes that 30 years later, the essence of CMU remains the same.

"CMU is a place you can believe in. I like to say that Carnegie Mellon gets in your blood."