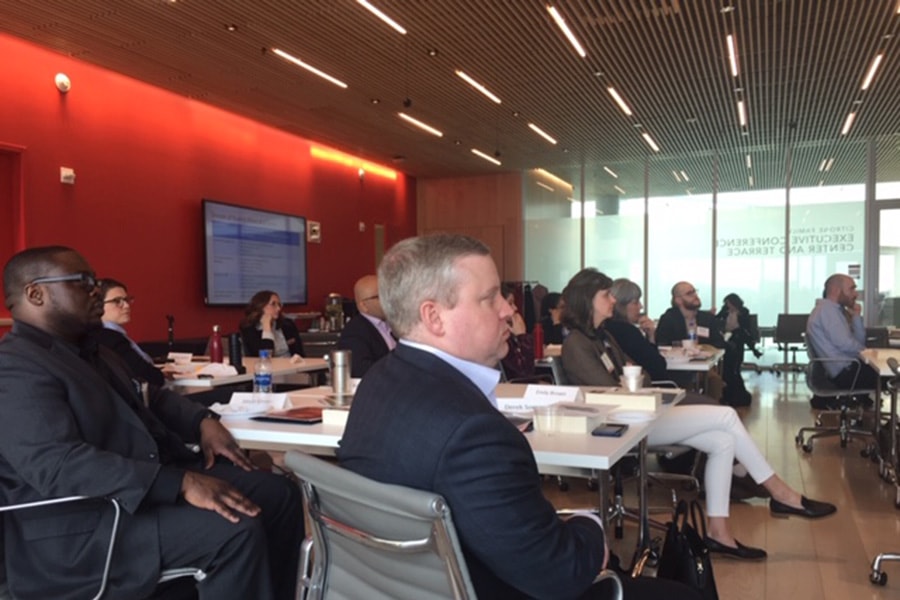 April 08, 2019
CMU Kicks Off Leadership Development Program for Staff
By Kelly Saavedra ksaavedra(through)cmu.edu
Carnegie Mellon University has launched a pilot program for staff aimed at fostering their development as leaders, expanding their networks and encouraging their stewardship of the university's mission, vision and strategic goals. This program was launched in response to the institutional needs and opportunities identified within the CMU Strategic Plan 2025 and by the Task Force on the CMU Experience.
The program — known as CMULead — consists of four day-long sessions held monthly from March to June. Its inaugural cohort of 23 participants was selected by the University Leadership Council and completed its first session on March 7.
"Leadership is a very broad and nebulous thing. It incites in us many questions as we look to become leaders ourselves," said Michelle Piekutowski, associate vice president and chief human resources officer, who is the executive sponsor of the CMULead program. "Regardless of our titles, we are leaders in everything we do, from our attitudes to our accomplishments. Being strategic, having empathy, cultivating a leadership style — these are all things that transcend any office or title."
In the first session, through presentations, panel discussions and working sessions with university leaders, the participants learned what distinguishes Carnegie Mellon from other higher education institutions. They also gained a deeper understanding of how a global research university is organized and governed, and learned about the roles and responsibilities of key areas within the institution, including its financial operations and student affairs.
Prior to the session, participants were assigned articles to read, which served as a foundation for the session content, presentations and activities.
The three remaining sessions will follow a similar format and cover the topics of strategy, vision and impact; inclusive leadership; and leading at Carnegie Mellon. At the end of the program, a participant assessment will be used to determine the effectiveness of the topics and how successful the program was in achieving its goals.
"Launching the CMULead program is a great step forward for Carnegie Mellon as we invest in our talented, dedicated and passionate CMU leaders across the university," said Gina Casalegno, vice president for student affairs and dean of students, who participated in a panel discussion during the first session. "Throughout my years at Carnegie Mellon, I have grown as a leader thanks to the mentors who invested in my ongoing development. CMULead is a demonstrable commitment to mentor and develop leaders on our staff who make important contributions to Carnegie Mellon."
Michael Poljak, an academic coaching coordinator who completed the first session, said the CMULead program has already given him a greater perspective on how many hardworking and talented individuals are devoted to their particular role, and how crucial each role is.
"It is inspiring and motivating to be in a community where everyone, from first-year students to the president of the university, is working so hard and achieving so much," Poljak said.
Shannon Riffe, director of marketing and communications for University Libraries, is excited about networking with peers and making connections that will last beyond the program and enhance her work.
"It's inspiring to hear from others about their experiences and insecurities and find out we all share similar challenges," Riffe said. "I especially enjoyed the presentations from university leaders about their respective career paths and approaches to leadership."
The program is a coordinated effort between Human Resources and Staff Council. Ashley Grice, Shabaki Lambert, John Lanyon, Tim Leonard, Ellie Monaco and Gloria Gruber comprise the program's management committee.
"We are excited to collaborate with Staff Council to provide staff with a leadership development opportunity that will help participants to develop their leadership capabilities, build their network, and inspire them to take an active role in shaping the future of Carnegie Mellon," said Gloria Gruber, senior director of people and organizational effectiveness.
A graduation ceremony for the participants will be held on Sept. 11.