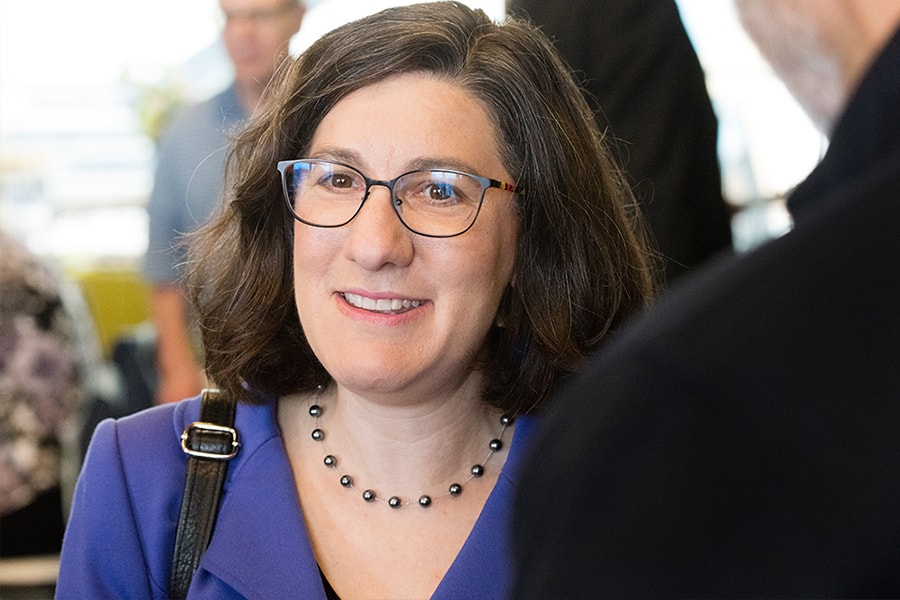 April 24, 2019
Personal Mention
CyLab Director Lorrie Cranor has received the Bosch Distinguished Professorship in Security and Privacy Technologies, enabling her to lead a new era of security and privacy research at Carnegie Mellon. The Bosch Chair provides funding support for groundbreaking research addressing important issues related to the security of our connected environment and the privacy of personal data. At the same time, the Bosch Chair affords recognition for the work and career achievements of the CyLab director. "With Lorrie and CyLab as our partner, we at Bosch are looking forward to the opportunity to help shape the future of security and privacy research, together with the world's leading institution on the topic," said Sylvia Vogt, president of the Carnegie Bosch Institute. In addition to serving as the director of CyLab, Cranor is a professor in the Institute for Software Research and in the Department of Engineering and Public Policy, and she serves as co-director of Carnegie Mellon's Privacy Engineering master's degree program.  Learn more about the Bosch Chair.

Alan Russell, the Highmark Distinguished Career Professor of Chemical Engineering, recently received the 2018 Innovator Award from the Pittsburgh Business Times for his work as CEO of startup BioHybrid Solutions. Russell co-founded the company with Krzysztof Matyjaszewski, the J.C. Warner University Professor of Natural Sciences in the Department of Chemistry, and Tonia Simakova, a postdoctoral researcher in the Matyjaszewski Polymer Group. BioHybrid was created in 2016 to produce protein-based products for a range of different industrial applications. Their process, called atom transfer radical polymerization (ATRP), was first discovered by Matyjaszewski and further developed for commercialization over years of collaborative work with Russell. BioHybrid has secured funding from both the U.S. Department of Energy (DOE) and the National Science Foundation (NSF), with plans to continue to grow and expand its business. Find out more.

Rosalind Chow, associate professor of organizational behavior and theory at the Tepper School of Business, has been named among Poets & Quants' Best 40 Under 40 Professors. Chow's research focuses on social hierarchy, justice, diversity, inter-group and intra-group processes. She has been published in major scholarly journals including the Journal of Experimental Social Psychology, Personality and Social Psychology Bulletin, and Journal of Psychology and Social Psychology. Since joining the Tepper School in 2008, she has been honored as the Tepper School's Faculty Giving Chair, and the Xerox Junior Faculty Chair. In 2016, Chow received Carnegie Mellon's Berkman Faculty Development Grant.
Carnegie Mellon student Ben Eysenbach and incoming student Bailey Flanigan will receive 2019 Hertz Fellowships. Eysenbach and Flanigan are two of 11 recipients of the fellowship this year, chosen from more than 840 applicants. They will receive up to five years of academic funding, potentially amounting to $250,000, and the freedom to independently choose what they research.

Eysenbach is currently a first-year Ph.D. student in the Machine Learning Department of CMU's School of Computer Science, where his work focuses on teaching computers how to make good decisions. He plans to study and design algorithms that allow computers to safely make decisions on behalf of humans, whether in robotics, healthcare, or education.

Flanigan will start her graduate work at the School of Computer Science in the fall. She chose CMU primarily because of its outstanding faculty and students. She intends to pursue theoretical computer science with the fellowship, and is particularly interested in the robustness and ethics of algorithms.