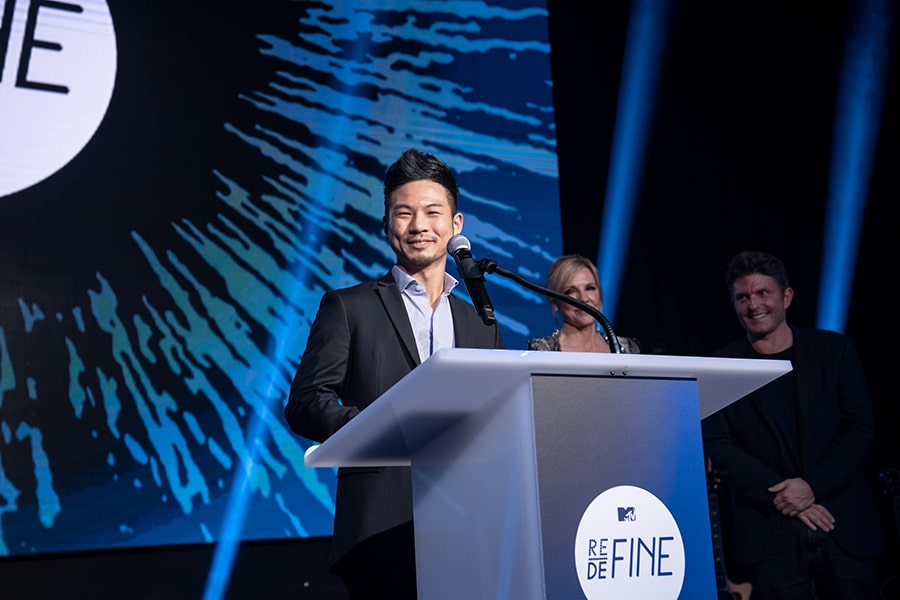 April 10, 2019
Personal Mention
Shohei Katayama, a graduating master's degree student in Carnegie Mellon's School of Art, was named the winner of the inaugural MTV RE:DEFINE Art Award at a ceremony in Dallas on Friday, March 28. The award, given by the Goss-Michael Foundation, selected Katayama from among 80 graduate students from the top 25 MFA programs from across the world. Katayama received the award for his temporary installation "Kintsukuroi | Golden Repair," which he made during a residency with artists, scientists and educators on a sailing ship in the Arctic Circle. The ephemeral work nods to the Japanese ceramic tradition of kintsukuroi — repairing broken pottery with gold — through using emergency blankets to "mend" a fractured glacier. Rather than despair at the monumental environmental challenges facing society, Katayama's work seeks to inspire hope through the amalgamation of human potential, innovation and creativity.The award comes with a $15,000 cash prize and a solo exhibition at the foundation in Dallas.  Find out more and watch the video.

Edward Dunlea has been named director of corporate and foundation relations for the Mellon College of Science, where he will be responsible for developing and maintaining relationships with key foundations and corporate and institutional partners. He first joined MCS last year as a special assistant to the dean and soon after was named director of strategic initiatives for the college. Dunlea earned a Ph.D. in physical chemistry/atmospheric chemistry from the University of Colorado, and has held post-doctoral research positions at Colorado and MIT. He earned a bachelor's degree in chemistry from Harvard University. Dunlea has worked for the National Oceanic and Atmospheric Administration and the National Academies of Sciences, Engineering, and Medicine.  

Freshman pitcher Scotty McGee made school history by pitching a complete game and going 4 for 4 at the plate to lead Carnegie Mellon's softball team to its first University Athletic Association victory last Saturday with a 7-1 decision over Case Western Reserve. McGee is a chemical engineering major fromn Huntington Beach, California. The Tartans are competing in their first season of intercollegiate softball. Find out more.

Gary DiLisio, principal academic adviser in Carnegie Mellon's Information Systems Program, received a Distinguished Alumni Award from the Counseling Graduate Program at Youngstown State University. DiLisio graduated from the program with a master's degree in counseling and an emphasis on student affairs in 2010. He was one of 10 alumni honored at the program's 50th anniversary celebration on Thursday, April 4. DiLisio joined the Dietrich College of Humanities and Social Sciences' Academic Advisory Center in 2009, and in 2017 became the first individual at CMU to earn the title of Principal Academic Adviser. In 2018, DiLisio received the Award for Outstanding Contributions to Academic Advising and Mentoring, as part of CMU's annual Celebration of Education.