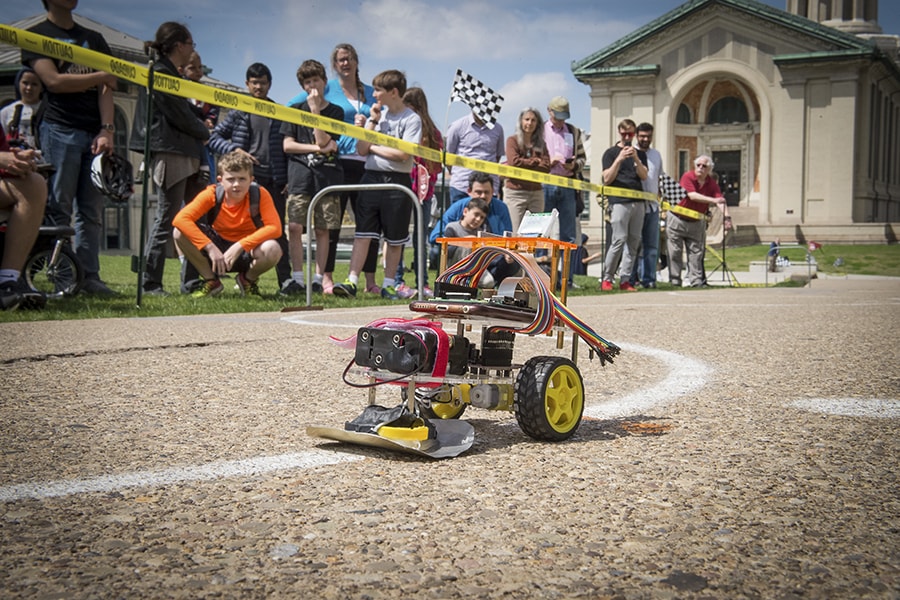 April 10, 2019
News Briefs
Spring Carnival Bonus Coverage: MoBot Turns 25
Other Spring Carnival events might receive more hoopla. Buggy and Booth participants likely spend more time preparing for and working on them. But MObile roBOTs (commonly called "Mobot") enthusiasts don't seem to mind.
For the participants and crowds — yes, crowds — that line the sidewalk in front of Wean Hall where, for the past 25 years, the Mobot Slalom Race has taken place, it's an unmissable event. Neither rain, nor snow, nor high winds keep the Mobot faithful from watching these autonomous robots crawl along the wavy white-lined course in a quest to see which one clears its 14 gates first. Lucky for recent competitors, the walkway where the race occurs received a much-needed paving a year and a half ago.
Mobots are judged on their ability to navigate sequentially through the gates, and each run is limited to four minutes. There are first-, second-, and third-place cash prizes awarded to undergraduates; an open class for alumni, staff and anyone who wants to participate; and the Ben Brown Judges' Choice Prize, for creativity, good show or anything else the judges want to recognize.
This year's Mobot Races will take place at noon on Friday, April 12, outside Wean Hall. Find out more.
Scholar-in-Residence Shribman Recalls Newspaper Career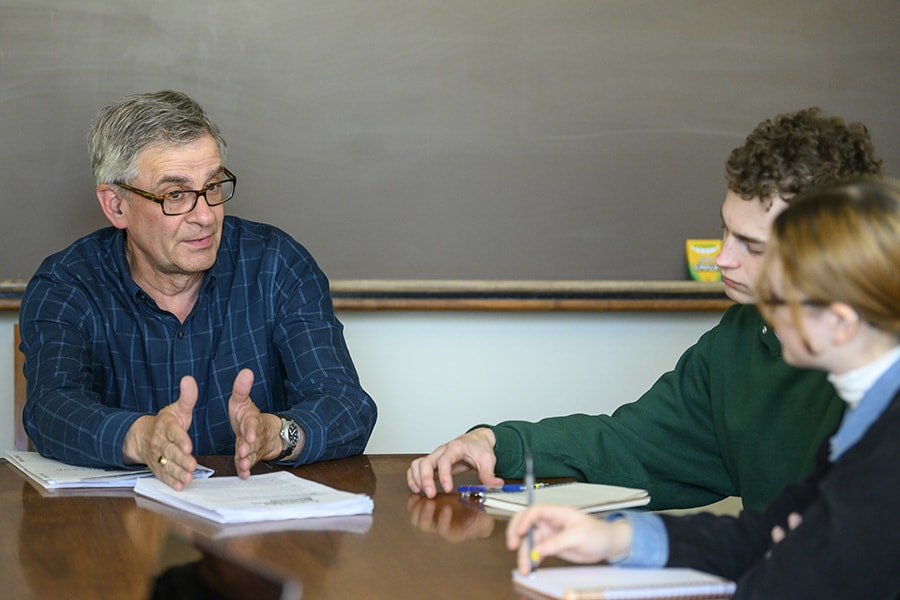 Pulitzer Prize-winning journalist David Shribman, a scholar-in-residence at the Dietrich College, will be one of the speakers at the "The War on Truth" from 6:30 p.m. to 8:30 p.m. at the University of Pittsburgh's Clapp Hall. The former executive editor of The Pittsburgh Post-Gazette, Shribman steered the paper during its coverage of the Tree of Life Synagogue shooting in October.
"I don't think any one of us was unmoved or unmarked by that day," Shribman said. "It's one of those days where life before that day and life after that day were much, much different."

That week, the Post-Gazette ran a headline that garnered national attention featuring the Jewish mourner's prayer.

"I felt that if words fail you, then maybe you're thinking in the wrong language," Shribman said. "I felt this was a way to say something for an entire community, 90 percent of whom couldn't read the words. But the message was unmistakable."
10 CMU Professors Highly Rated for Impact in Computer Science, Electronics
Ten Carnegie Mellon professors are included in Guide2Research's recently released 5th edition of top scientists for 2019 in computer science and electronics. The ranking is based on the H-Index metric provided by Google Scholar. The h-index metric is a measure to quantify both the productivity and research impact of scientists based on the number of their publications in addition to the number of incoming citations to their publications. The ranking includes a worldwide and national ranking. The 10 CMU professors and their rankings are:
The late Herb Simon (2nd worldwide, 2nd U.S., 172 H-index);
Takeo Kanade (5, 5, 157 H-index);
Christos Faloutsos (36, 26, 123 H-index);
Ignacio Grossmann (53, 38, 115 H-index);
Alex Smola (63, 48, 111 H-index);
Robert Kraut (112, 79, 100 H-index);
Edmund Clarke (113, 80, 99 H-index);
Martial Hebert (132, 94, 97 H-index);
Sara Kiesler (172, 122, 92 H-index); and
Katya Sycara (183, 128, 91 H-index).
Find out more: http://www.guide2research.com/scientists/
New Operas Explore Communication, Relationships Through Music
The Pittsburgh Opera and Carnegie Mellon once again are joining theatrical forces. Through the Co-Opera Program, students, alumni and faculty from CMU's School of Music, School of Drama and Master of Arts Management Program work closely with the Pittsburgh Opera to create new works.
This collaboration, which occurs every two years, culminates with the premieres of three new operas at 7 p.m. on Saturday, April 13, and 5:30 p.m. on Sunday, April 14 at the Pittsburgh Opera, 2425 Liberty Ave, Pittsburgh. Each opera is approximately 25 minutes with a brief pause between each opera. The operas are "Not Our First American," "Mel Rides the Bus Alone" and "languagemachine."
Find out more about the operas.
Register Your Child for Take Our Daughters & Sons to Work Day
Registration is open for Carnegie Mellon's Take Our Daughters & Sons to Work Day on Thursday, April 25.  This is the 26th anniversary of the National Take Our Daughters and Sons to Work program, and the theme is Workforce Development for All. Find out more about this year's tracks and sessions.
The Take Our Daughters & Sons to Work program introduces girls and boys between the ages of 8 and 15 to what a parent or mentor in their lives does during the work day. The program also aims to show children the value of their education and make them aware of some of the many professions and fields they can pursue.
 
In the morning, the children "shadow" their campus host. Lunch includes a welcome from the campus community and entertainment. In the afternoon, participants can attend a variety of short presentations in areas such as the fine arts, business, robotics and science and technology. Each presentation features engaging activities facilitated by faculty, staff and students. 
Volunteers Needed:  Members of the campus community are needed to assist with registration, serve as lunch aides, chaperone guided tours across campus, and monitor the children waiting to be picked up from the gym. The time commitment for each role is detailed below.
Registration volunteers are needed from 10:45 a.m. through about 12:15 p.m.;
Lunch aides are needed from 11:45 a.m. through 1 p.m.;
Guides are needed from 1 to 3:30 p.m.;
Session Presenters are needed from 1 to 3:30 p.m.; and
Monitors are needed at pick-up from 3 to 4 p.m.
Since these positions include direct contact with children as defined by the Pennsylvania Child Protective Services Law (as recently amended by "Pennsylvania Act 153") you will be required to obtain certain clearances prior to participating in the event.  Information about these clearances and how to obtain them will be provided in a separate message.
If you are interested in volunteering in any capacity, please contact Gloria Gruber at ggruber@andrew.cmu.edu or 412-268-9685.
Last Call: Swartz Center Innovation Fellows Program Seeks Applications
The application period is now open for the 2019 Swartz Center Innovation Fellows program. The program is offered to graduate students, postdoctoral fellows and young faculty — the research personnel working directly with faculty investigators on university research.
Along with entrepreneurial program content, specialized cohort activities and expert mentoring, Innovation Fellows receive a $50K contribution from the Swartz Center (with a $50K match from another source) to support the fellow's tuition, stipend or salaries and benefits in the process of commercializing university research. The deadline to apply is Friday, April 12. 
Contact Program Manager Melanie Simko with questions about the program.
Indoor Triathlon Set for Friday, May 3
The Second Annual CMU Indoor Triathlon will begin at 6:30 a.m., Friday, May 3. Open to CMU students, faculty and staff, the "Tri 3" includes a 400-yard swim in the pool or a 1,500-meter row in the Fitness Center, a 6-mile bike ride in the cycling studio, and a 1.5 mile run/walk in the Fitness Center (or on the track weather permitting).
Contact Pattye Stragar at pls@andrew.cmu.edu with any questions. Register online.