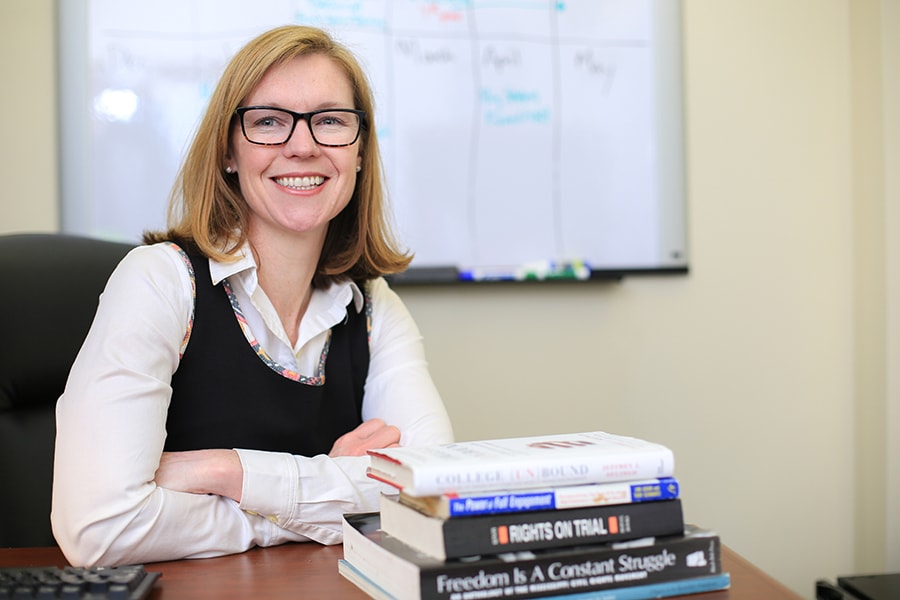 September 26, 2018
Personal Mention
Elizabeth Rosemeyer has been named director of Title IX Initiatives and Title IX coordinator, succeeding acting director and coordinator Holly Hippensteel. Hippensteel will return to her role as associate vice president for Community Standards and Diversity Initiatives in the Office of the Dean of Student Affairs. Rosemeyer was selected after an extensive search, led by Vice President for Operations Rodney McClendon in coordination with senior leaders form Student Affairs, the Office of General Counsel and representatives from across the campus community. Rosemeyer, who will be joining CMU in October, comes to her new post from Point Park University, where she served as Title IX coordinator and assistant General Counsel. She was responsible for the implementation and monitoring of appropriate policies, procedures, grievance processes and training programs related to, and in compliance with Title IX. In addition, she assisted in the processing of student, faculty and staff inquiries or complaints of Title IX violations. Rosemeyer has a bachelor's degree in international relations from Randolph-Macon Woman's College and a law degree from the Washington College of Law at American University.

Jamie Edwards-Pasek has been promoted to associate director of Title IX Initiatives. Edwards-Pasek has been serving as assistant director since April 2015, and has been instrumental to the success of Title IX at CMU. Previously, Edwards-Pasek practiced law in Pittsburgh and was a family court clerk in Trenton, New Jersey. She has assisted victims of domestic violence in obtaining protection from abuse orders and has worked with the Women's Law Project. As an undergraduate at Carnegie Mellon, Edwards-Pasek was a sexual assault adviser and a gender issues intern. She earned her bachelor's degree in political science and history & policy from CMU in 2007. She earned a law degree with a certificate in public health from the University of Pennsylvania in 2010.

Michael Scheier, the Water van Dyke Bingham Professor of Personality and Health Psychology, has been awarded the American Psychological Association's 2018 Award for Distinguished Scientific Contributions. The award, among the highest honors for scientific achievement by psychologists, recognizes senior scientists for distinguished theoretical or empirical contributions to basic research in psychology. For the past 40-plus years, Scheier and his colleague, Charles Carver of the University of Miami, who also is being honored by the APA, have been trying to understand the processes that support purposive, goal-directed action and, later, effective self-management. They provided a framework that explains where goals come from, the mechanisms that underlie goal pursuit and what happens when there are difficulties attaining goals. Then, they examined different aspects of the model, most notably, the role optimism plays in overcoming challenging goals. Scheier is the eighth Carnegie Mellon faculty member to receive this lifetime achievement award. Learn more.

Angela Blanton, vice president for finance and chief financial officer, was accepted into the Leadership Pittsburgh XXXV Class. Leadership Pittsburgh is a 10-month program for established senior-level leaders and is designed to examine critical community issues, enhance civic-engagement, and empower participants to impact their business and the regional agenda at a leadership level. This year's class includes leaders from all over Pittsburgh, from corporations to nonprofit organizations to government.