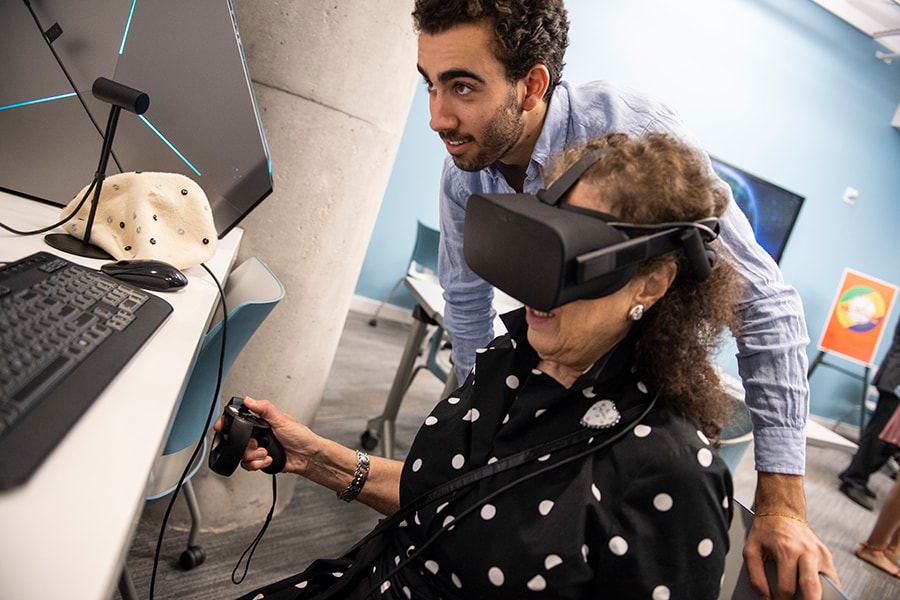 September 19, 2018
News Briefs
Global Languages and Cultures Room Brings the World to Campus
Students will soon be able to stroll down the streets of France, interact with the people of Cuba, or examine a Polish concentration camp — all without leaving the heart of Carnegie Mellon's campus.
The Askwith Kenner Global Languages and Cultures Room, a new space within the David A. Tepper Quadrangle, offers students and the community an immersive, interactive language classroom and learning space.
"It is almost like a museum, an experiential space," said Korryn D. Mozisek, director of integrative learning in the Office of the Vice Provost for Education. "It better preprares students for studying abroad and brings language and cultural experiences to those students who may not have the opportunity to study abroad."
An important aspect of studying other languages and cultures is to be immersed in that region's experience, Mozisek said. But studying abroad may not be possible for all students — there are financial concerns, travel restrictions, and barriers created by world events. The new space works to eliminate those barriers, and provide an immersive experience through the use of new technology, such as interactive documentaries and virtual reality stations.
INTERSECT@CMU Addresses Intersections of Business and Technology
The inaugural INTERSECT@CMU conference, part of the Tepper Quad's Grand Opening, brought together industry leaders, Carnegie Mellon professors and researchers to discuss the intersections of business and technology in society.
"While the opening of the new building and the INTERSECT@CMU conference might seem as though they are separate and distinct from one another, they are in fact intimately linked in important and meaningful ways," said Tepper School Dean Robert Dammon. "Today's INTERSECT@CMU conference is an embodiment of that innovative and creative culture that we have here at Carnegie Mellon."
Panels discussed the impacts of smart homes, smart cities and smart cars; how artificial intelligence will shape the future; and how blockchain technology has created a new system for business.
Jerome Pesenti, VP of AI at Facebook, presented a keynote address breaking down the various ways the company integrates the use of artificial intelligence to simplify the use of its platform.
Headspace Guided Meditation Free to CMU Community
Studies, including several from CMU's Psychology Department, show the benefits of practicing mindfulness and meditation — from reduced stress and increased creativity to better immune response and improved relationships. Headspace, a popular guided meditation app, is offered for free to the CMU Community. Faculty, staff and students can redeem their free subscription using their Andrew ID at CMU's landing page.
Here are some statistics from the last 30 days:
The number of CMU faculty, staff and students using Headspace increased by 572.
The CMU community used 2,548 meditation sessions.
The average user listened to 3.3 sessions per week.
The most popular themed sessions included meditation basics, sleep, managing anxiety and self-esteem.
If you are a CMU Headspace subscriber, you receive full access to the 900 hours+ of content for free. If you are having any issues with logging in, or if you are being prompted that your free subscription is ending, please visit our CMU launch pages on your laptop/PC:
At the above launch pages, use your Andrew ID to redeem the code shared. This will reconnect you to your existing dashboard. You may have to uninstall or reinstall the app on your phone once this is complete. For any additional concerns, you can also reach out to teamsupport@headspace.com for further assistance.

For information about Headspace, visit headspace.com. Feedback on the Headspace app can be directed to Angie Lusk, program director for CMU's Student Affairs Wellness Initiatives, at alusk@andrew.cmu.edu.
"Eye of the Needle" Documentary Screening and Art Installation
One hundred fifteen people die in the U.S. every day as the result of an opioid overdose. In Allegheny County alone, 735 people died from an overdose in 2017. Overall, Pennsylvania has the fourth highest overdose rate in the country.

These statistics are driving CMU's partnership with the Light of Life Rescue Mission to host a week-long multi-media immersive art installation on campus from Monday, October 1, through Friday, October 5, from 11 a.m. to 7 p.m. to raise awareness about the opioid crisis and its grip on our city.

The installation opens to the Carnegie Mellon community on October 1 and then to the broader Pittsburgh community for the next four days. The installation shares a name with its related short documentary, "Eye of the Needle," filmed here in Pittsburgh by Flying Scooter Productions, to draw attention to the opioid epidemic and its intersection with homelessness in the city.

The documentary and panel discussion take place on Monday, October 1, at 7 p.m. in Simmons Auditorium A in the Tepper Building. Join us at these events to learn more and to take action in the fight against this crisis in our community. Other opportunities to take action are shared in the full news story.
Alumna Uses Tech To Disrupt, Democratize Art Collecting
To connect young art collectors with emerging artists, Messay Derebe started goARTful with three co-founders in March 2017. A multi-tiered, web- and app-based subscription service, goARTful enables subscribers to borrow items and display them in their homes with an option to exchange them for other art pieces at their convenience.
Derebe, a 2015 graduate of CMU's Master of Arts Management program, created goARTful to hurdle the barriers of starting an art collection, including the cost of acquiring artwork.  "I always knew art was expensive, but you're encountering pieces that you want to buy and they're 5,000 dollars," she said.
For as little as $15 a month, subscribers can "rent" one art or photographic print per month, with an option of paying more to rent as many prints as they would like. At a $50-per-month subscription tier, users can borrow original paintings straight from the artist's studio.
Center for Machine Learning & Health Seeking Proposals, Fellowship Applicants
The Center for Machine Learning and Health (CMLH) is pleased to announce the Fall 2018 proposal solicitation for research projects. The CMLH is looking for compelling science that creates value for stakeholders, including patients and caregivers, providers, payers and health care institutions. This is an internal call for Carnegie Mellon Faculty-led projects. (Additional co-PIs or collaborators from the University of Pittsburgh and/or UPMC are welcome research team members). Proposals are due October 22, 2018.
 
In addition, we are also seeking applications for the 2018 CMLH Fellowships in Digital Health. Each fellowship provides full support for one year for a Carnegie Mellon graduate student who is pursuing cutting-edge research that advances digital health, broadly defined. Applications for the fellowships are due December 7, 2018.
 
Full details are available on our website.
CMU Community Can Find Help, Offer Services Through CareLink
Need help? Want to earn extra money? Carnegie Mellon's CareLink can help you find both within our own campus community.
All faculty, staff, students and affiliates can use this convenient forum to offer or acquire a wide range of services. Through the CareLink website, you can post needs for child care, pet care, tutoring, music lessons, lawn care, odd jobs and other services listed on the site.
You also can offer to provide services to the university community by creating a profile and posting your resume or skills summary to the site. You can recommend a service provider, and there is even an option to meet people who are willing to barter services or create a coop group.
The more people who use CareLink to find and post jobs, the more useful and dynamic it will be for the CMU community. To date, CareLink has over 2,000 users and the hope is to continue to grow the service through word-of-mouth and recommendations. Check out the website often and help spread the word!
CareLink was spearheaded by the Committee on Faculty Diversity, Inclusion and Development and is sponsored by the Office of the Vice Provost for Faculty.