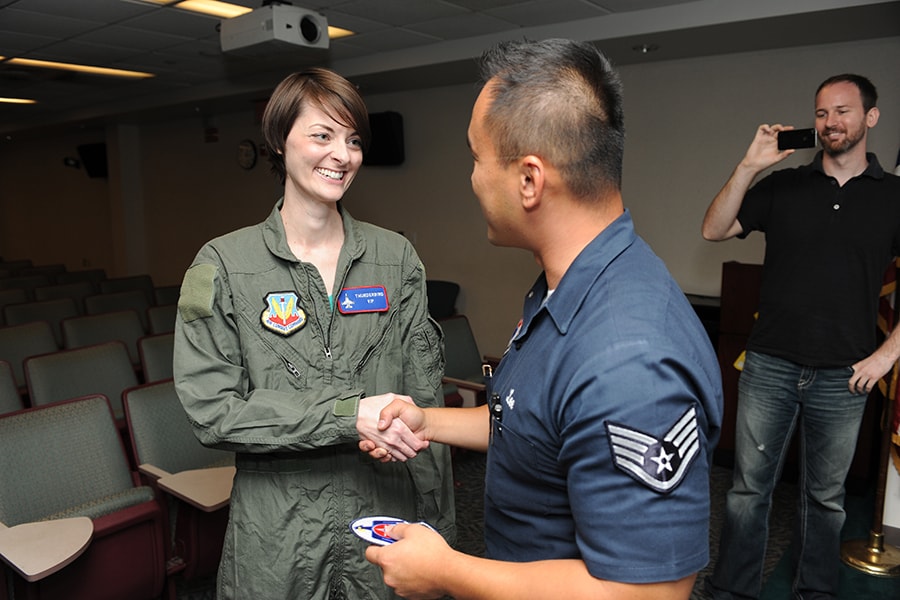 September 26, 2018
Donaldson Doubles as Hometown Hero
By Kelly Saavedra ksaavedra(through)cmu.edu
Students, faculty and staff know Laura Donaldson as an undergraduate academic coordinator in the Department of English, but under the codename "Secret Agent L," she was once recognized as a Hometown Hero by the U.S. Air Force.
Donaldson creates the department's schedule of classes, meets with prospective and current students to discuss academic programs and requirements, and compiles reports for the department head and program directors.
"This is a very exciting time for students to be studying the humanities. Some parents ask what can their child do with a degree in the humanities, and the answer is anything!" said Donaldson, who earned her bachelor's and master's degrees in English at Duquesne University.   
Away from her Baker Hall office, Donaldson is a professional actor who has performed with the Harold Pinter Studio Theatre in London, the Pittsburgh Irish and Classical Theatre, Shakespeare in the Schools with the Pittsburgh Public Theatre and in various commercials and industrial films. She also is an advocate for mental health awareness and recovery and served on the board of directors for the National Alliance on Mental Illness.
"I encourage students to take advantage of the interdisciplinary nature of Carnegie Mellon. This is the time in their lives when they should be exploring all of their passions and interests," Donaldson said. "I tell them they have a professional and personal toolkit. Everything they do here, regardless of where it may lead, is filling up one or both of those toolkits, and when they leave here and move on to their next adventure, they carry with them all of those skills and experiences that they can draw from in any situation."
One experience in her personal toolkit is her flight over Pittsburgh in an F16 with the U.S. Air Force Thunderbirds.
"To this day, it is the coolest thing I've ever done. It all started with a little internet project I had started to promote random acts of kindness around the world," she said.
Under the fictitious name "Secret Agent L," Donaldson started an online project seeking "agents" to perform, document and photograph random acts of kindness.
"They would email me all of these, and I would post them on my website. At one point, I had 2,000 agents all over the world from the U.S. to Mongolia to the Netherlands to Japan. They would leave a roll of quarters in a laundromat, or a Starbucks gift card for someone," she said.
Donaldson preferred keeping her identity anonymous for the first year. But that changed when she started to receive email from people suffering with depression or other mental health issues who had been on the receiving end of a good deed.
"These acts of kindness profoundly impacted them, and I didn't want to be anonymous anymore. I wanted to connect with them," she said.
After revealing her identity, she was selected by the U.S. Air Force Thunderbirds to fly in an F16 Fighting Falcon over Pittsburgh as part of their Hometown Hero program.
"The pilot radioed to clear airspace over downtown, and during rush hour we buzzed the U.S. Steel Tower," she said. "It was incredible!"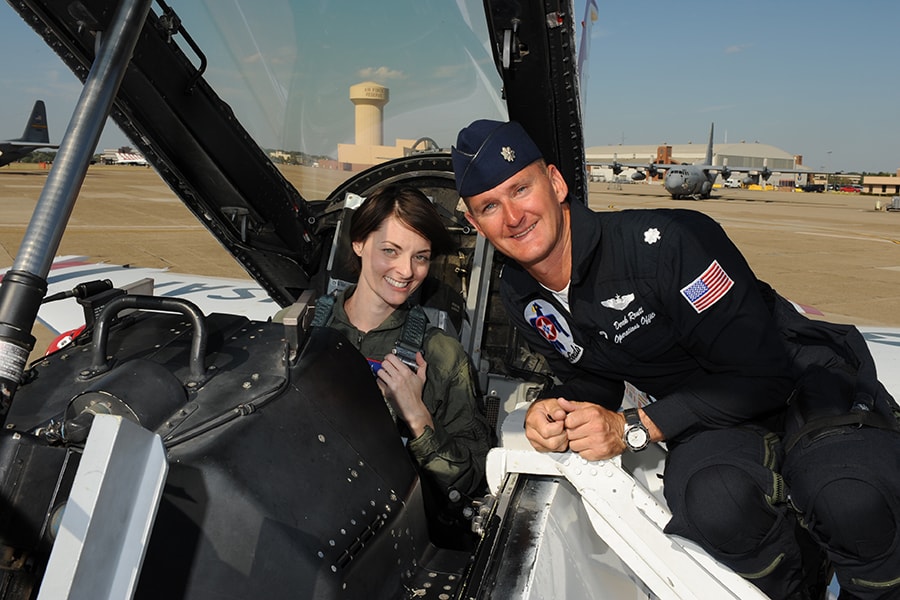 Donaldson poses for a photo with Lt. Col. Derek "Tazz" Routt, who piloted her flight in an F16 Fighting Falcon as part of the U.S. Air Force Thunderbirds Hometown Hero Program.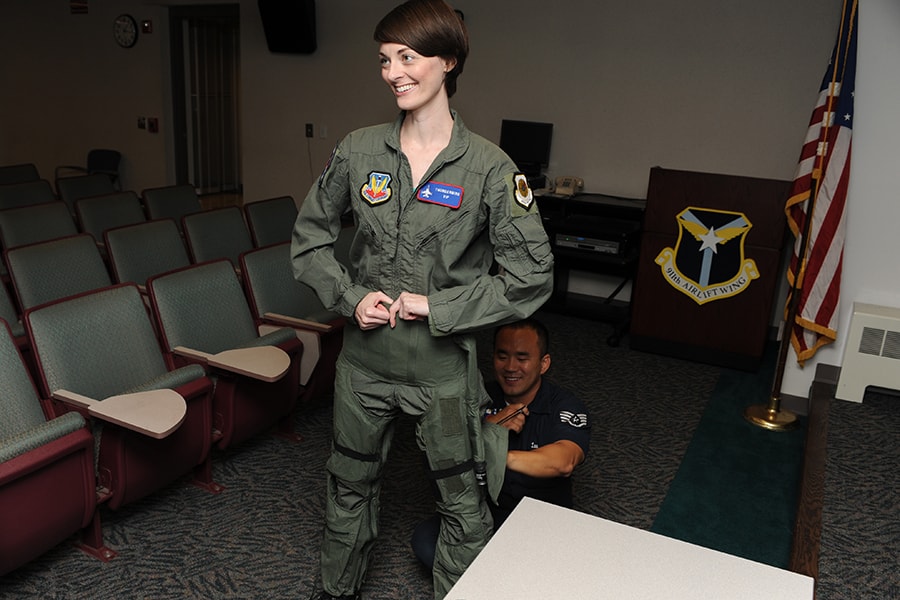 Donaldson gets laced into her special flight suit to help her body deal with the intense gravitational forces.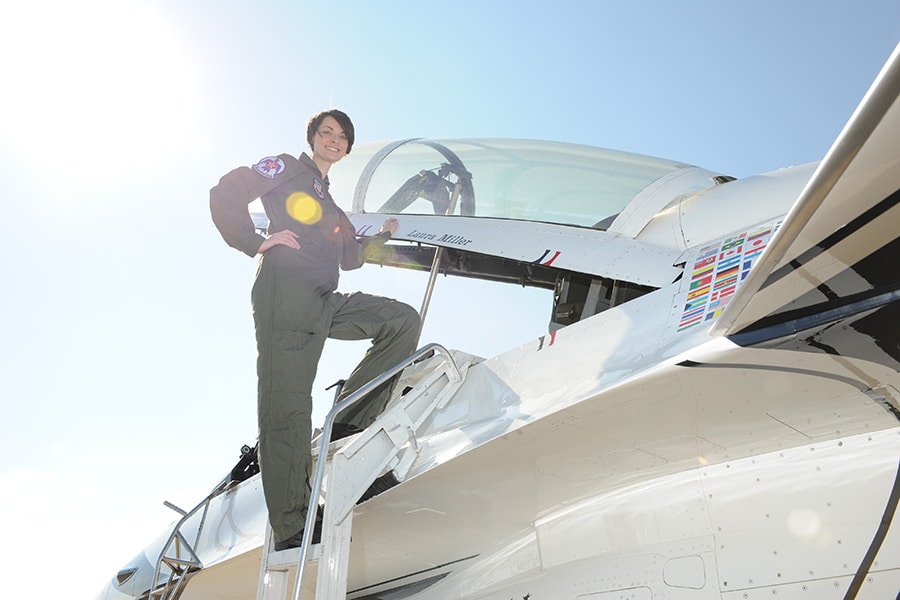 Donaldson boarding the F-16 Fighting Falcon. Her (maiden) name is painted on the side of the aircraft.