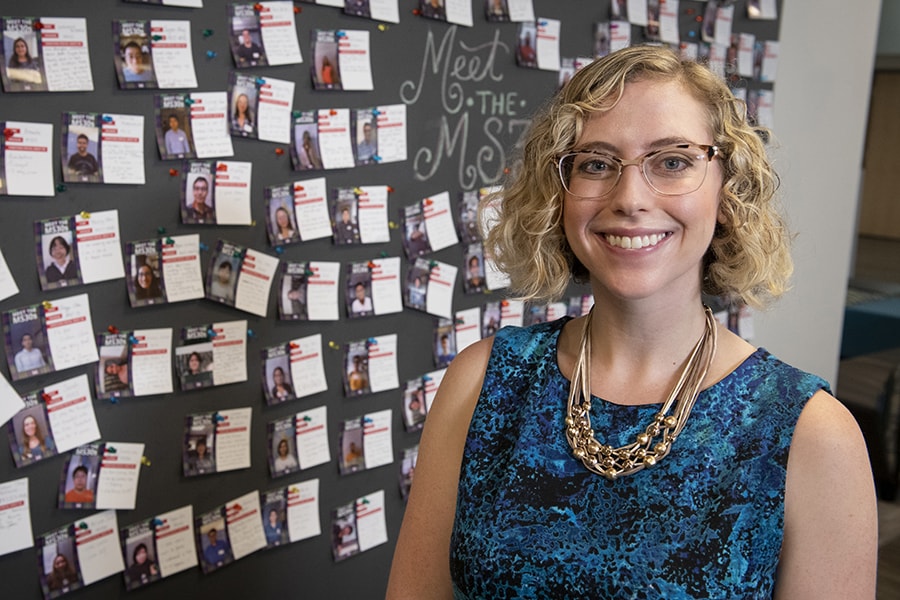 September 17, 2018
Corry Is Building Community at CMU; Leads CMWA Service Club
By Kelly Saavedra ksaavedra(through)cmu.edu
Jessica Corry is working to build relationships for the Information Networking Institute and the Carnegie Mellon Women's Association.
As assistant director of marketing and communications for the Information Networking Institute, her responsibilities include writing, editing, managing the website, tweeting and posting to social media, recruiting students to the program and preparing printed materials. 
"Every day is different, and I like that," Corry said.
Originally from Philadelphia, Corry moved to Pittsburgh to join her fiancé who had been working in the city for several years. She enjoys working in an academic environment and immediately set her sights on CMU.
"I went to school for journalism, and I have done marketing geared toward elementary, preschool, special ed and high school students. For me, working at a university was the next step in my career, and CMU is the best of the best," she said.
Corry soon joined the Carnegie Mellon Women's Association (CMWA) as a member of the board when the organization was looking for someone who could help with marketing and planning events. This year, she is serving as CMWA's president.
CMWA connects and supports women across campus through networking opportunities, social gatherings and education programming through the academic year. Its primary events are the Fall Reception and Spring Awards Reception. This year's Fall Reception will be held on Monday, Sept. 24.
"The Fall Reception is the most popular because it's at the start of the semester and it attracts new members. Many like to come and meet new people and connect with colleagues that they don't get to see every day," she said.
Member contributions support the CMWA Scholarships, which are presented to deserving women students at the Spring Awards Reception.
Benefits of joining the CMWA include an increased number of social networking opportunities through clubs, activities and monthly lunch-and-learns. The group recently has enjoyed yoga and Zumba classes together as well as cooking demos, which are Corry's favorite. Members also can join the association's Book Club, Sewing Club, and Knit and Crochet Club. Lunch-and-learns have covered such topics as women's health, nutrition, self-defense, financial planning and mindfulness.
This year, Corry will spearhead the launch of a community service club.
"The idea arose from members who said in our end-of-year survey that they wanted to do community service and were looking for people to join them as well as bring their children along," Corry said. "We're looking for ways we can engage the CMWA with service opportunities through the campus community and the city."
Outside of work, Corry enjoys going to music festivals and trying out new hiking trails in and around the Pittsburgh area.