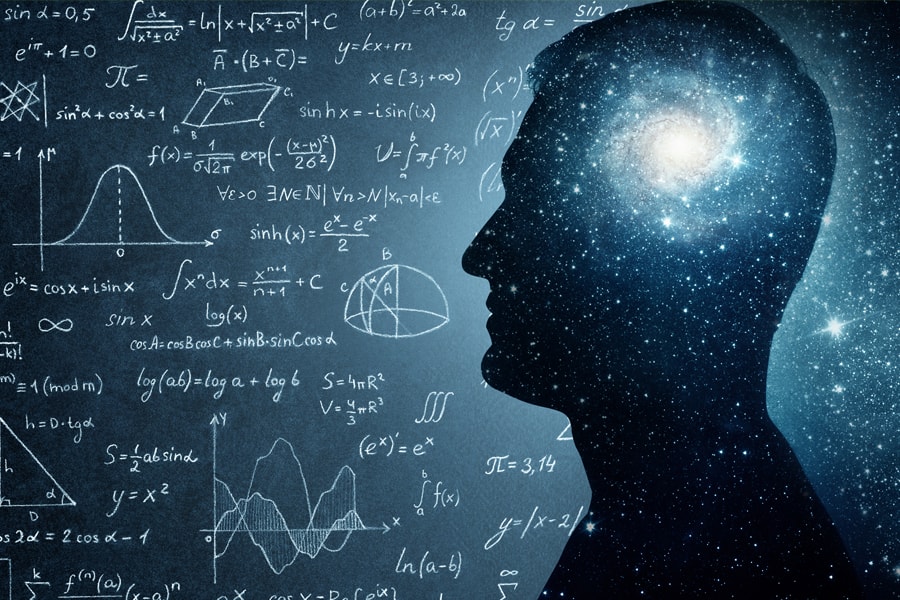 October 03, 2018
News Briefs
Researchers Explore New Frontiers in Neuroscience
Building on groundbreaking research that identified the brain representations of elementary physics concepts, Carnegie Mellon's Robert Mason and Marcel Just have received a $549,000 grant from the National Science Foundation (NSF) to investigate the brain representations of physics concepts in college students and determine their relation to the students' academic performance.
Although the goal of most educational practices is to advance what students know, this project will assess how the neural growth of the new knowledge is related to performance in course exams.
"This project is based on two key capabilities that we demonstrated in earlier work," said Mason, a senior research associate in the Department of Psychology. "First is our ability to identify what physics concept a student is thinking about from its brain activation pattern, that is, to find the concept's brain signature. Second, we can trace the progress of an individual student's concept representations over a semester, looking for neural biomarkers of successful learning in a complex STEM domain."
Mason and Just's measurement tool applies machine learning techniques to fMRI brain activation patterns that correspond to specific concepts.
"It is now possible to watch a concept 'grow' in the brain as its properties are being learned," said Just, the D. O Hebb University Professor of Psychology. "Furthermore, everyone's brain organizes the concept knowledge similarly, making it possible to meaningfully compare the representations of different students."
Shenoy To Receive Andrew Carnegie Prize in Mind and Brain Sciences
Carnegie Mellon will award the sixth annual Andrew Carnegie Prize in Mind and Brain Sciences to Krishna V. Shenoy, the Hong Seh and Vivian W. M. Lim Professor of Engineering at Stanford University. Shenoy directs the Stanford Neural Prosthetic Systems Lab and co-directs the Stanford Neural Prosthetics Translational Laboratory, which aims to help restore lost motor function to people with paralysis.
The Carnegie Prize, given by the Center for the Neural Basis of Cognition (CNBC) and funded by the Carnegie Corporation of New York, recognizes trailblazers in the mind and brain sciences whose research has helped advance the field and its applications. The CNBC will present the award to Shenoy at 4:30 p.m. on Thursday, Oct. 18, in the Simmons Auditorium A, Tepper Building. As part of the award ceremony, Shenoy will present a talk on "Brain-machine Interfaces: From Basic Science and Engineering to Clinical Trials."
"Krishna Shenoy is one of the luminaries of neuroscience. He has brought a variety of ideas and technologies from engineering to help advance our understanding of the way the brain plans and executes movement. He is also an exemplary mentor, who is widely admired in the community," said Robert E. Kass, the Maurice Falk Professor of Statistics and Computational Neuroscience.
Shenoy's neuroengineering research investigates the design of high-performance neural prosthetic systems, also known as brain-computer interfaces and brain-machine interfaces. These systems translate neural activity from the brain into control signals for prosthetic devices, which assist people with paralysis by restoring lost function.
CMU To Co-Host Women in Cybersecurity Conference
The sixth annual Women in CyberSecurity (WiCyS) Conference will be co-hosted by WiCyS and Carnegie Mellon University March 28-30, 2019, in Pittsburgh.
The WiCyS Conference brings together women in cybersecurity from academia, research, government and industry to share knowledge, experience, networking and mentoring. The event's goal is to broaden participation by recruiting, retaining and advancing females in the field of cybersecurity.
"It's especially fitting for Carnegie Mellon University to host the 2019 WiCyS Conference because the university is known as the birthplace of cybersecurity. It was here in the university's Software Engineering Institute (SEI) that the world's first computer security incident response team, the CERT Coordination Center, was founded to respond to widespread internet attacks," said Greg Shannon, chief scientist, CERT Division, Software Engineering Institute, and a member of the WiCyS Board of Governors. "Our leadership in cybersecurity research and education continues to this day."
Women interested in presenting at the Women in CyberSecurity Conference may submit proposals through the WiCyS website by Nov. 1. Students and faculty may apply for scholarships to attend by Nov. 1 as well.
It's OctoberFEAST at Dining Services
Dining Services is offering a a fun, food-filled month of events to celebrate the fall season.  The October menu includes:
Today's LaPrima Grand Opening, Oct. 4;
Fresh Food Friday, Oct. 12:
AppleFest and PopUp Cafe, Oct. 13;
Superfood Samplings, Oct. 9, 15, 23;
Show Off Chef Event, Oct. 15;
Vegetarian and Vegan Walking Tour, Oct. 24; and
Bistro Night, Oct. 30.
Explore the AndyEATS event page to find out more.
Updated Business and Travel Expense Policy Now In Effect
The university's updated Business and Travel Expense (BTE) Policy was posted and went into effect Oct. 1. The updated policy takes into account stakeholder feedback, peer institution policies, Internal Revenue Service (IRS) accountable plan regulations, the Tax and Jobs Act of 2017 (Tax Reform) and university leadership recommendations.

Prior to launching, the updated policy completed the University Policy on Policy Development requirements, which include a vetting process with university leadership and campus stakeholders, a 30-day comment period open to the university community and approval from the president of the university. Several training sessions were offered to the university buying community to highlight impacts and changes resulting from the updated policy.

Additional information about the policy updates is available on the Finance Division news website. For questions, contact ER Help at
er-help@andrew.cmu.edu.
Help Celebrate CMU's Children's School
Join the students and staff of CMU's Children's School for a sing-a-long at 10:30 a.m., Thursday, Oct. 11 in the Cohon Center to help celebrate and raise awareness of the quality of early childhood programs on college campuses. The sing-a-long is part of a series of events across the country being organized by the National Coalition for Campus Children's Centers (N4C), Oct. 8-12.
As part of the week's activities at the Children's School, Dietrich College Dean Richard Scheines, Professor and Head of the Psychology Department Michael Tarr, Anglea Lusk, program director for Student Affairs' wellness initiatives, and Maureen Dasey-Morales, associate vice president for Community Health and Well-Being, will visit the school to read to students. Each class is planning to share something fun with the campus community, specifically bubbles, artwork and ice cream. Students and staff also will plant trees and have a parade. The Children's School invites you to join the fun!
N4C is a nonprofit educational membership organization supporting excellence in programs for young children in communities of higher learning by providing opportunities for leadership, professional development, research, networking and advocacy.