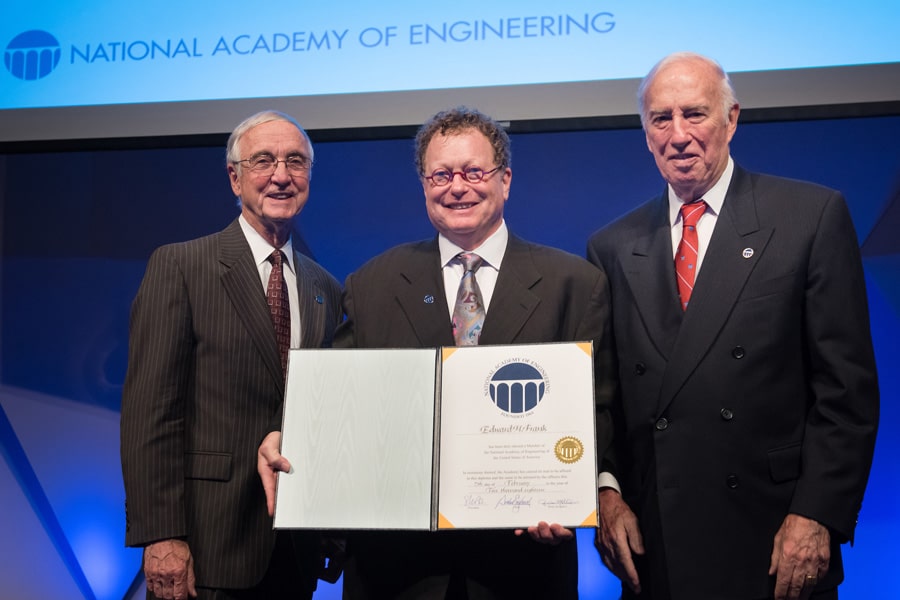 October 11, 2018
News Briefs
Three Alumni Inducted into National Academy of Engineering
Three Carnegie Mellon alumni were inducted into the National Academy of Engineering, one of the highest professional distinctions an engineer can receive, on Sept. 30. The alumni are CMU Trustee Edward Frank, Jennifer Hartt Elisseeff and Oliver C. Mullins.
"We are extraordinarily proud of the CMU alumni who received prestigious recognition from the National Academy of Engineering this year," said CMU President Farnam Jahanian. "These honors place Ed, Jennifer and Oliver at the top of their fields, while at the same time defining Carnegie Mellon University as an institution that produces national thought leaders."
Frank, who earned his Ph.D. in computer science from CMU in 1985, was inducted for his contributions to the development and commercialization of wireless networking products.
Elisseeff, who received a bachelor's degree in chemistry from CMU in 1994, was inducted for her contribution to the development and commercial translations of injectable biomaterials for regenerative therapies.
Mullins, who graduated from CMU with master's and doctoral degrees in chemistry in 1980 and 1981, was inducted into the NAE for developing downhole fluid analysis of oil and gas reservoirs and explaining the structure of asphaltenes in crude oils.
Find out more about the inductees.
New CMU Degree Prepares Researchers for AI-Directed Experimentation
Computers increasingly are helping scientists identify and select experiments necessary for scientific discoveries, so Carnegie Mellon University has created a two-year master's degree program to train specialists needed to design, configure, operate and maintain these systems.
CMU's Computational Biology Department will offer the Master of Science in Automated Science: Biological Experimentation beginning in fall 2019 and is accepting applications for its initial class through Dec. 1.
"Automation has disrupted numerous industries and is poised to radically transform the pace and economics of scientific research in academia and industry," said Robert F. Murphy, head of the Computational Biology Department and co-director of the new master's degree program. "We will train students to become leaders in this new field, where automated instruments and artificial intelligence combine to produce scientific discoveries."
CMU Will Help Build 3D Cellular Map of Human Body
Carnegie Mellon computer scientists are helping the National Institutes of Health build a 3D map of the human body showing how tissues differ on a cellular level and providing deep insights into the body's inner workings.
The NIH anticipates spending $54 million on the Human BioMolecular Atlas Program (HuBMAP) over the next four years, pending available funds, including more than $2 million for the CMU scientists and their colleagues at the University of California, Santa Cruz and the Wellcome Sanger Institute in the U.K.
"This is really the next step in the Human Genome Project," said Ziv Bar-Joseph, a professor of computational biology and machine learning in the School of Computer Science who will lead the CMU-based center. "Though the genome — the complete set of genes — is present in all cells, it's clearly doing different things in different organs and tissues. The job now is to create a map that shows which genes and proteins are activated in each part of the body."
HuBMAP will provide scientists with a deeper understanding of how the tens of trillions of cells that constitute the body are organized in tissues to carry out the daily processes that keep people alive and healthy.
CMU Wins National Orientation Association Award
For the third consecutive year, Carnegie Mellon has won the award for Integration of Theme into Orientation by the National Orientation Directors Association. The award recognizes the unique ways that institutions utilize a theme and how it is woven into the program. CMU's "Dare to Discover" theme this year was incorporated into apparel, novelty items and all marketing materials, including the schedule booklet. The Class of 2022 formed a shape of the theme for its class photo.
"I am most appreciative of how all the colleges and so many administrative departments have helped shape our Orientation and continuously support those of us involved in the detailed planning of this important program," said Anne Witchner, associate dean for Student Affairs and the architect of Carnegie Mellon's nationally recognized undergraduate orientation program.
TEDxCMU Seeks Speakers
TEDxCMU is looking for student and external speakers for its 2019 spring event. This immersive, day long conference, shares the talents of Carnegie Mellon speakers and performers with the Pittsburgh community. The deadline for students to apply is Oct. 14, and the deadline for external speakers is Dec. 18. Apply online. 
It's OctoberFEAST at Dining Services
Dining Services is offering a a fun, food-filled month of events to celebrate the fall season.  The October menu includes:
Fresh Food Friday, Oct. 12:
AppleFest and PopUp Cafe, Oct. 13;
Superfood Samplings, Oct. 15, 23;
Show Off Chef Event, Oct. 15;
Vegetarian and Vegan Walking Tour, Oct. 24; and
Bistro Night, Oct. 30.