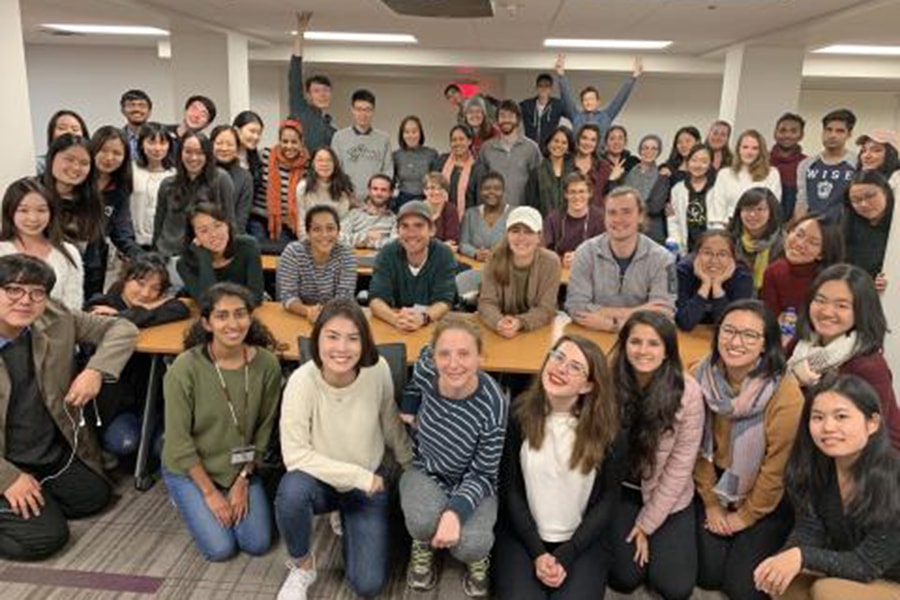 November 07, 2018
News Briefs
HCII To Participate in 24-Hour Gaming Marathon for Children's Hospital
For 24 hours this weekend, 10 a.m. Saturday until 10 a.m. Sunday, someone from the Human-Computer Interaction Institute (HCII) will be awake and playing games.
For the second year in a row, HCII students, faculty and staff are joining thousands of participants around the world in a 24-hour Extra Life gaming marathon. Established in 2008, Extra Life has raised more than $30 million for sick and injured kids at Children's Miracle Network hospitals. Team Carnegie Mellon will be gaming in the Master of Human-Computer Interaction (MCHI) lab to benefit Children's Hospital of Pittsburgh.
Lee Hillman, executive director of the MHCI program, pitched the idea of carrying on the Extra Life tradition to the MHCI students after seeing other gaming sites participate in previous years. Hillman, who shares the students' enthusiasm for the games and the cause, plans to stay up for the entire 24 hours again this year.
"This charitable gaming event has great overlap of many elements core to the HCII mission. Gaming has always been a place where emerging technologies can experiment, and this fundraiser leverages social technologies to deliver positive action in the world," Hillman said.
Find out more, including how you can help.
Creative Writing Program Celebrates 50th Anniversary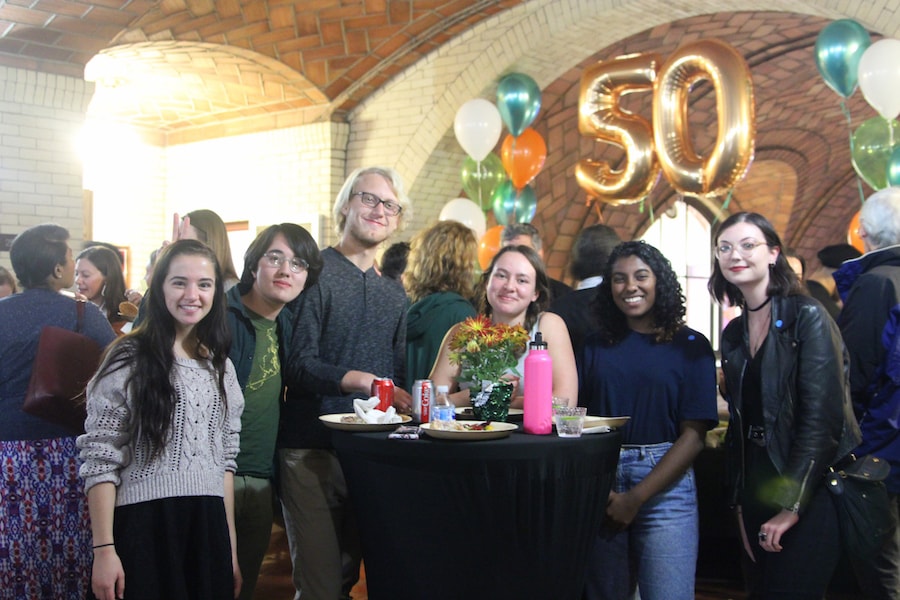 Creative writing alumni returned to campus to celebrate the program's 50th anniversary.
Carnegie Mellon's Creative Writing program celebrated its 50th Anniversary in late October with panel discussions, readings and talks by alumni from around the country.
"I knew the anniversary was going to be interesting. What I didn't know was how wonderful it was going to be — to see our former students return to campus, to hear their stories, to learn of their professional accomplishments, to see photographs of their families, and to hear how many of them remember so many things about their time spent in the creative writing program at Carnegie Mellon was so rewarding," said Sharon Dilworth, associate professor of English. "They remembered so much about their time here, it was gratifying to hear their memories and how certain moments here have continued to shape their lives."
Libraries' Exhibit Looks Back on CMU During WWI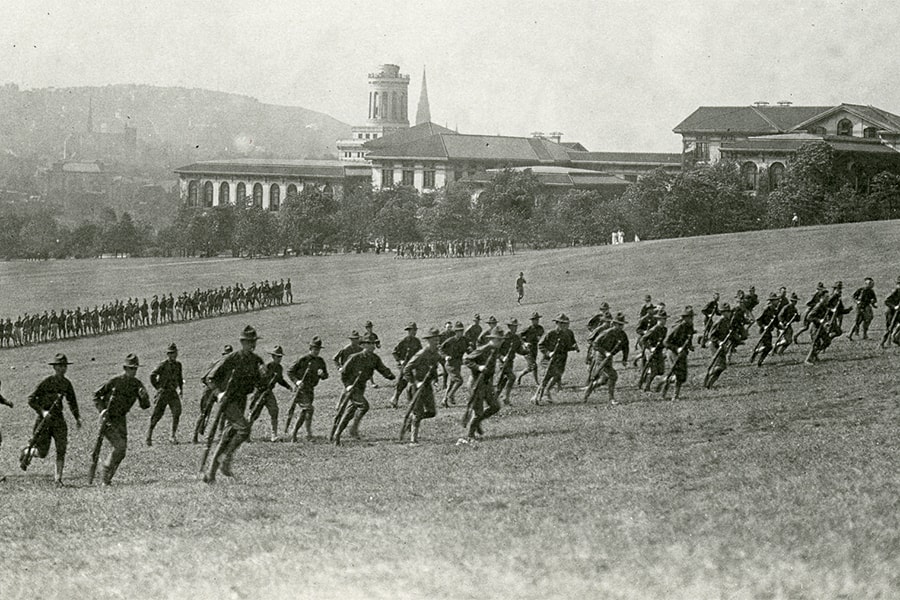 During WWI "Camp Carnegie" provided military training that combined physical and academic preparedness.
In recognition of the 100th anniversary (Nov. 11, 2018) of the armistice that ended fighting in WWI, the Libraries' new exhibit explores the experience on the CMU campus during WWI. "A Pair of Soldier Shoes" runs through February 2019 in the Hunt Library exhibit cases on the first floor.
As military camps sprang up around the country to train new officers, Carnegie Tech hosted one of those camps. Military training at Tech combined both physical and academic preparedness. At "Camp Carnegie" students were drilled in marching, trench digging and grenade throwing. On campus, students were trained as radio mechanics, stenographers, telegraphers, truck drivers and band musicians. War courses were introduced for women in topics like mechanical drafting and occupational therapy. On Nov. 11, 1918, armistice was declared.
The training camp at Carnegie Tech was short lived, but for that small window of time it fundamentally changed the lives of its students and teachers. The physical changes it brought to campus lasted well into the 1950s, when Langley Aeronautics Laboratory, which later served as a dining hall called Skibo Inn, was torn down to make way for Hunt Library.
Join the Rise Against Hunger Event Nov. 17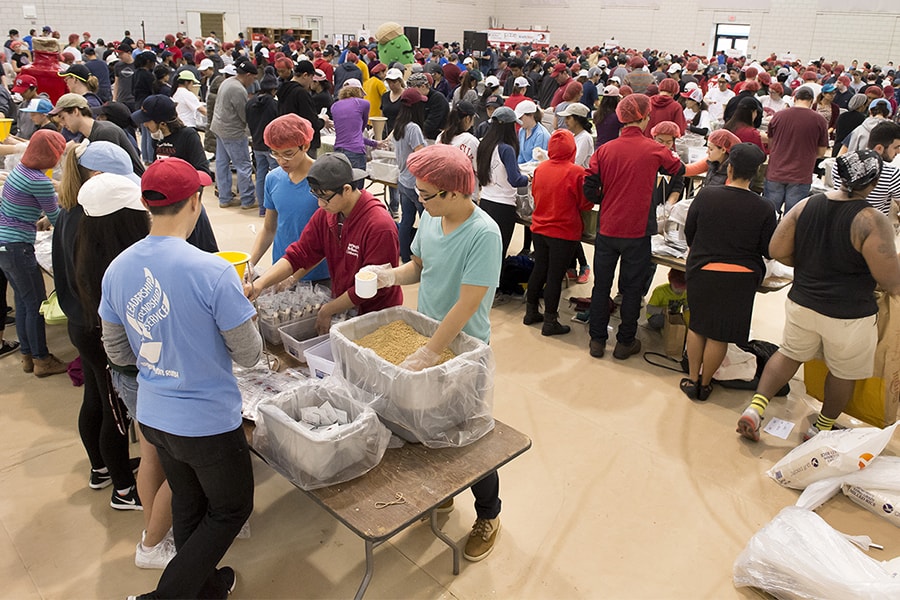 More than 600 students, faculty, staff and their families packaged more than 150,000 dehydrated meals for shipment to Madagascar last year.
The Office of Student Leadership, Involvement, and Civic Engagement (SLICE), PACE (Partners Allied in Civic Engagement), and Alpha Phi Omega are once again partnering with the international nonprofit Rise Against Hunger and the Kraft Heinz Company Foundation to host a Rise Against Hunger meal packaging event.  
Join students, faculty and staff in Wiegand Gym from 11 a.m. to 1 p.m. on Saturday, Nov. 17 to package 175,000 dehydrated meals for distribution to those in need. 
The event is open to families, partners, and children as young as 4. Register to participate today!
Open Enrollment Runs Through Nov. 19
Open Enrollment is your annual opportunity to review your benefit coverage options and make selections for the upcoming calendar year. Benefit elections become effective on Jan. 1, 2019, and remain in effect for the entire year. After the enrollment period, you cannot change your benefit elections unless you experience a qualifying status change.
For information about 2019 benefits, including rates and the 2019 Benefits Guide, visit the 2019 Open Enrollment website.
Enrollment changes may be submitted online through Workday. If you do not want to change your benefit elections for 2019, and you are not enrolling in a spending account, you do not need to do anything. Your 2018 benefit elections (except spending account contributions) will automatically roll over to 2019; new 2019 rates will apply and will be deducted from your first pay in 2019.
If you are enrolling in either the Health Care Flexible Spending Account (HCFSA) or the Dependent Care Reimbursement Account (DCRA), you must login to Workday and select your contribution level. If you are currently participating, your 2018 spending account elections will not automatically roll over to 2019.  The IRS requires that you enroll in the Flexible Spending Accounts each year to participate.
Workday Quick Guides are available to assist you with the online enrollment process.
If you have questions regarding Open Enrollment, contact the Human Resources CMUWorks Service Center at 412-268-4600 or cmu-works@andrew.cmu.edu.
Register for Floor Marshal, Active Shooter Training
The Environmental Health & Safety Department is offering a Floor Marhal/Active Shooter training session for the Carnegie Mellon community at 1 p.m., Thursday, Dec. 6 in the Cohon Center's Connan Room. You do not have to be a floor marshal or facility coordinator to attend the session. This training is appropriate for all faculty and staff. The first hour is dedicated to fire safety topics and appropriate actions during an emergency, while the second hour specifically addresses an active shooter scenario.

Register online.