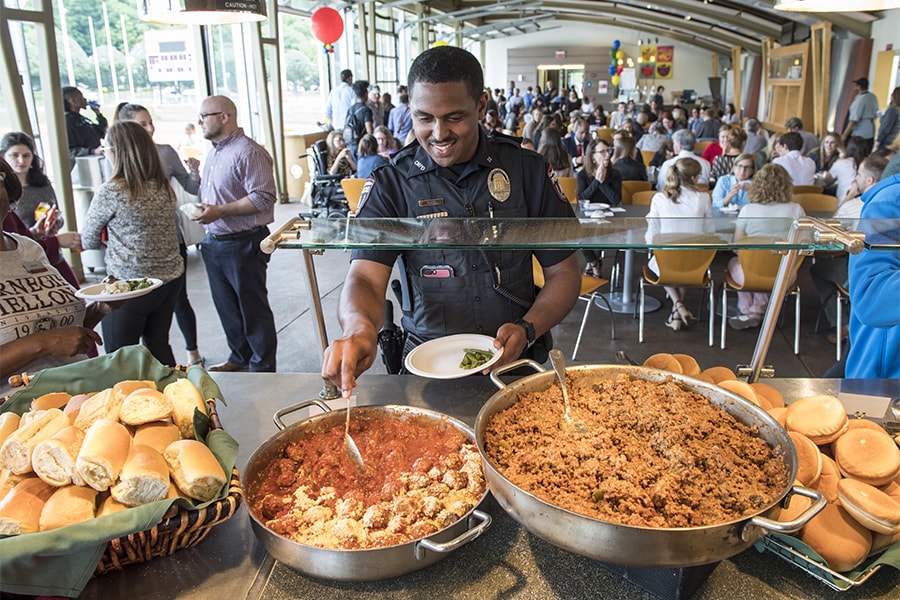 May 24, 2018
Community Picnic Celebrates a Job Well Done
By Kelly Saavedra ksaavedra(through)cmu.edu
Plenty of sunshine and smiles were on hand as Carnegie Mellon staff came together to celebrate another year's successes at the Community Picnic.
"You don't have to be in a classroom, lab or theater to play an integral role in fulfilling CMU's mission," said President Farnam Jahanian. "Our 4,319 staff are the backbone of this university and the Community Picnic is an opportunity to celebrate all that they contribute and to thank them for their tireless work on behalf of this community."
This year's activities, raffles and entertainment stretched from Wiegand Gym to the Tartan Pavilion in Resnik Hall. Thanks to picnic-perfect weather, people could choose to enjoy their food outdoors in the Merson and Legacy courtyards while others played games, visited the Turner's Dairy car and listened to bagpipe music performed by the talented Carnegie Mellon Pipes and Drums.
"It's a great opportunity to come out and visit with the people you work with through email or over the phone all year long but hardly ever get to see, particularly for those of us whose offices are off campus," said MaryCatherine Dieterle, director of Student Services in the Entertainment Technology Center.
A stroll through Kirr Commons led picnic-goers to the event's first Staff Art Exhibit, which featured art created by staff in a variety of media including watercolor, photography, chalk pastel, acrylic paint and more.
"It's important to take advantage of opportunities like this to celebrate the wide variety of talent represented within the staff community at CMU," said Krista Campbell, senior associate director of Institutional Partnerships and a member of Staff Council. "We hope the idea will lead to a larger venue, a longer period of time for the exhibition, and more and different works of art."
Departments across campus contributed generously to raffle baskets that overflowed with Pirates tickets, gift cards and CMU swag. Jotting down a few comments on a feedback card was all that was required for several chances to win.
Michelle Piekutowski, associate vice president, chief human resources officer and a proud member of the CMU community, enjoyed the opportunity to meet so many people who contribute to the university's success.
"The Community Picnic is a great tradition and a time to celebrate the many contributions of our employees and campus partners. I would like to thank all of those who volunteered their time and service with planning, serving, and celebrating the CMU community," Piekutowski said. "I would also like to thank Staff Council for co-hosting this event with the Office of Human Resources. It was a great day for CMU!"
Everett Tademy, assistant vice president of Human Resources, echoed that sentiment.
"It's a wonderful event!" Tademy said. "I think the most important thing is the opportunity to thank our staff for all they do for us 24 hours a day, 7 days a week, 365 days a year."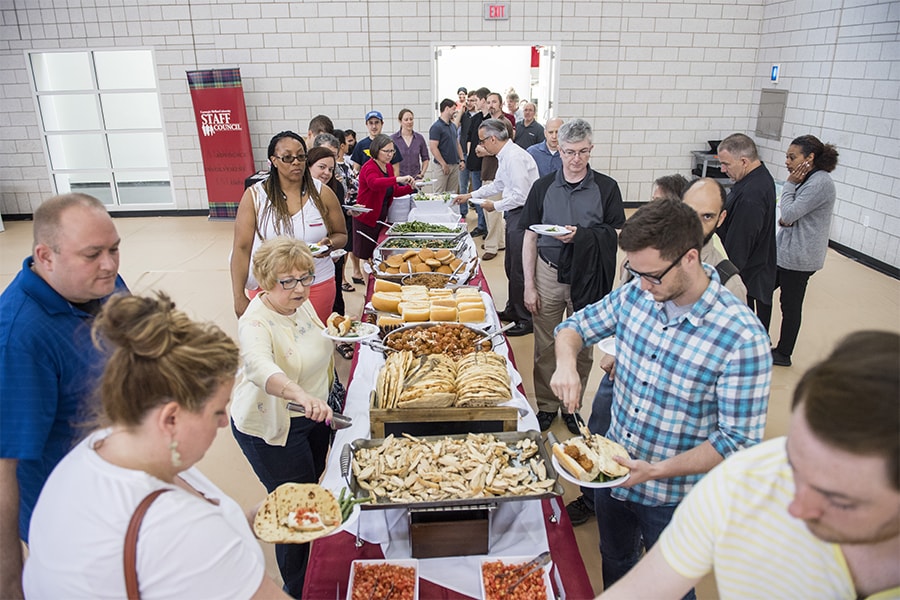 Picnic-goers navigate one of the buffet lines at Carnegie Mellon's annual Community Picnic, hosted by Human Resources and Staff Council, with support from the Office of the President.
Staff members enjoy the camaraderie.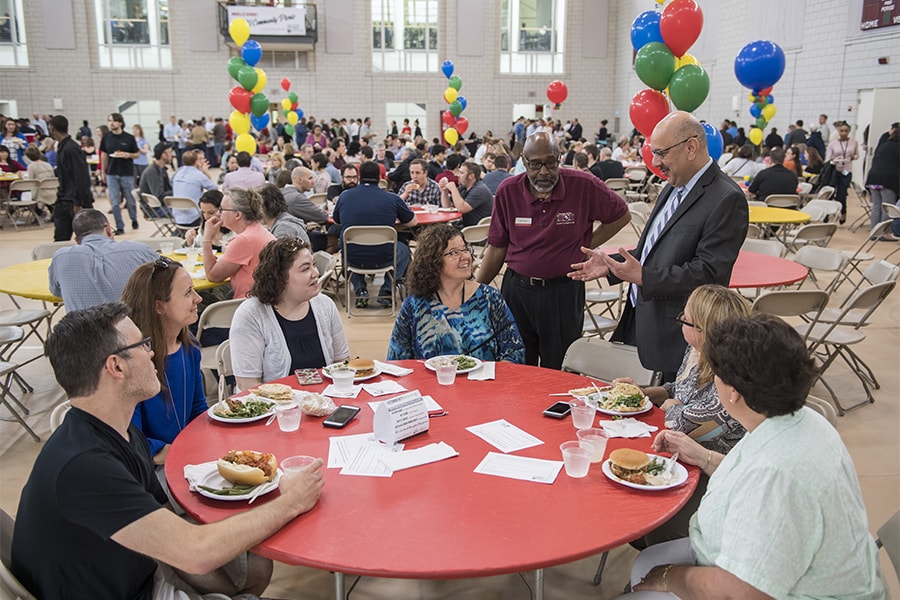 CMU President Farnam Jahanian and Everett Tademy of Human Resources greet staff at one of the many picnic tables in Wiegand Gym.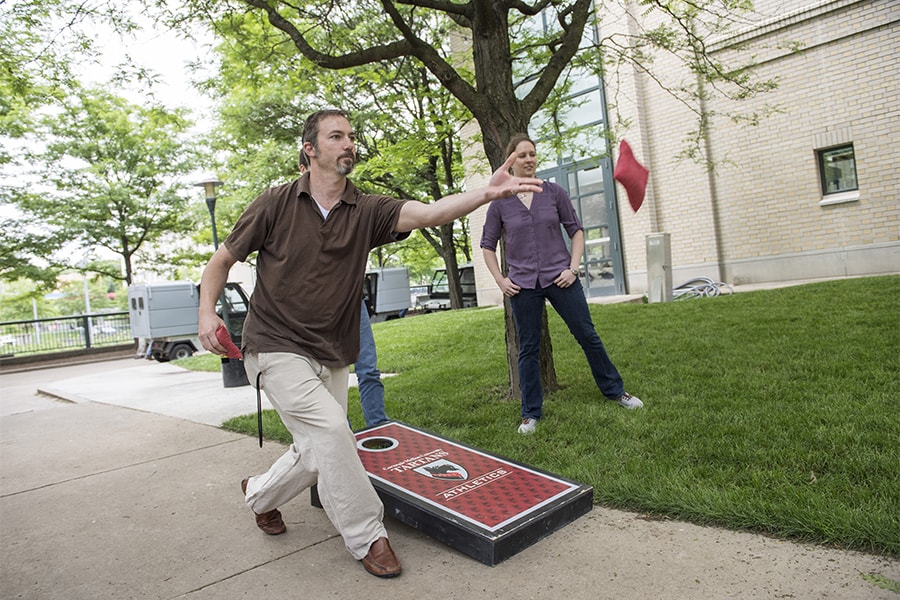 Staff played traditional picnic games, like Cornhole, in the Legacy and Merson courtyards.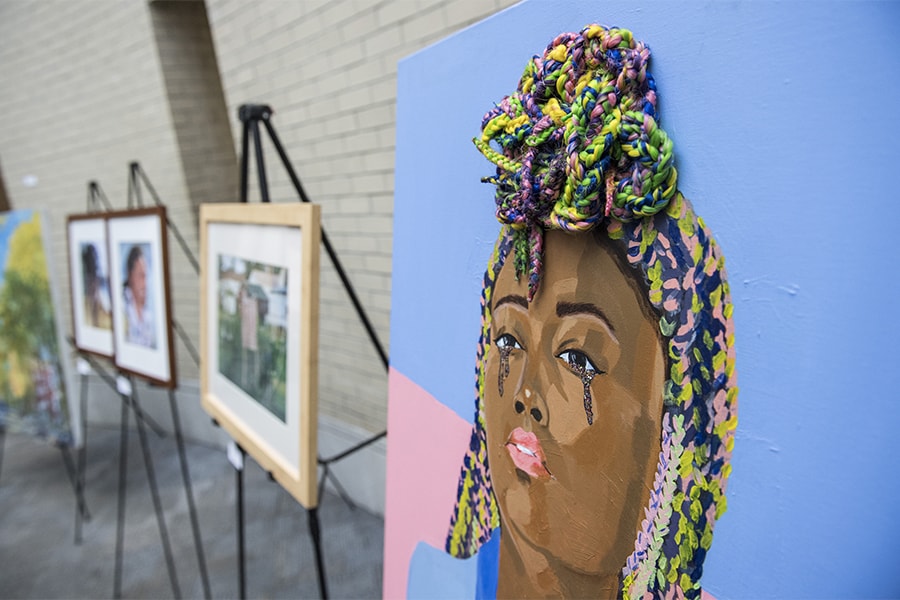 This year's picnic included a staff art exhibit.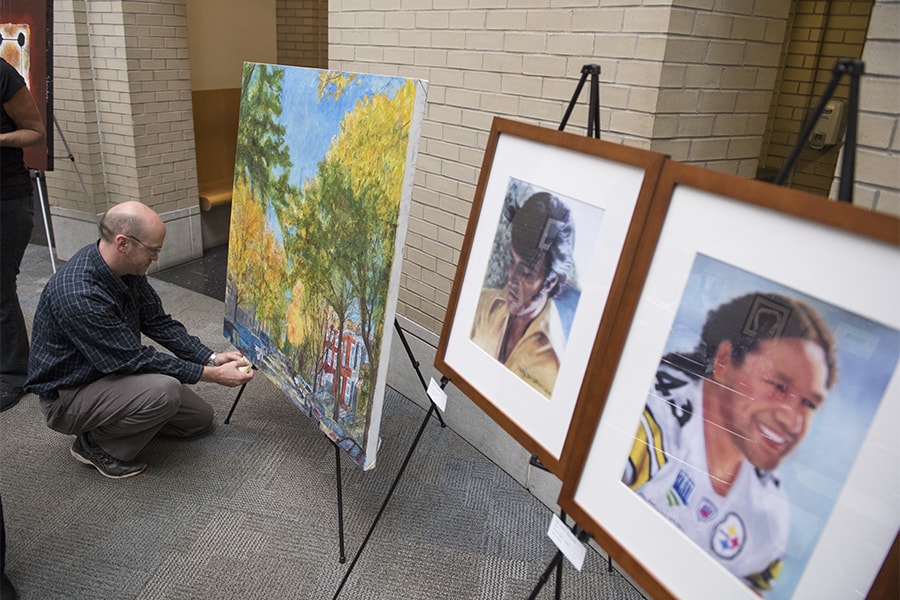 More than a dozen staff members displayed their art in the Cohon University Center's Kirr Commons.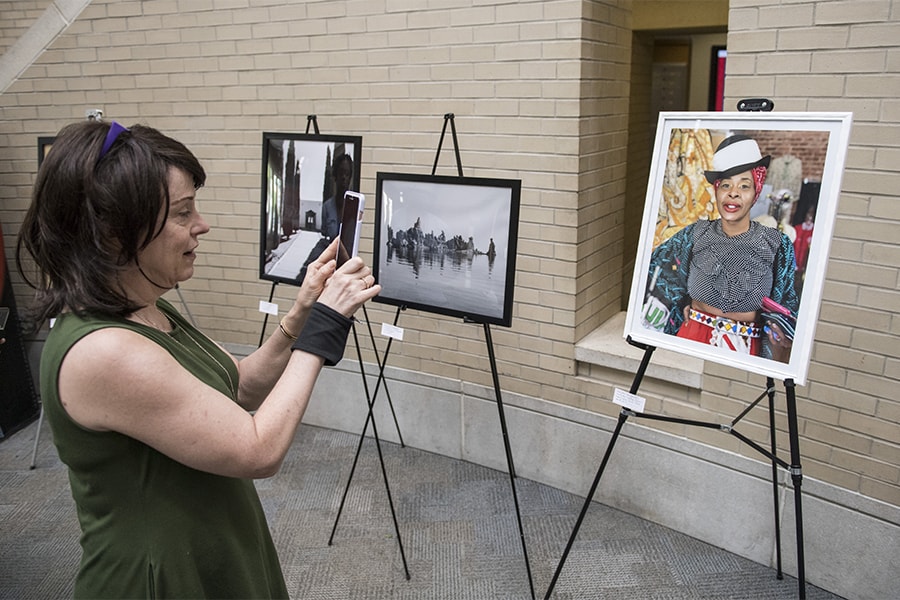 I like this one!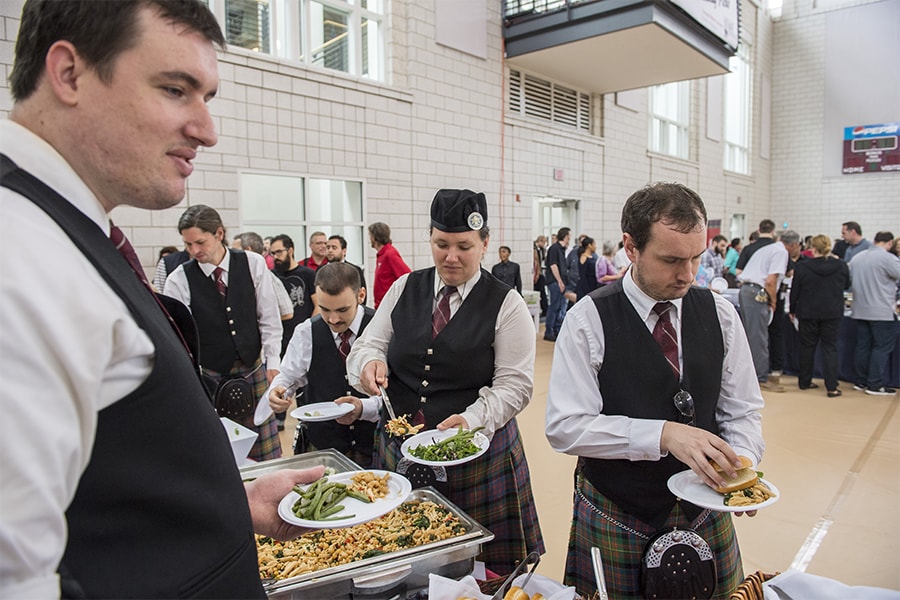 Bagpipers took a lunch break after performing in Wiegand Gym.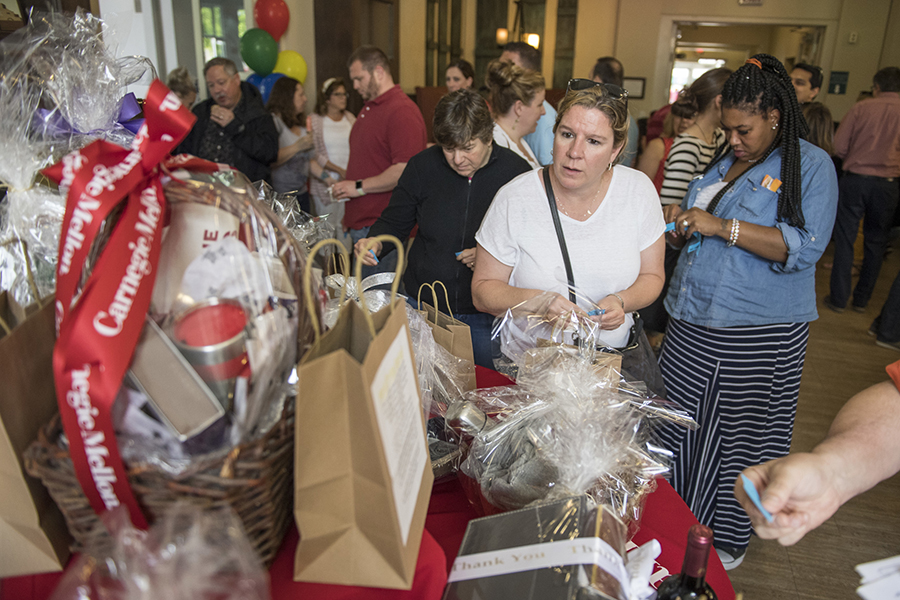 Picnic-goers had the opportunity to enter a raffle for several gift baskets that included tickets to a Pittsburgh Pirates baseball game and Carnegie Mellon swag.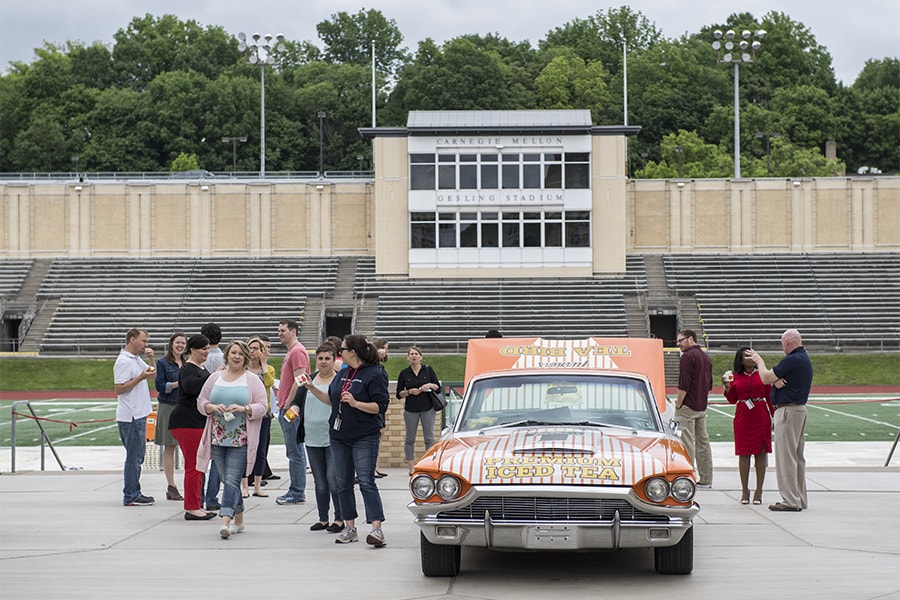 Turner Dairy Farms brought drinks to the picnic along with its antique Pontiac Thunderbird.