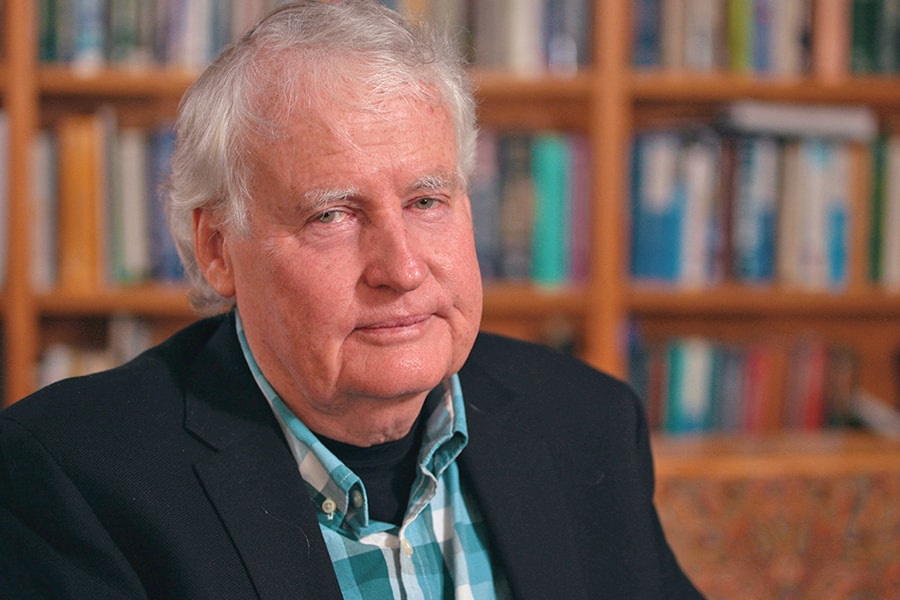 May 02, 2018
Personal Mention
Chemistry Professor Terry Collins, Tepper School alumnus Robb Myer, Entertainment Technology Center alumnus Richard Colvin and College of Engineering alumna Shinjini Kundu have won Carnegie Science Center Awards.

Terry Collins, the Teresa Heinz Professor of Green Chemistry at CMU, has received this year's Environmental Award from the Carnegie Science Center for his innovative work in low-cost yet highly effective water purification. Collins, a pioneer in the field of green chemistry, developed an innovative approach to water purification that outperforms conventional technologies at a lower cost. His TAML catalysis efficiently degrades a wide array of toxins in water without producing toxic byproducts. Collins created the world's first university course in green chemistry. He has spent his career educating the chemistry community and the public about sustainability and green-chemistry solutions to chemical threats. Read more.


Tepper School alumnus Robb Myer (right), Entertainment Technology Center alumnus Richard Colvin (far right), Luke Panza and James Belt have received this year's Entrepreneur Award from the Carnegie Science Center. Myer, Colvin, Panza and Belt co-founded Nowait, an app that allows diners to join waiting lists for tables at restaurants remotely from their mobile phones. Under their leadership, Nowait grew into a company that employed about 50 people and raised more than $15 million in venture capital before being acquired by Yelp. Nowait pioneered the concept of "getting in line" by phone to get seated at restaurants that don't take reservations. Myer is an Entrepreneur-in-Residence at CMU's Swartz Center for Entrepreneurship.

Shinjini Kundu has received this year's award for University/Postsecondary Student from the Carnegie Science Center. Kundu became one of the youngest M.D.-Ph.D. scientists in the world when she obtained her medical degree from the University of Pittsburgh School of Medicine in December. She has a Ph.D. in biomedical engineering from Carnegie Mellon University as part of the two universities' Medical Scientist Training Program. Combining her study of medicine with her previous background in electrical engineering, Kundu's internationally recognized research focuses on diagnosing diseases from medical images that elude the human eye by using artificial intelligence.



Professor Kathleen M. Carley has received the United States Geospatial Intelligence Foundation's (USGIF) Academic Achievement Award for, in part, her development of the theory of Dynamic Network Analysis and the high dimensional network analysis and visualization tool, ORA. ORA is used worldwide for such tasks as assessing disaster response, for gang and drug interdiction and, by NATO, for social media analytics. A Fellow of IEEE, Carley is recipient of the Allen Newell Award for Research Excellence, the American Sociological Association Lifetime Achievement Award, and the International Network for Social Network Analysis' 2011 Simmel Award. She also has served as president of the North American Association for Computational and Organizational Simulation and of the Mathematical Sociology Section of the American Sociological Association. Carley is director of the Center for Computational Analysis of Social and Organizational Systems (CASOS) in the School of Computer Science's Institute for Software Research. Read more.

Baruch Fischhoff has won a 2018 Carnegie Corporation of New York Andrew Carnegie Fellowship. He is one of 31 scholars and writers who will receive $200,000 to devote significant time to research, write and publish in the humanities and social sciences. Fischhoff, the Howard Heinz University Professor in the Department of Engineering and Public Policy and Institute for Politics and Strategy, is a world-renowned expert in decision science. His project, "Decisions," will produce a book drawing together his decades-long experiences studying and observing individuals and institutions facing difficult decisions in diverse settings. Read more.

CMU alumna Shahzeen Attari, associate professor of public and environmental affairs at Indiana University, Bloomington, is also among the 2018 Andrew Carnegie Fellowship winners. Attari, who received her Ph.D. in civil and environmental engineering and engineering and public policy in 2009, will work on a project titled, "Motivating Climate Change Solutions by Fusing Facts and Feelings."



Christopher Genovese, head of the Department of Statistics & Data Science in the Dietrich College of Humanities and Social Sciences, was named the 2018 American Statistical Association's Pittsburgh Statistician of the Year. Genovese received the award for his tireless efforts as department head at a time of unparalleled growth. Genovese has overseen the development of multiple new undergraduate majors and tracks, an increase in demand for both master's degree and Ph.D. programs, the acquisition of several new faculty hires, both teaching track and tenure track, and has positioned the department to respond to the explosion of data science. While leading department, Genovese has continued to advise students, advance multiple research agendas and build new online learning environments.