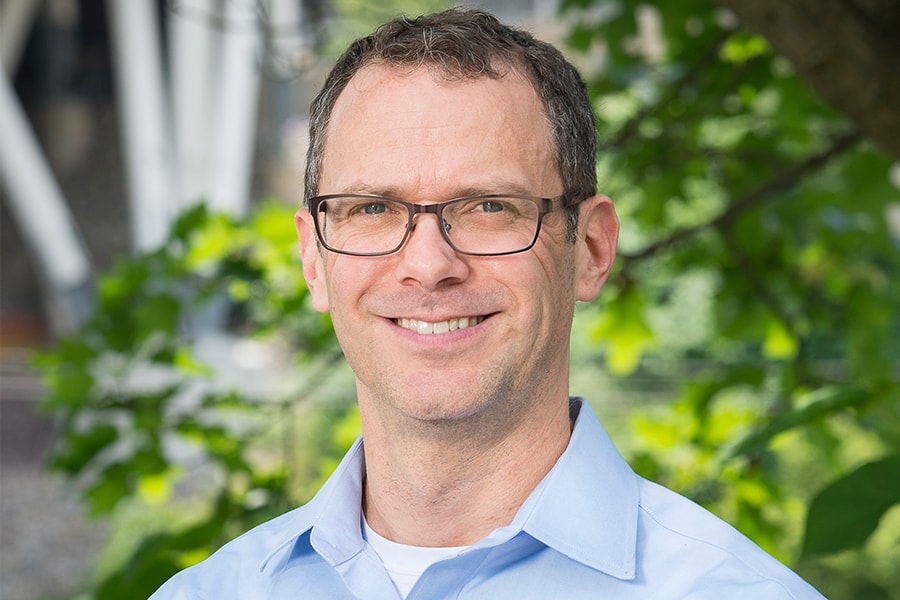 May 09, 2018
Personal Mention
Jay Whitacre, director of the Wilton E. Scott Institute for Energy Innovation, is an honoree of the 2018 Energy Manager Today 75 (EMT75), a merit-based and peer-nominated recognition program developed by the Environment and Energy Leaders Institute to honor innovative energy leaders. The awardees hail from notable organizations, such as Google, the U.S. Department of Energy and ICF. Whitacre, the Trustee Professor of Materials Science & Engineering and Engineering & Public Policy, focuses on developing and analyzing new materials and systems for electrochemical energy storage and conversion. In 2008, he developed the only sustainable battery to ever be mass-produced and Cradle to Cradle Certified™. He has received numerous honors for his invention including the 2015 Lemelson-MIT Prize for Innovation and the 2017 Leigh Ann Conn Prize for Renewable Energy. Whitacre has served on boards of multiple energy technology companies, as well as on committees for the National Academies of Sciences, Engineering and Medicine. He has authored or co-authored over 70 peer review papers and is a prolific inventor who has authored or co-authored over 30 patents that are issued or pending. Whitacre will be honored at the EMT75 Awards Luncheon on May 17 at the Environmental Leader & Energy Manager Conference. Learn more.

Mark Kamlet spoke at the recent "Unleashing American Innovation" symposium in Washington, D.C. Kamlet addressed a new cross-federal agency effort that is underway to consider whether to revamp technology commercialization rules for U.S. national labs, such as the National Institutes of Health, Department of Defense, Department of Energy and the National Institute of Standards and Technology. In his remarks, Kamlet stressed that the key issue on university tech transfer is no longer the nuances of the Bayh-Dole Act's legal details. Kamlet is a provost emeritus and University Professor of Economics and Public Policy in the Dietrich College of Humanities and Social Sciences and Heinz College of Information Systems and Public Policy. Learn more. 

Manuela Veloso, the Herbert A. Simon University Professor of Computer Science and head of the Machine Learning Department, will take a leave of absence to join J.P. Morgan as its head of artificial intelligence research, beginning July 1. In this newly created position, Veloso will establish an AI research capability at J.P. Morgan, Wall Street's leading technology bank and the largest U.S. bank by assets. The company already has started to apply machine learning technology across its businesses. Veloso will lead efforts to identify additional opportunities for artificial intelligence and design solutions that could transform financial services. Find out more.


Two students known for fostering connections on campus and beyond have received the 2018 Student Engagement Awards from Carnegie Mellon's Alumni Association. Thanks to their significant contributions to the quality of life at the university and alumni engagement with students and CMU, Olivia Roy (left) and Tara Stentz will be honored at a luncheon with the Alumni Association Board, their parents and nominators on Friday, May 18. Roy earned a bachelor's degree in mechanical engineering and will graduate with a master's degree in Integrated Innovation for Products and Services. Stentz will graduate this month with a bachelor's degree in electrical and computer engineering and a minor in computer science. "Olivia and Tara have made an incredible impact through their commitment to fostering caring, welcoming connections between students, alumni and the greater CMU community," said alumna Becca Allison, immediate past president of the Alumni Association Board and co-chair of the Alumni Awards Committee. Find out more.


Alexander Baikovitz (right), a mechanical engineering and robotics student in the College of Engineering, and Andrew Kwon, a mathematical sciences honors student in the Mellon College of Science, are among 211 students to receive a Barry Goldwater Scholarship to encourage their pursuit of research careers in math and engineering. Kwon and Baikovitz were selected from more than 1,200 sophomores and juniors nationwide. Given by the Barry Goldwater Scholarship and Excellence in Education Foundation, the award provides up to $7,500 per year for tuition, fees, books and room and board for up to two years. Read more.