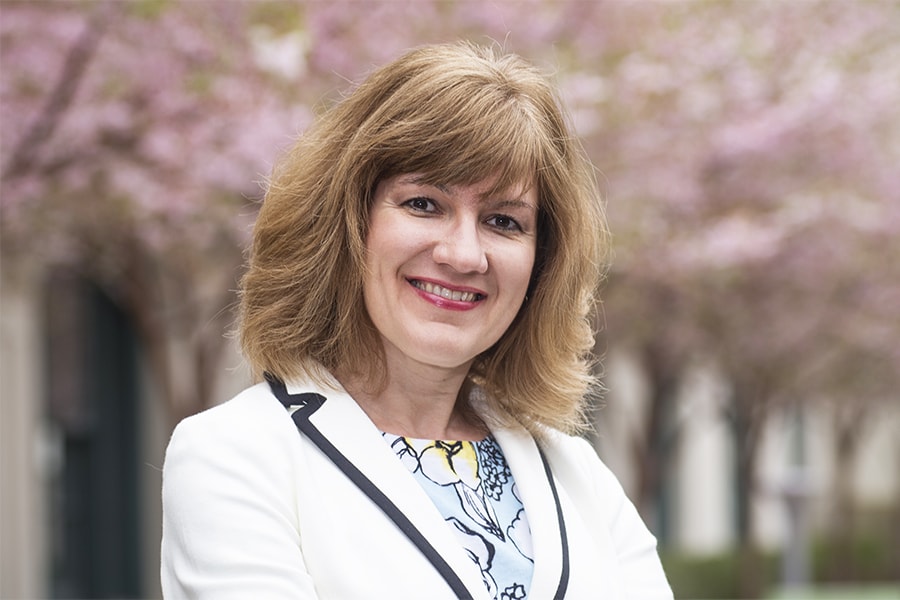 April 30, 2018
Variety Is the Spice of Griffiths' Life
By Kelly Saavedra ksaavedra(through)cmu.edu
Cindy Griffiths thrives on variety, which makes her job as business manager in the Tepper School's Business Office a great fit. 
The Business Office handles all financial-related matters for the Tepper School. Griffiths oversees the processing of purchase orders and procurement bidding and is responsible for reviewing and managing contracts. She also coordinates staff development workshops.  
"The variety of projects and responsibilities has really kept me interested in my work," said Griffiths, who has worked at the university since 2004. "It has been a great learning experience." 
Last year, she was selected by the dean to co-chair a Strategic Plan committee with Peter Boatwright, the Allan D. Shocker Professor of Marketing and New Product Development and director of the Integrated Innovation Institute. They worked with students, faculty, staff and alumni to determine how the Tepper School could strengthen the experience for each constituency. 
"A recurring theme emerged in those conversations. People have a strong sense of pride in being connected with the Tepper School of Business," she said. "I'm looking forward to moving to our new building in July and collaborating with colleagues around campus as the Tepper School works to partner with more schools on teaching students the fundamentals of economics and business."    
Outside of work, Griffiths devotes her time to her family. She has an 11-year-old son who plays baseball, which keeps her and her husband on the road traveling to and from ballgames. 
On weekends they retreat to their cabin in Tionesta, where they enjoy long hikes and kayaking down the Allegheny River. Griffiths always has her camera on hand to capture the stunning landscapes and variety of critters they encounter on the trails. Among them: baby turkeys, snapping turtles, porcupines, rattlesnakes, plenty of deer and all kinds of birds, including the occasional blue heron or eagle flying overhead. 
"It's good exercise. It's fun to be away. There's no technology, no cable. Just good outdoor and family time," she said, "which I love."