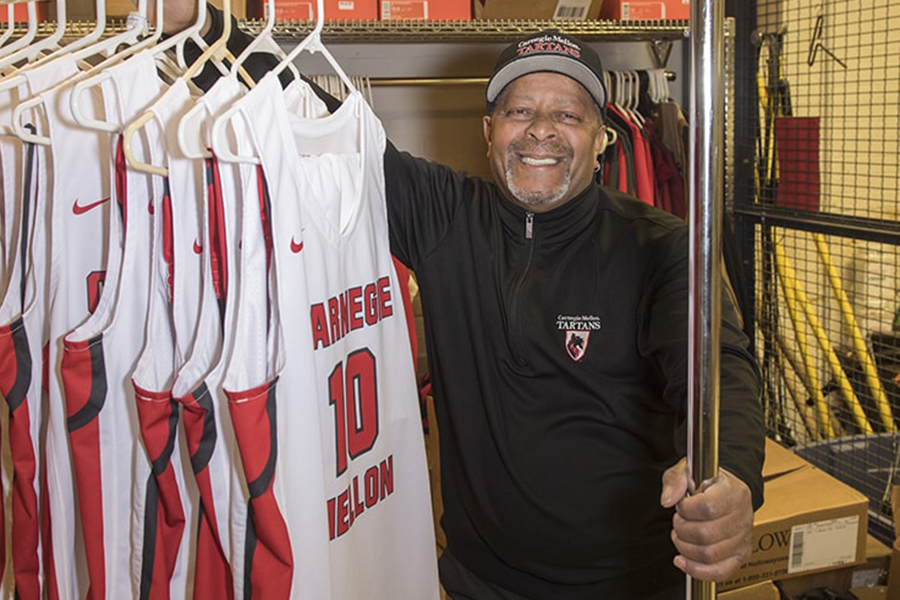 March 06, 2018
Diggs Scores Points with Tartans
By Kelly Saavedra ksaavedra(through)cmu.edu
Russell Diggs is more than a sports equipment manager in Carnegie Mellon's Athletics Department. He is part of the team.
Diggs maintains, orders and issues equipment and uniforms for all 13 sports teams at CMU. He is always on the move, whether it's doing laundry, repairing exercise equipment, fixing basketball rims and nets, or transporting deliveries across campus in his golf cart.
"I like the constant activity," he said. "I had a desk phone, but I was never at my desk. They gave me a walkie-talkie, but I kept dropping that bulky thing. The only way anybody can catch up with me is by calling my mobile phone."
Diggs moonlights as a security guard at Google from midnight to 8 a.m., then it's back to CMU from 9 to 5.
His experience as a supply clerk in the U.S. Army made him a good fit for managing the university's sports inventory, but it's his life experience that has made him a beloved mentor among the student-athletes.
"I like seeing the looks on the players' faces when things are going well, and I also like being by their side when things are going badly. Sometimes when they have a personal problem, they like to talk to me about it because I'm older. I've been around the block. They look up to me," he said. "They take care of me, too, like I take care of them."
That affinity extends beyond the players to his 42 fellow staff members in the Athletics Department who, Diggs says, are always watching out for each other and lending a hand wherever and whenever it is needed.
"It's a diverse group of people, and there is a lot of good communication here, a feeling that we're all united as one. We're all on one planet here, as I like to call it," he said. "We're a family."