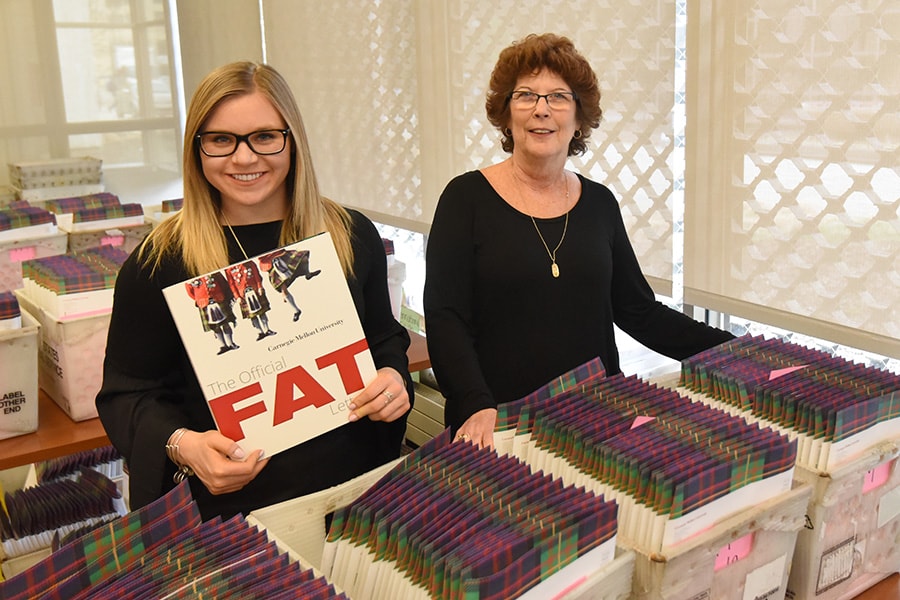 March 20, 2018
DiNardo, Mende Have a Ball with March Madness
It's March madness in Carnegie Mellon's Office of Admission, and the ball is in Roberta DiNardo and Heather Mende's court.
DiNardo oversees the mailing of approximately 4,000 admission packages around this time every year, informing applicants of their acceptance into CMU. The packages are better known as FAT letters for the amount of information they contain.
"It's all top secret. We hunker down in a locked room with the blinds pulled. No one can enter without permission or see what's going on through the windows. All the furniture has been removed, and in its place are bins and bins full of letters from one wall to the other," DiNardo said.
All applicants to CMU receive an online letter regardless of whether they are accepted, rejected or placed on a waiting list. Nearly 800 letters are printed and sorted daily by DiNardo and her team.
Acceptance letters are inserted into the FAT letter package, which is prepared by Mende.
"The FAT letter is designed to get the students excited about turning Tartan," Mende said. "It explains our CMU traditions, such as the Fence and Spring Carnival, and why they matter. It introduces them to housing and dining options on campus and it shows them all the cool things there are to do around Pittsburgh."
Mende writes and edits copy for the FAT letter and works with CMU's marketing staff on the letter's design.
"CMU is highly selective, so I feel that being admitted is really exciting for students. We like to give them all the information they need about the university in a fun and creative way," Mende said.
Despite the volume of letters, everything is perfectly organized. DiNardo can tell you exactly where each letter is filed for every applicant from A to Z.
"It's fun, and when you're good at what you do, it's even better," DiNardo said.
When the madness ends, the recruiting starts. Mende and DiNardo are part of the recruiting process. DiNardo typically answers the many questions received by prospective students and their parents over the phone, while Mende discusses CMU in person at events.
"CMU is a really cool place to be in the context of Pittsburgh. There is always a lot going on here," Mende said. "It's a great place to work, very well-known and very well-respected, and so to be part of that in any capacity is really exciting."
DiNardo agreed.
"Our jobs are rewarding," she said, "because we're making a lot of people's dreams come true."