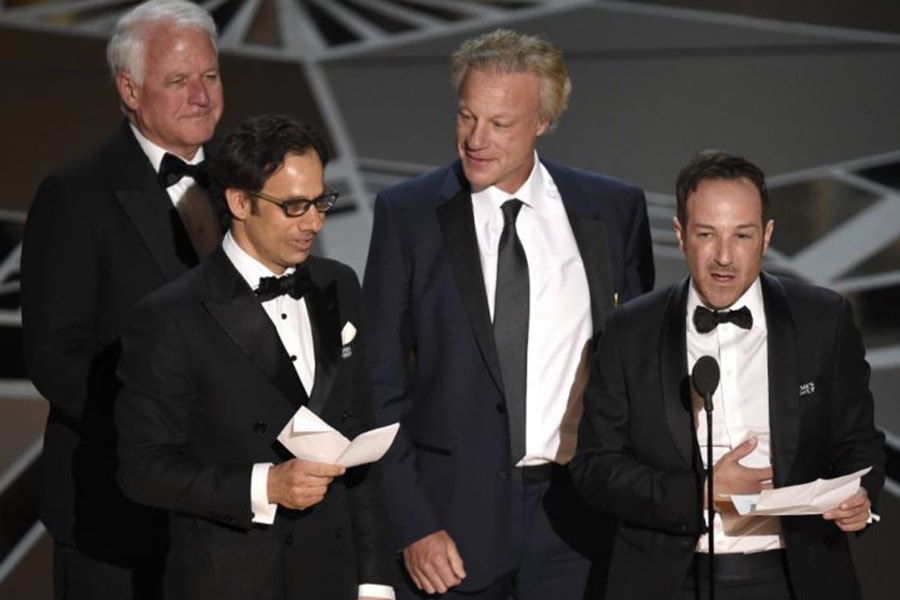 March 14, 2018
Personal Mention

Carnegie Mellon alumnus Jim Swartz, founder of Accel Partners, the CMU Swartz Center, and a member of the President's Global Advisory Council and Tepper School of Business Board of Advisers, won an Oscar for producing "Icarus," the Academy Award winner for Best Documentary Feature. The documentary exposed the state sponsored doping program of Russia's Olympic athletes. Swartz, a 1966 graduate of the Tepper School of Business who received an honorary Doctor of Business Practice degree from CMU in 2016, is one of the most successful venture capitalists in the world. The Palo Alto, California-based Accel Partners has been a lead investor with numerous pioneering technology companies, including Facebook, Veritas Softward and Dropbox. Passionate about the arts, Swartz is a trustee of the Sundance Institute and the San Franscisco Museum of Modern Art. In 2007, he and his wife, Susan, founded Impact Partners, a financial and advisory firm that supports independent cinema that addresses pressing social needs. Impact Partners has helped to produce several Academy and Sundance Award winners.

Dena Haritos Tsamitis, director of the Information Networking Institute (INI), recently appeared on a live webcast of WQED's nationally distributed television program "iQ: smartparent." In the episode, titled "Cyber-Safety: Privacy, Protection, and the Latest Laws Affecting Children and Families," Tsamitis gave her top three tips for keeping your children safe online. Her tips are:
Kids need to safeguard their Personally Identifiable Information;
Introduce cyber hygiene early; and
Keep the dialogue open.
Learn more and watch the webcast.

Abhinav Gupta, an associate professor in the Robotics Institute who specializes in computer vision and large-scale visual learning, is one of just 31 scientists selected by the Office of Naval Research (ONR) for its 2018 Young Investigators Program. The three-year award will fund Gupta's efforts to enable computers to use common sense knowledge for purposes of planning and perception, much as people do. The hope is that this can improve tasks such as image classification, navigation and manipulation. Gupta, who joined the Robotics Institute as a post-doctoral researcher in 2009 and as a faculty member in 2011, has received a number of awards, including the Sloan Research Fellowship, Bosch Young Faculty Fellowship and the Okawa Foundation Research Grant. Find out more.

Robin Mejia guest-edited an edition of CHANCE Magazine focusing on the use of statistical analyses in human rights investigations. Mejia is the manager of the Statistics and Human Rights Program in the Center for Human Rights Science. Before coming to Carnegie Mellon, she worked as both a journalist and statistician. As a journalist for more than a decade, she covered health and science stories for the Los Angeles Times, the Washington Post Magazine, Wired, Science, CNN and other outlets. She uncovered problems at the FBI crime lab, wrote extensively about controversies in epidemiology, and reviewed the use of science technology in human rights investigations.


Published in Frontiers in Psychology, Prashanth Rajivan and Coty Gonzalez present a new methodology to study the important but often ignored aspect of phishing: adversarial behavior. In their experiment, participants played the role of phishing attackers and accumulated points over a number of turns for successfully deceiving other people who were acting as email recipients. The game was constructed to train and reward participants to produce phishing emails that used different tactics and email topics. "We created a game-like experiment to assess how well different strategies work, and to understand how incentives and success rates, or an individual's personality, can affect criminal motivation," Rajivan said. They found that when adversaries stuck to strategies such as communicating failure, using an authoritative tone, expressing a shared interest and sending notifications, they were more likely to succeed. Conversely, they found that strategies like offering deals, selling illegal materials and using a positive tone were less likely to succeed. Rajivan is a postdoctoral research associate in the Department of Social and Decision Sciences. Gonzalez is a research professor of social and decision sciences.