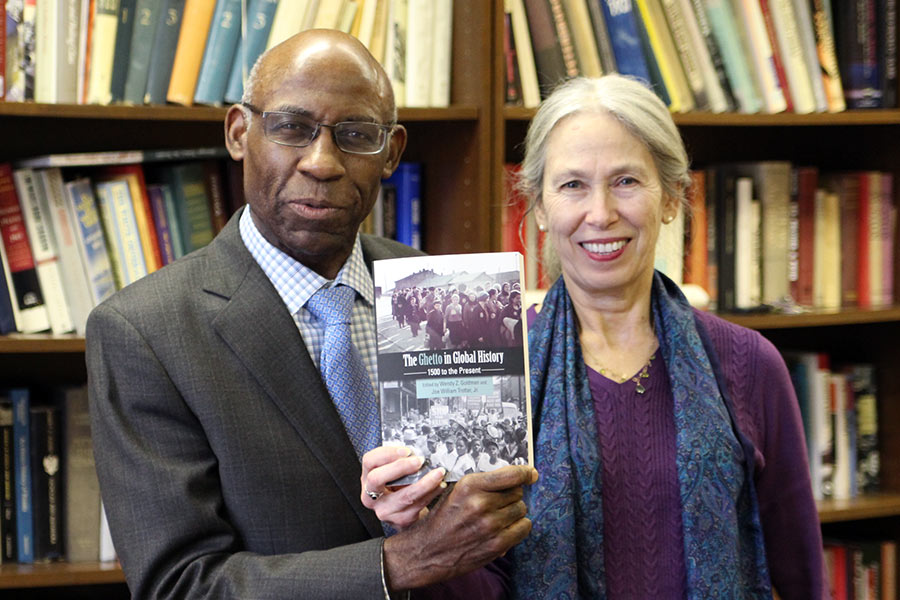 March 28, 2018
Personal Mention


"The Ghetto in Global History: 1500 to the Present," edited by Wendy Z. Goldman and Joe William Trotter, Jr., was recently published by Routledge. The book is a product of an interdisciplinary A. W. Mellon Foundation funded Sawyer Seminar on the ghetto that was conducted at Carnegie Mellon during the 2014-15 academic year. The seminar attracted participants from departments across the Dietrich College of Humanities and Social Sciences as well scholars from the University of Pittsburgh, West Virginia University, and other regional colleges and universities. The volume of essays focuses on four case studies of the ghetto in various times and places: the early modern Jewish ghetto, Nazi ghettos, African-American ghettos and South African townships. Beginning with the origin of the ghetto in Venice in 1516, the book maps the transnational circulation of the ghetto from Europe to the United States in the 19th and early 20th centuries, as well as the dissemination of the idea into colonial practices in South Africa and Nazi Germany. Goldman is the Paul Mellon Distinguished Professor of History, and Trotter is the Giant Eagle Professor of History and Social Justice. Learn more. 

Claire Le Goues, an assistant professor in the Institute for Software Research, is the latest School of Computer Science faculty member to receive the National Science Foundation's Faculty Early Career Development (CAREER) Award, the agency's most prestigious award for junior faculty. The five-year, $525,000 award will support Le Goues' work on automatic program repair, an emerging area of research that ultimately could reduce the cost of software defects, improve software quality and increase the productivity of programmers. Le Goues is exploring a number of repair techniques and strategies. These include methods for searching for and composing diverse solutions to bug repair problems, as well as using formal reasoning to construct verified patches for previously undetected bugs. Le Goues joined the CMU faculty in 2013, after completing her Ph.D. in computer science at the University of Virginia.
Larry Wasserman, the UPMC Professor of Statistics and Data Science, presented the 2018 John M. Chermerda Lectures in Science at Penn State University earlier this month. In his first talk, titled "The Greatest Debate in the History of Science, " he discussed the ongoing debate around how to define uncertainty and the practical consequences of using different approaches to uncertainty in statistical methods. He also gave a lecture titled "High Dimensional Multinomials and Unsmooth Densities." In his research, Wasserman addresses both theoretical and applied topics in statistics. Learn more about Wasserman.

Jessica Trybus, professor of the practice at the Entertainment Technology Center, recently hosted Pennsylvania Governor Tom Wolf at Simcoach Games in Pittsburgh's Strip District. Simcoach is a developer of games that expose workers to job skills and connects them to career opportunities. Wolf visited as part of his commitment to workforce development and STEM education. "Our goal at Simcoach Games is to inspire the next generation of the workforce and connect them to excellent career pathways using free, mobile video games," said Trybus, founder and chief games officer of Simcoach Games. "Our company benefits greatly from workforce development efforts that are contributing to the world-class talent pool in Pittsburgh, and these initiatives can have a profound impact on individuals lives. We believe that innovative workforce development solutions will change the future, and it's encouraging that Governor Wolf has prioritized these efforts across Pennsylvania."

Kathleen Conway, senior academic adviser and economics program manager at the Tepper School, was the top female finisher in the Harmony Shamrock Shuffle Half Marathon on St. Patrick's Day. Conway ran the 13.1-mile course in 1:43:19.10 to place 16th overall. An avid runner, Conway will be running the Pittsburgh Half Marathon in May. She is studying for her doctorate of education in higher education administration at the University of Pittsburgh.

Parker Felterman, a first-year directing major in the School of Drama, recently published his second novel. "The Game" is a crime thriller set in Los Angeles about a MIA special forces captain in search of his family. After two decades of searching, he hooks up with a petty criminal who makes him an offer he can't refuse. But, of course, everything comes with a price. Felterman's first novel, "The Revolver," chronicles the story of a private investigator in New Orleans seeking revenge on a local crime family. He authored "The Revolver" in 2013 as an 8th grader. Both books can be purchased at Barnes & Noble and Amazon. "The Game" will soon be available at the CMU Bookstore.