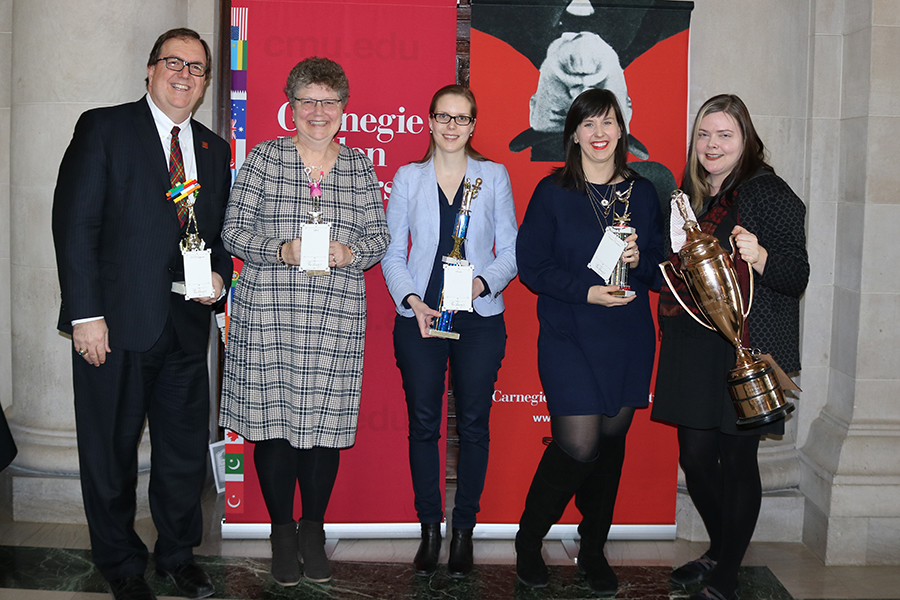 March 22, 2018
Personal Mention
The College of Fine Arts presented its 2018 Staff Awards in five categories last week. And the winners are:

Daniel P. Siewiorek, the Buhl University Professor of Electrical and Computer Engineering and Computer Science in the Human-Computer Interaction Institute (HCII), has been named the 2018 recipient of the IEEE Computer Society Taylor L. Booth Education Award. The award recognizes Siewiorek "for contributions to computer architecture, wearable computing, and human-computer interaction education through his pioneering textbooks, mentoring and leadership." An author of nine textbooks and over 475 papers, Siewiorek leads an interdisciplinary team that has designed and constructed over 20 mobile computing systems. He has designed or been involved with the design of nine multiprocessor systems, and has been a key contributor to the dependability design of over two dozen commercial computing systems. Siewiorek has held a number of key leadership positions in both the School of Computer Science and the College of Engineering during his 46 years at CMU. Find out more.  

Sharon Dilworth is taking readers to Paris and to several Pittsburgh communities in her two new books published this year. "My Riviera" is a novel set in the mid-century French Riviera, and the short story collection "Two Sides, Three Rivers" is about a dozen Pittsburgh neighborhoods. Place has always been a source of inspiration for Dilworth, who has been a resident of Pittsburgh for 25 years. "It's funny, 'My Riviera' takes place on the Riviera, but I wrote it all in Pittsburgh," Dilworth said. "And, when I actually took a sabbatical to the Riviera a couple years ago, I wrote a novel all about Northern Michigan." Dilworth is an associate professor of English and director of the Creative Writing program. Find out more. 

Zhen "Sean" Qian, an assistant professor with appointments in the Civil and Environmental Engineering Department and the Heinz College, has received a five-year, $500,000 NSF Faculty Early Career Development Award for his project "Probabilistic Network Flow Theory: Embracing Emerging Big Data for Efficient, Reliable and Sustainable Multi-modal Transportation Systems." Qian aims to establish a mathematical framework based on transportation system modeling and fusion of large-scale multi-source data across different systems including roadway, public transit and parking. The goal is to exploit the spatio-temporal characteristics of travel demand in the regional network, understand how network disruption affects the transportation systems, and help facilitate decision-making regarding planning and real-time operations. The project will lay the foundation for data-driven transportation science that will have an impact at all scales from individuals' quality of life to the nation's economy. This project will involve collaboration with several public agencies and private firms to develop, deploy and test real-world systems in the Pittsburgh metropolitan area based on large-scale data analytics.