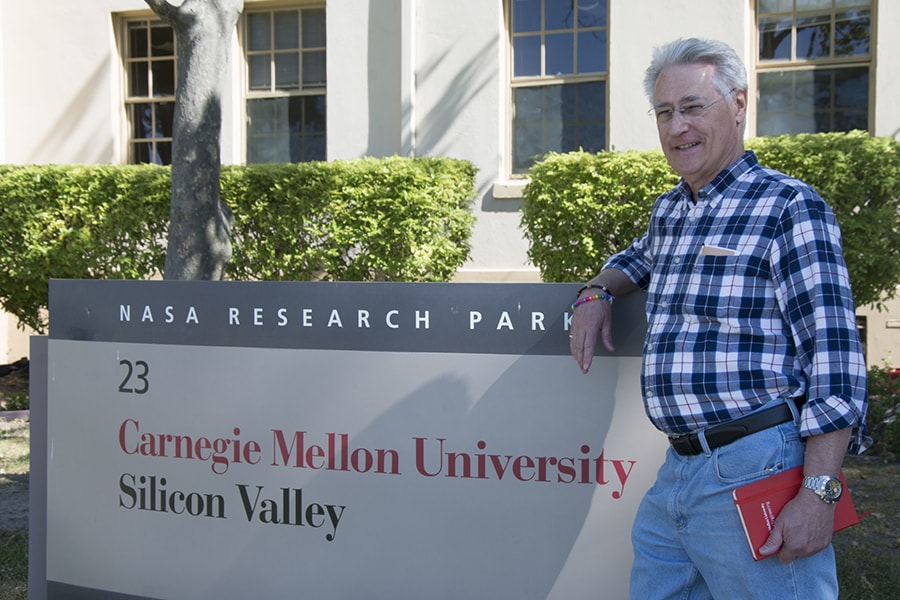 June 01, 2018
Rosenberg Is on a Mission at CMU's Silicon Valley Campus
By Allison Hodson allisonh(through)andrew.cmu.edu
As a child, Steven Rosenberg avidly read books on astronomy and the history of the cosmos. Today, his travels in space continue at the NASA Ames Research Park in Mountain View, California, as senior director of operations for CMU's Silicon Valley campus.
"It's a very dynamic and exciting place to be," said Rosenberg, who connects CMU researchers with NASA scientists to work on projects, such as building smart habitats for missions to the moon and Mars.
In addition to supporting space missions, Rosenberg helps keep the campus running smoothly by ensuring the students, faculty and staff have what they need, from overseeing IT support and classroom renovations to preparing the campus's accreditation report for the College of Engineering, the campus's home school. He is a manager, strategist and liaison for CMU's partnerships in Silicon Valley and Pittsburgh.
Rosenberg enjoys the entrepreneurial spirit at CMU Silicon Valley, where the global tech scene plays a major role in the academic experience. Google, Apple and Facebook headquarters are a few miles from campus, where each year more than 330 master's degree and Ph.D. students specialize in areas of study including software, cybersecurity and entrepreneurship.
"Tech has a big impact on the university culture here. Students have ample opportunities to interact with leading companies both in and outside of the classroom," he said.
Rosenberg earned his master's degree and Ph.D. in cognitive psychology at CMU, studying under Nobel laureate Herbert Simon. After earning his doctorate, he had an extensive 29-year career at Hewlett Packard Laboratories, managing research and launching partner labs with several top-tier universities. He joined the Silicon Valley campus in 2009 as a visiting scientist.
"It was refreshing to come back to a university setting," Rosenberg said. "After being at a Fortune 50 company, it was really nice to rejoin the CMU community and return to working alongside our talented faculty and students."
When he's not at campus, Rosenberg enjoys hiking with this family and practicing magic.
"As a cognitive scientist, I am always interested in how people think," Rosenberg said. "I find it fascinating how simple magic tricks shed light on how we perceive and understand. It's both fun and illuminating to fool people by 'tricking' their perceptions and understanding."
Have a suggestion for Staff Spotlight? Send it to piperweekly@andrew.cmu.edu.