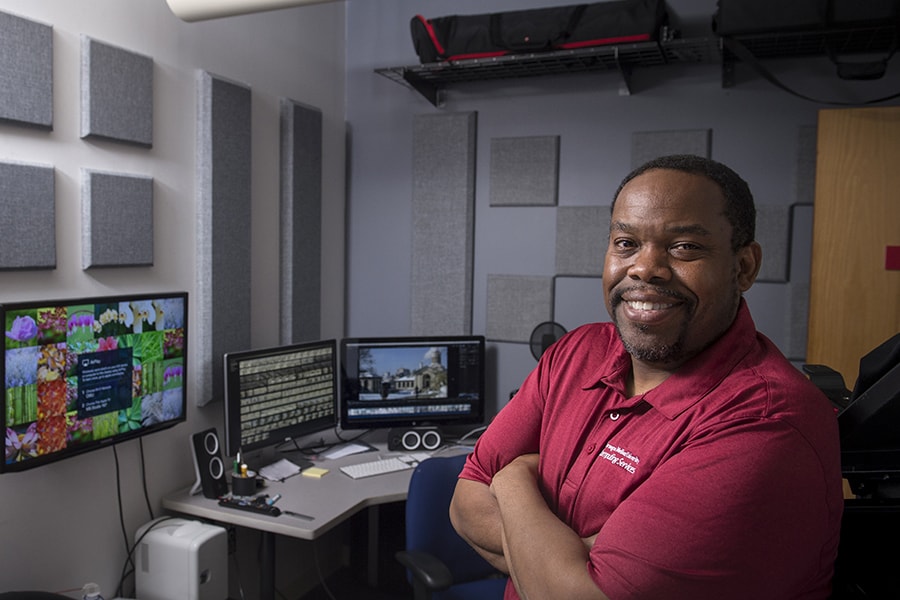 June 27, 2018
Blair's Eventful Career Keeps Him Plugged In
By Bruce Gerson bgerson(through)cmu.edu
Kenny Blair keeps the cameras rolling, the TV monitors on and the sound turned up as Media Services' principal equipment technician.
For 26 years, Blair has been setting up the audio-visual equipment for events on CMU's main campus, from Board of Trustees meetings, special lectures and diploma ceremonies, to visits by President Barack Obama, Bill Gates, IBM's Watson, former basketball star Sheryl Swoopes, and even Ben & Jerry, the ice cream moguls.
"We're only as good as our last job," said Blair, who knows the difficulties faulty equipment can cause. "If you can't handle the pressure you can't handle this job."
Over the years, Blair has learned to make sure the equipment he needs is working before going to every event. However, sometimes he has to improvise, like the time the power went out during a trustees meeting in the Posner Center.
"I gave my phone to [Vice President and General Counsel] Mary Jo Dively so she could use the flashlight to read her notes and continue her presentation," he said. "I raised the curtains on the windows to let some light in, too."
Despite the high-pressure environment, Blair likes his job, especially working with students, faculty and staff.
"After you've been here so many years, you get to know a few people. They start sharing their lives with you. They ask how you and your family are doing. The interaction is fun," he said.
Blair has a thirst for knowledge. He has a bachelor's degree in business from the University of Pittsburgh, a master's degree in public policy and management from CMU's Heinz College of Information Systems and Public Policy, and a computer information technology degree from Community College of Allegheny County. He enjoys the challenge of keeping up with the many technological advances in the audio-visual industry.
"It's more plug and play now. Before it was more labor and hardware intensive and now it's more software intensive. It's become more efficient and the quality is better," he said.
Blair and his colleagues in Media Services learn about new products by reading, taking continuing education classes and participating in webinars. They also often attend InfoComm, the largest professional audio-visual trade show in the United States, where they can talk directly with company representatives.
"Every company that sells cameras, electronics, microphones, TVs, and anything you can imagine in the audio-visual world is there. There's SONY, Dell, Apple, LG, Samsung, Panasonic — all the major players are there. The industry is constantly changing and we're constantly learning. This job is not boring," he said.
In his spare time, Blair keeps busy deer hunting, fishing for trout and steelhead, and barbecuing on his 20+-year old Brinkmann Smoke'N Pit Professional grill.
"I'm a charcoal person — no gas. I like to slow cook ribs, 5 to 6 hours at 200 degrees," he said.
Have a suggestion for Staff Spotlight? Send it to piperweekly@andrew.cmu.edu.