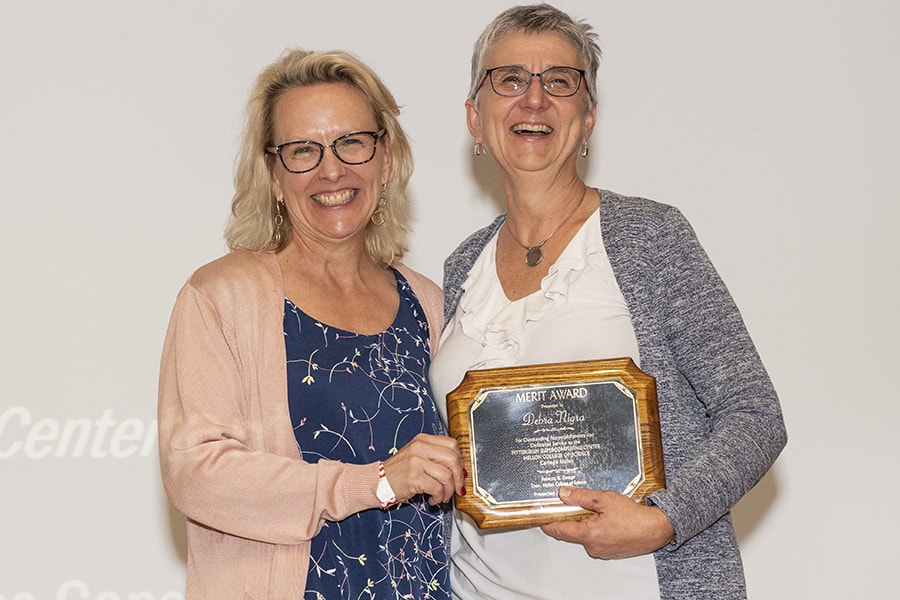 June 27, 2018
Personal Mention
Eight staff members in the Mellon College of Science were recently honored for outstanding job performance and achievement.

Debra Nigra received this year's Merit Award, which recognizes staff members for their outstanding job performance over an extended number of years. Nigra has been with the PSC for over 30 years, where she is an expert in preparing advanced technical user documentation for PSC's web presence and is a valued member of the PSC's communications team.

Rozita Laghaei, a research scientist at the PIttsburgh Supercomputing Center, earned this year's Rookie Award. Laghaei has worked hard to acquire and broaden an interdisciplinary skill set, and to help students with their research and prepare them for presentations at scientific conferences.

Brenda Chambers, administrative assistant in the Chemistry Department, was honored for her leading role in developing the department's strategic plan, for representing the concerns of department staff, and for offering suggestions to improve and streamline administrative processes.

Heather Corcoran, senior academic coordinator for the Department of Physics, was commended for her work organizing the department's memorable diploma ceremony.

Iulia Dumitriu, webmaster for the Department of Mathematical Sciences, received recognition for her efforts in developing a highly sophisticated set of websites, including pages for centers, events and publications.

Christine Gilchrist, senior academic coordinator for the MCS Dean's Office, was honored for going above and beyond expectations in a variety of roles to advance the success and influence of MCS on campus and in the Pittsburgh community.

The Pittsburgh Supercomputing Center honored Thomas Maiden, who was recently promoted to manager of user services. Maiden was praised for co-developing and leading the HPC Monthly Workshop series for students using the highly innovative Wide Area Classroom technology, which he designed and implemented under his leadership.

Matthew Salyers, multimedia designer in the Biological Sciences Department, was recognized for being the driving creative force behind all of the department's multimedia projects.