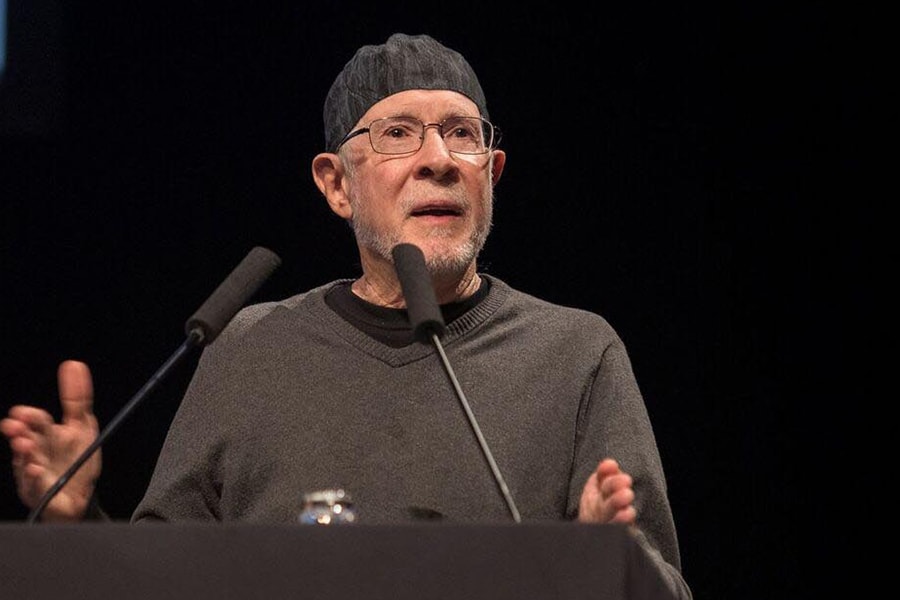 June 19, 2018
Personal Mention
Alan Waggoner, the Maxwell H. and Gloria C. Connan Professor in the Life Sciences, received the 2018 Mack Fulwyler Award for Innovative Excellence from the International Society for the Advancement of Cytometry (ISAC). Waggoner accepted the award at the society's annual congress in Prague this spring. The Fulwyler Award is the ISAC's highest award and recognizes an individual who has demonstrated outstanding innovation by invention, or in a career of innovative science. Waggoner was recognized for his fundamental contributions to the development of fluorescent-based detection systems for biology and biotechnology, which have advanced research worldwide. Waggoner invented cyanine-based dyes called CyDyes, which are used to detect macromolecules like proteins and nucleic acids in cells and tissues. His dyes have greatly contributed to our understanding of how gene and cellular functions are regulated. Find out more.

In a new study published in Nature Genetics, Kathryn Roeder and a team of researchers established a computationally integrated approach to investigate the functional impact of missense mutations in DNA. Their approach analyzed genetic structures of individuals with autism spectrum disorder who had mutations as well as their siblings who did not have the mutations. They found that the framework successfully identified and prioritized missense mutations that contribute to disease or disorder risk. "Identifying genetic mutations that increase the likelihood of disease is a major challenge to progress for personalized medicine. Using a machine learning model that predicts which mutations are likely to perturb the human interactome network, we showed that these mutations are much more likely to occur in autistic children than their siblings," Roeder said. "This result extends to several other mental disorders suggesting that our finding may have even broader applicability." Roeder is the UPMC Professor of Statistics and Life Sciences in the Dietrich College of Humanities and Social Sciences. Learn more.
Selected from more than 1,000 proposals, four faculty members from the Human-Computer Interaction Institute have received 2017 Google Faculty Research Awards. Google hopes these collaborative relationships with world-class computer science faculty researchers will impact how future generations use technology, benefiting both the researchers and Google. HCII faculty award winners and their proposals are:

Jodi Forlizzi, the Charles M. Geschke Director and professor in the Human-Computer Interaction Institute, earned a research award for her proposal, "Collaborating with Ubiquitous Intelligent Agents and Robots." This proposal looks to the near future, one full of ubiquitous agent-robots, where robots and intelligent agents interact with people across many different physical settings.

Aniket Kittur, the Cooper-Siegel Associate Professor of Human-Computer Interaction, received an award for her proposal, "Supporting Complex Search on Mobile Devices." In this proposal, Kittur re-frames complex information-seeking challenges in a mobile context as an opportunity for rethinking the way users navigate and manage online information.

Brad A. Myers, professor, earned a Google award for "Studies and Tools for Improving the Usability of Google's APIs." Myers began a close collaboration with Google through a faculty research award last year to better understand how to evaluate and improve the usability of APIs. This collaboration, which has already generated two co-authored papers and significant new shared knowledge, will now continue for a second year and further investigate how APIs can be improved.

Carolyn P. Rose, a professor in the Language Technologies Institute and Human-Computer Interaction Institute, received an award for her proposal, "Collaborative Physics in the Google Study Buddy Network." Discussions with Google's Central EDU team are ongoing to explore how research in computer-supported collaborative learning might enhance social aspects of using Google products more broadly, especially for learning and teaching. Rose recently visited Google in New York to give a talk about her research and discuss with a variety of project teams about potential connections.