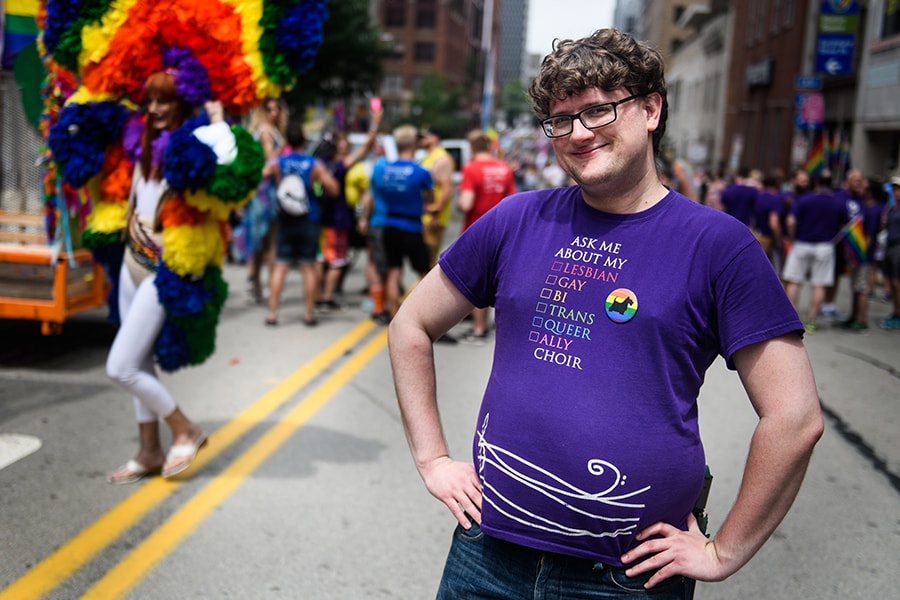 June 12, 2018
McIntyre Takes Pride in Being Heard
By Kelly Saavedra ksaavedra(through)cmu.edu
Whether he is writing or singing, Douglas McIntyre aims to be heard.
As senior manager of the marketing team at the Tepper School of Business, McIntyre crafts news stories and features, and provides editorial support for the school's website and various publications. He's been a member of the Tepper team for the past five years.
"Professional writing is a great way to use writing for a purpose," said McIntyre, who earned a master's degree in professional writing at CMU. While pursuing his degree, he worked part-time in the Cohon University Center, developing informational brochures and managing web content.
Away from the office, McIntyre's voice is heard as a tenor and as a member of the board of directors for the Renaissance City Choir.
"I started singing in high school. I didn't think I had much of a voice, but I wanted to be in the musical during my junior year. So, I got involved and never looked back," he said.
The Renaissance City Choir advocates for diversity and inclusion through the unifying power of music. This past weekend, the choir marched in the Equality Parade, one of two parades celebrating the LGBTQ+ community.
"Our organization finds value in participating in a pride march, particularly in the Delta Foundation's events because they've been doing pride for at least a dozen years, and their events are so well attended," McIntyre said. "There is no better way to get seen, get noticed, and get people interested in who you are and what you do as an organization."
Not limited to a single genre, the choir has performed traditional music, classical, acapella, jazz, pop and Broadway tunes.
"Our mission is to spread empowerment and advocacy through music, so we sing whatever songs fit under the theme of the message we're trying to convey," McIntyre said.
As the parade made its way through the city streets on Sunday, the choir could be heard singing the Captain & Tenille hit, "Love Will Keep Us Together" and "Sing" by Pentatonix.
Have a suggestion for Staff Spotlight? Send it to piperweekly@andrew.cmu.edu.