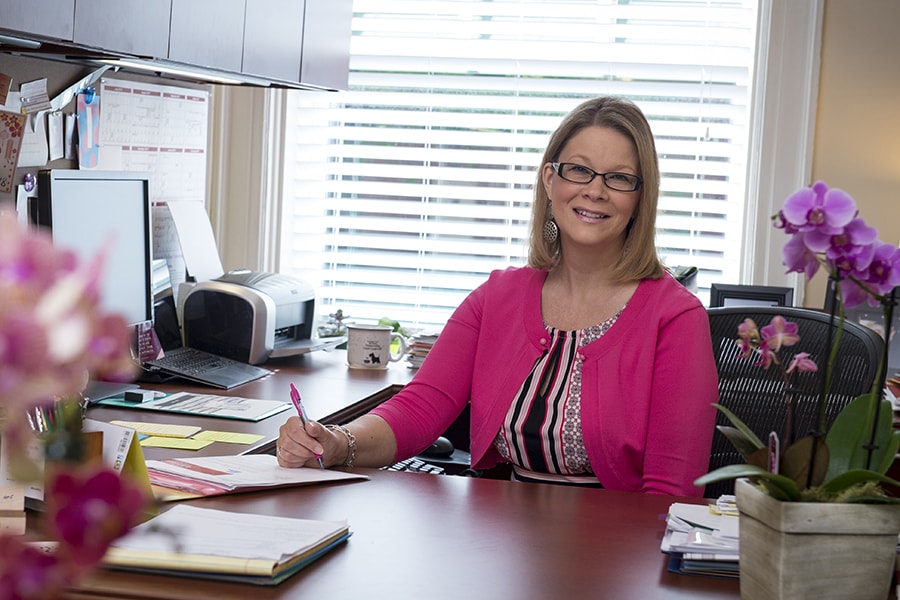 July 25, 2018
DeFabio Realizes Value in Staying Connected
By Kelly Saavedra ksaavedra(through)cmu.edu
Lynn DeFabio's career is linked to connecting people.

As director of Alumni Relations for campus and volunteer programs at Carnegie Mellon, DeFabio oversees key campus events for the Alumni Association, such as Spring Carnival, Homecoming and the CMU Alumni Awards.

She first joined Carnegie Mellon 24 years ago as an administrative assistant for the Andrew Carnegie Society. Within a month, she was assigned the huge task of organizing the society's annual dinner.

"It was a quick baptism into events planning, but I had a great boss who took me around campus to meet people I needed to know," she said. "I found it very helpful to have made those connections early, and now I try to do the same for others."

By the end of the following academic year, her success in managing the budget and other tasks earned her a promotion to assistant director for the Faculty and Staff Campaign and Parent Fund. In 1997, she joined the alumni office and has been a director leading various programs for the past 13 years.

"What keeps me here is the people," she said. "Everyone is just incredible — the alumni, students, faculty and staff. They have such brilliant minds!"

DeFabio especially enjoyed the years she spent planning class reunions. She forged long-lasting relationships with alumni on the various committees and was fascinated with their stories about life on campus when they were here. The tales ranged from fraternities launching water balloons across Forbes Avenue from the roof of Alumni House (formerly home to Theta Xi) and welding the wheels of a street car to the tracks to memories of military tanks on campus during the Vietnam War.

"Even though the work was similar from year to year, each class had a different personality, and in many ways, it helped me learn about Carnegie Mellon by looking at the university through their lens," she said. "It's rewarding to me to help people either reconnect with each other or help them stay connected. The stronger those relationships are, the stronger their relationship is to Carnegie Mellon."

In her free time, DeFabio and her husband enjoy cooking for and connecting with family and friends. On Friday nights they often gather them around a campfire to talk, laugh and unwind from a hectic week. They have a son, Dominic, who just finished his first year at Penn State, and a daughter, Julia, who loves to ride and take care of horses.
Have a suggestion for Staff Spotlight? Send it to piperweekly@andrew.cmu.edu.