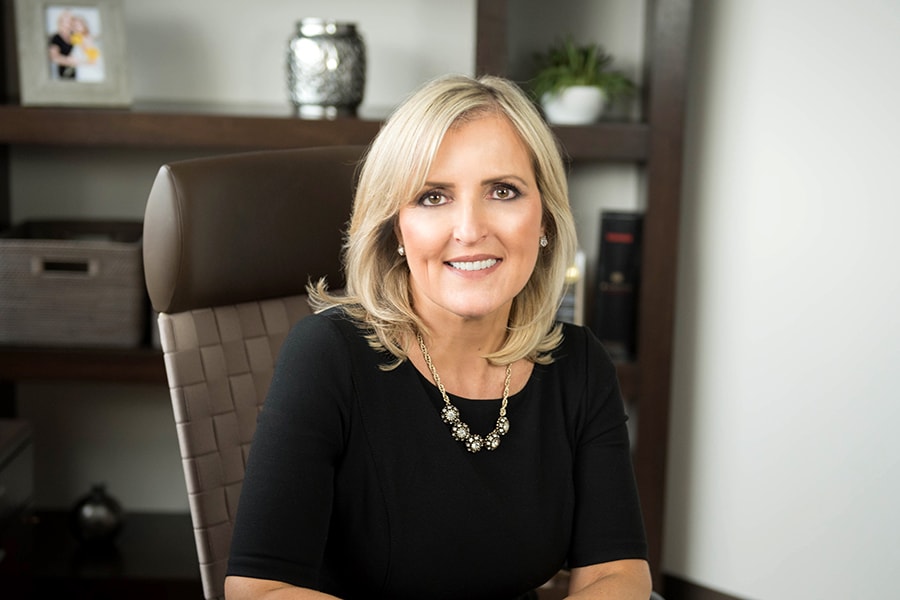 July 18, 2018
Personal Mention
Dena Haritos Tsamitis, director of the Information Networking Institute (INI), was named a 2018 Woman in IT Security Power Player by SC Magazine. The INI helps foster emerging talent in the engineering space by offering technical, interdisciplinary master's degree programs in information networking, security and mobility. Since joining the INI as its associate director in 2002, Tsamitis has spearheaded multiple programs designed to give students a head start in these fields while creating a culture of inclusion for underrepresented women and minorities. In 2005, she co-founded Women@INI, a student organization whose mission is to support women in engineering, in part through scholarship funds, networking opportunities and mentorships. Later, she established the Graduate Organization@INI and the INI Alumni Leadership Council. This past May, Carnegie Mellon issued diplomas to the first four students ever to receive the INI Director's Fellowship – a program Tsamitis founded in 2016 to help eliminate financial barriers for women and minorities.  Learn more. 
Bernhard Haeupler, Louis-Philippe Morency and Jean Yang are the latest School of Computer Science faculty members to receive the National Science Foundation's prestigious Faculty Early Career Development (CAREER) Award.

Haeupler, an assistant professor in the Computer Science Department, will receive $560,000 to develop a theory and methods for correcting errors in interactive communications. Haeupler joined the department in 2014, after a one-year stint as a post-doctoral researcher at Microsoft Research Silicon Valley.

Morency, assistant professor in the Language Technologies Institute and director of the Multimodal Communication and Machine Learning Lab, will receive $550,000 to develop technologies that allow computers to understand subtle nonverbal behaviors of people and to learn the inherent variability between individuals in how those behaviors are expressed. Morency joined the LTI in 2015 after serving on the research faculty at USC.

Yang, an assistant professor in the Computer Science Department and affiliated faculty in the Computational Biology Department, was awarded $550,000 to develop a new programming model that incorporates a theory of differential privacy. She joined Computer Science in 2016 after serving as a post-doctoral researcher at Harvard Medical School.
Ivan Bhatia and Daniel Omeiza, who are studying for their master's degrees in information technology at CMU-Africa, are among the 2018 recipients of IBM Research's Great Minds student internships. Great Minds interns spend three to six months at IBM's labs in Zurich, Nairobi or Johannesburg.

Bhatia will be working with a team on creating a data and service marketplace platform on a blockchain network. "I'm interested in IBM's recent research in machine learning, deep learning and blockchain technology, in particular, because it has the potential to solve problems we're facing in Africa around distributed applications," Bhatia said. "I am inspired by the many inventors in the world who have made selfless contributions to simplify people's lives. I would like to expand this list of inventors to include more Africans solving the problems specific to the continent," he said.

Omeiza hopes to contribute to the future of technology by finding tangible answers to two important questions: 1) Can programming languages be designed to contain machine learning primitives with lots of abstractions? 2) Will the general perception of a regular computer one day include machine learning? He plans to tackle these questions by investigating new paradigms for programming languages that will ease the implementation processes of machine learning algorithms, and also make the necessary machine learning tools available instantaneously. "I intend to work on IBM projects that revolve around building machine learning models from online user generated data in emerging markets, which could scale easily across multiple platforms," he said.


Sara Moussawi (far right) and Jeria Quesenberry received "Best Poster Recognition" at the recent ACM Special Interest Group on Management Information Systems' Computers and People Research Conference. Their poster was titled "Improving Student-Driven Feedback and Engagement in the Classroom: Evaluating the Effectiveness of the Speed Dating Model." Their work is based on pedagogical research of the speed dating and traditional presentation method of learning, conducted in collaboration with the Eberly Center. Their findings demonstrate that the speed dating method of learning is a more effective alternative to a presentation format and is a useful complement to other collaborative learning methodologies. Moussawi is an associate teaching professor and Quesenberry is an assistant teaching professor in the Dietrich College's Information Systems program.