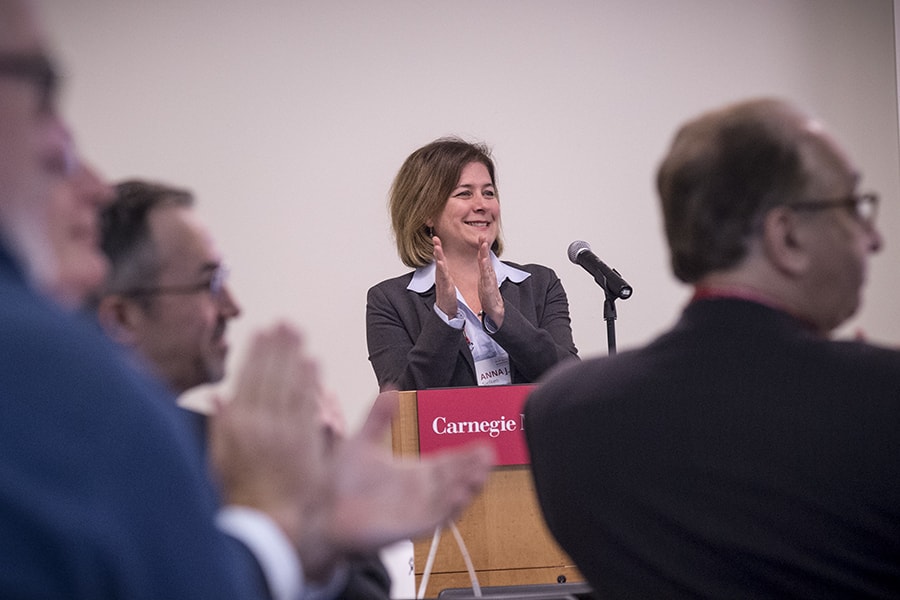 July 10, 2018
Personal Mention

Anna Siefken has been selected as a member of the 2018 Executive Energy Leadership program by the National Renewable Energy Laboratory (NREL) of the U.S. Department of Energy. Siefken, associate director for Innovation and Strategic Partnerships at CMU's Wilton E. Scott Institute for Energy Innovation, is one of 20 participants from industry, government and nonprofit organizations who will take part in a four-month program, learning from NREL's scientists, touring its facilities and visiting local energy installations to better inform their energy-related decisions and planning. At the end of the program, Siefken and her cohort will present feasible clean energy projects from their communities. An adjunct professor in the Heinz College, Siefken is a leader in the promotion of energy efficiency, green initiatives and environmental practices. She earned the Pittsburgh Business Time's 2016 Women in Energy Leadership Award, a spot on the Smart Business Pittsburgh Magazine's "Who to Watch" list in 2017, and a recent Women of Achievement Award from Cribs for Kids. Learn more.

After 20 years in the Department of English, Barbara Johnstone retired this spring. A professor of English and linguistics, Johnstone wrote the widely used textbook "Discourse Analysis," was editor of the journal "Language in Society" and became an expert in Pittsburghese. Johnstone authored "Speaking Pittsburghese: The Story of a Dialect" in which she analyzed the origins of the city's most iconic words, such as "yinz" and "nebby." In her retirement, Johnstone will continue her academic research with two forthcoming papers and a book in progress. Find out more.

Tzahi Cohen-Karni, an assistant professor of biomedical engineering and materials science & engineering, has been named a 2018 Young Innovator by the Biomedical Engineering Society's journal Cellular and Molecular Bioengineering. Cohen-Karni was honored for his work on capturing heart cell data through tiny graphene sensors. The work sets the stage for deeper investigations into heart arrhythmias and disease such as Alzheimer's and Parkinson's. As part of the award, Cohen-Karni and his team published a research paper, "Graphene microelectrode arrays for electrical and optical measurements of human stem cell-derived cardiomyocytes." The paper describes Cohen-Karni's work creating microelectrode graphene sensors, which the researchers have shown can take precise optical and electrical recordings of spontaneously beating heart cells known as cardiomyocytes. Find out more.

Michal Friedman, a visiting assistant professor of history, co-organized an international symposium to mark the centennial of the establishment of the modern Jewish community of Madrid, Spain. The symposium, held July 2-4 in Madrid, featured academics, writers and filmmakers from Spain, the U.S., Israel, Italy and Poland, and included panel discussions, roundtables, film screenings and public talks. The participants were received by the director of the Academy of the Spanish Language (Real Academia Española), who discussed the academy´s establishment of a new institute devoted to the study of Judeo-Spanish, the language of the Sephardi Jews. The academy also declared Judeo-Spanish an Hispanic language.

Thomas Scanlon, a cybersecurity researcher in the Software Engineering Institute's CERT Division, took first place in the University of PIttsburgh English Department's Tall Tales Short Story contest for his story "Phantasm 42." The fictional piece focuses on Curtis "Popeye" Harris, who played for the Pittsburgh Crawfords baseball team in the Negro League. Scanlon writes that Harris visited the 42nd floor of the Cathedral of Learning nearly every day to gaze into Forbes Field, dreaming he would one day play for the Pittsburgh PIrates. When hall of famer Jackie Robinson came to town to play in a Negro League All-Star game at Forbes Field, he was told about Harris' daily ascent atop the Cathedral of Learning. So, Robinson made the trek. The next year, he chose to wear number 42 for the Brooklyn Dodgers and tipped his cap toward the Cathedral of Learning everytime he played at Forbes Field. Read "Phantasm 42."

Ipek Ozkaya, a principal researcher in the SEI Software Solutions Division, has been chosen as editor-in-chief of IEEE Software, a leading peer-reviewed journal published bimonthly since 1983 by the IEEE Computer Society. When Ozkaya assumes editorial leadership in January 2019, she plans to focus on publishing research that provides practical guidance and help to software developers and architects. She aims to help practitioners with information that is useful, consumable and timely. Ozkaya earend her Ph.D. in computational design from CMU.

Leigh Metcalf, a senior network security research analyst in the SEI's CERT Division, was recently named co-editor-in-chief of Digital Threats: Research and Practice, a new journal of the Association of Computing Machinery (ACM). The journal grew from Metcalf's belief that cybersecurity researchers and practitioners need a vehicle to communicate with one another. This peer-reviewed journal, set to launch in early 2019, will promote the foundational development of scientific rigor in digital security by bridging the gap between academic research and industry practice. Metcalf will share editorial duties with Arun Lakhotia, a professor in the School of Computing and Informatics at University of Louisiana at Lafayette.