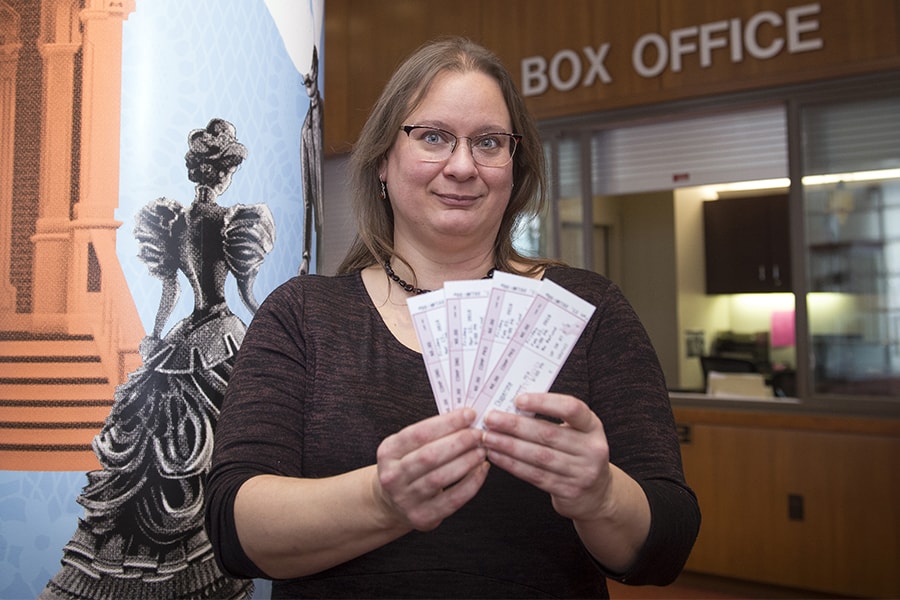 January 23, 2018
Stoy Has Best Seats in the House
By Bruce Gerson bgerson(through)cmu.edu
Maria Stoy has your ticket to the theater at Carnegie Mellon University.
Stoy is box office manager for the School of Drama, responsible for ticket sales, playbills and the student ushers for about 15 shows per year. She also is associate director of the school's summer pre-college program for high schools students.
"There's always something going on, which is fun," said Stoy, who has been running the box office for 20 years. "It's exciting. We have periods when it gets really busy. There are a couple weekends this year when we'll have three to four shows going on at once."
Performances are held in the Chosky Theater and the Helen Wayne Rauh and John Wells studio theaters in the Purnell Center for the Arts, and Studio 201 in Point Breeze.
The box office in the Purnell Center lobby is open from noon to 5 p.m. on weekdays and 90 minutes before evening and matinee performances. Stoy said many people pick up their tickets at the box office right before showtime.
"Most ticket sales are done in person or over the phone," Stoy said. "We have sold a lot more online over the past couple of years, but it's easier for people who are on campus to stop by. A lot of our patrons in the community would rather just call. It's easier for them to find the best seats available."
Stoy said she has seen almost all of the shows over the past two decades and "the students are always fantastic."
Some of the drama students she remembers who have achieved success on stage and screen include Zachary Quinto, Joe Manganiello, Denee Benton, Josh Gad and Casey Cott.
"Casey worked for us in the box office, ushered for us and worked the pre-college program. I'm really excited for these students because I know how hard they worked to get there and how hard it is to get a break in the business," Stoy said.
In addition to the quality of the productions, Stoy likes the atmosphere in the School of Drama.
"It's a very supportive environment for students and staff. We are really appreciated here," she said.
In her spare time, she enjoys sewing medieval costumes, singing folk music and playing guitar.
"I'm into Dr. Who. I'm a fan of pop culture and modern mythology," said Stoy, who earned a degree in theater at Point Park University.
The School of Drama's spring season begins with "The Drowsy Chaperone" in February. CMU faculty and staff receive a 20 percent discount on tickets.
"Come and see me, and come see a show!" she said.
Have a suggestion for Staff Spotlight? Send it to piperweekly@andrew.cmu.edu.