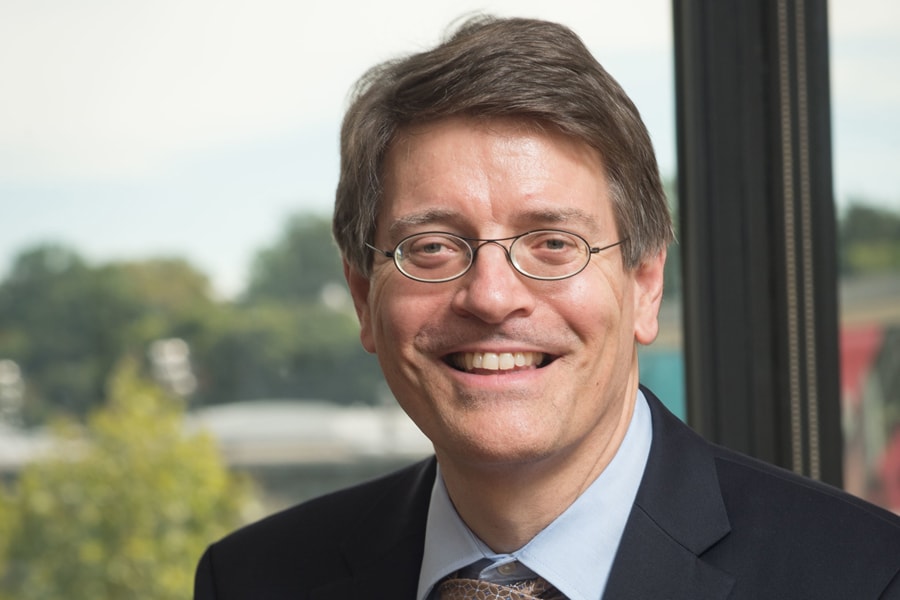 January 10, 2018
Personal Mention


The Advanced Robotics for Manufacturing Institute has appointed Byron C. Clayton (left), an experienced leader in public-private partnerships and technology commercialization, as chief executive officer. Clayton succeeds Gary Fedder (right), who has held the interim CEO role since early 2017. Clayton most recently served as the president and CEO of Research Park Corporation, which was formed by the Louisiana legislature in the early 1990s to help grow and diversify the innovation economy of Baton Rouge. Prior to this role, Clayton was based in Northeast Ohio, where he led regional innovation clusters in printed electronics, advanced energy and water technologies. Fedder returns to his role as vice provost for Research (VPR) for Carnegie Mellon, while remaining an active champion for ARM. Fedder will work closely with Clayton over the next few months to ensure a smooth transition of leadership. Learn more.

Human-Computer Interaction Institute Ph.D. student Stephanie Valencia was named to MIT Tech Review's "Innovators Under 35 Latin America" for 2017 for her work on the Ijwi device, which gives a voice to those who cannot speak due to nonverbal autism or cerebral palsy. Valencia and her team initially envisioned Ijwa as a one-size-fits-all tablet app , but upon learning more about the context through their local partners, they had to reevaluate. The new solution was a low-cost device that runs on batteries and open source code for easy maintenance and customization. "Through the projects she has developed in the past and continues to develop currently, Valencia has demonstrated superlative curiosity, tenacity, and with the right resources, she will achieve great things in the future," Tech Review noted. Find out more.
The Association for Computing Machinery has selected computer science professors Mor Harchol-Balter and Venkatesan Guruswami ACM Fellows in recognition of their major contributions to computer science. They are among 54 members of the 2017 class of ACM Fellows, including MIT's Shafi Goldwasser, a CMU alumna and Turing Award recipient. They join 33 current and former CMU faculty members who previously were named fellows.
The ACM cited Harchol-Balter "for contributions to performance modeling and analysis of distributed computing systems." Her work on designing new resource allocation policies includes load-balancing policies, power management policies and scheduling policies for distributed systems. She is the author of a popular textbook, "Performance Analysis and Design of Computer Systems."
The ACM cited Guruswami "for contributions to algorithmic coding theory, pseudorandomness and the complexity of approximate optimization." His research spans a number of additional topics in theoretical computer science, including the theory of error-correcting codes, probabilistically checkable proofs, computational complexity theory, and algebraic algorithms.

Richard O. Young, teaching professor of business management communication at the Tepper School of Business, received the Association for Business Communication's Distinguished Publication Award for his recently released textbook. The award recognizes an outstanding article, essay or book that has made a substantial contribution to the discipline of business communication. Young's winning textbook, titled "Persuasive Communication: How Audiences Decide, 2nd ed.," provides students with an in-depth introduction to communications topics, such as persuasion and decision-making, while also sharing several sample document and presentation examples. Based on extensive empirical research, Young delves into a thorough analysis of audiences to inform readers why different audiences arrive at decisions and ways to influence them. Learn more.
Language Technologies Institute students Jonathan Francis and Juncheng (Billy) Li are the inaugural recipients of Bosch SCS Graduate Research Fellowships. The fellowships were made possible by a gift this fall from the Bosch Group. The fellows' research will strengthen Bosch's capabilities in human-machine interaction (HMI) technologies, and will be performed in close coordination with the Bosch Research and Technology Center's Pittsburgh office.
Francis, an LTI Ph.D. student, has research interests including conversational AI, especially in the context of smart environments, with focuses in multimodal sensing, statistical inference, knowledge representation and decision-making. He earned his bachelor's and master's degrees, with honors, from CMU's Department of Electrical and Computer Engineering. He is advised by Professor Eric Nyberg.
Li, a master's degree student, has research interests in deep learning, multimedia machine learning, natural language processing and audio/speech processing. He earned a bachelor's degree at Tongji University in Shanghai, China, and a dual master's degree in advanced infrastructure systems and engineering technology innovation and management at CMU. He is advised by Associate Research Professor Florian Metze.