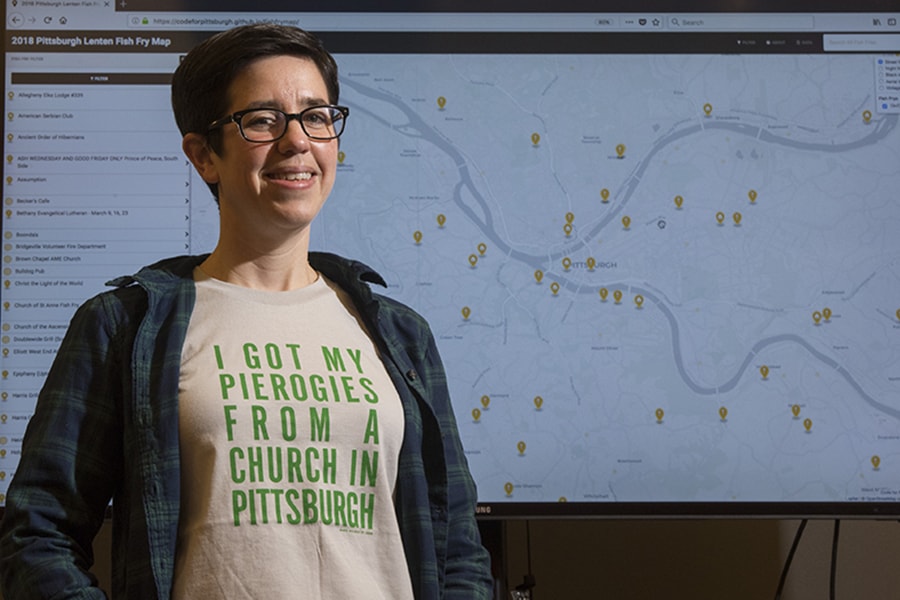 February 26, 2018
Barmer Maps Out a Friday Ritual
By Bruce Gerson bgerson(through)cmu.edu
Hollen Barmer's schedule is a little fishy these days. Creator of the Pittsburgh Lenten Fish Fry Map, she is taking Fridays off to feed her passion at lunch and dinner.
Barmer is a writer and editor for the Software Engineering Institute's Emerging Technology Center. A 2001 graduate of Carnegie Mellon's Masters of Professional Writing Program, she writes promotional materials, scripts for videos and content for the web, but it is her love for a Pittsburgh Friday ritual during the Lenten season that has put her on the map.
Her geographical creation has more than 4,500 likes on Facebook and is populated with over 200 locations. Click on a venue and you will get a pop-up window listing information that includes directions, hours of operation, the menu — "people are most interested in pierogies," she said — and if it is accessible to those with disabilities.
Born and raised in Memphis, Tennessee, Barmer came to Pittsburgh in 2000 and attended her first fish fry about 10 years ago.
"It was fun. I enjoyed talking to the people and hearing their stories," she said. "And what's not to like about the fried fish, fries and pierogies? I thought how am I going to find them all?"
Barmer created her first Google map in 2012 with about 65 locations, which she obtained from the Pittsburgh Catholic newspaper, an annual resource for her project. In the second year, she made a Facebook page, and news of the map was published in the Tribune Review. Soon, churches began sending information to the Facebook page.
In 2016, she connected with members of the Code for Pittsburgh Brigade, a volunteer IT organization that helps with civic projects. Barmer credits members Christian Gass, a map maker, and Mark Howe, a computer programmer, with helping to bring the map to its present form.
"There's something amazing about every fish fry, whether it's the volunteers, the gigantic fish sandwiches or the pierogies," Barmer said. "And the dessert tables are amazing. They're usually a work or art with homemade items from the parishioners."
Barmer said her job at the SEI is sweet, too.
"It challenges me to communicate difficult concepts in a way that many people can understand," she said. "I enjoy being around innovation."
Barmer volunteers at Family House, a low-cost inn for patients and families who come to Pittsburgh for medical treatment. She works the front desk every other Tuesday night at the Oakland location on S. Neville Street.
If Family House visitors are looking for a fish fry, she knows what to tell them.
"I love the one at Corpus Christi Parish in McKeesport," she said "Follow the map to get there."
Have a suggestion for Staff Spotlight? Send it to piperweekly@andrew.cmu.edu.