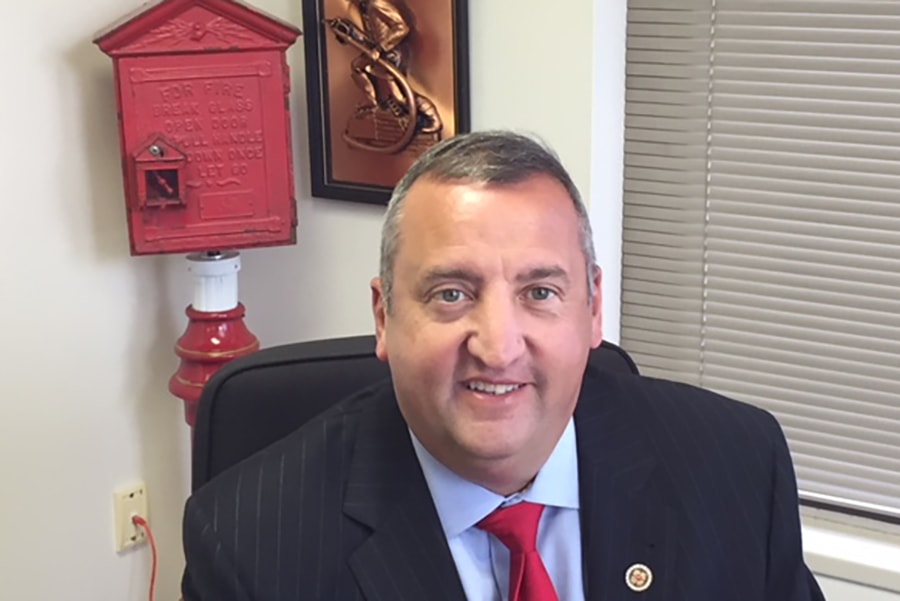 January 31, 2018
Personal Mention
Art Martynuska has been named to the new position of Emergency Management Specialist, responsible for enhancing and maintaining CMU's Emergency Preparedness and Response Plan. Martynuska will work with campus and external partners to develop training and awareness programs, and faciliate exercises and drills to demonstrate efficiencies and areas for improvement. He comes to CMU with years of emergency management experience. As deputy emergency management coordinator for the City of Johnstown, he has written emergency operations plans for the Greater Johnstown School District and developed the emergency evacuation plan for Johnstown's Point Stadium, a 7,500-seat, multi-use stadium in the heart of the city. As president of the Pennsylvania Professional Fire Fighters Association, he holds positions on the Governor's Fire Service Advisory Committee, the state's 911 Advisory Committee and the Fire Service Certification Advisory Board.

Jennifer Ricklin has been named director of the Software Engineering Institute's Software Solutions Division. The SEI's Software Solutions Division develops and transitions methods, technical solutions and services for software-reliant systems, ensuring critical mission capabilities are achieved in a predictable, affordable and sustainable way. Ricklin previously served as senior adviser to the director in the Office of the Assistant Secretary of Defense (Research & Engineering), chief scientist of the Department of Homeland Security and director of the Homeland Security Advanced Research Projects Agency. Ricklin also served as chief technologist for the Air Force Research Laboratory, director of Strategic Technologies at Lockheed Martin Missiles and Fire Control, program manager at the Defense Advanced Research Projects Agency, and as a scientist and leader at the Army Research Laboratory. "With her extensive background across both federal defense and civil agencies, Jennifer Ricklin is one of the nation's most talented professionals working at the intersection of defense science and technology research," said CMU Interim President Farnam Jahanian. Find out more.

The Computing Research Association (CRA) has awarded mathematical sciences senior Joshua Brakensiek a 2018 CRA Outstanding Undergraduate Researcher Award. These awards recognize undergraduate students at North American universities who show outstanding research potential in an area of computing research. Brakensiek was one of four awardees and will receive financial assistance of up to $1,500 to attend a research conference of his choice. Brakensiek is part of Carnegie Mellon's Knaster-McWilliams Scholars program, which is one of only a few scholarship-supported programs in the United States that pairs an honors program with increased access to faculty and early research opportunities. Throughout his undergraduate career, Brakensiek has conducted research in a number of areas in computer science, statistics and cosmology. He is a Goldwater Scholar, a two-time Gold Medalist in the International Olympiad in Informatics, and a Putnam Fellow and member of the Carnegie Mellon Putnam Team that placed first in 2016. Find out more.
School of Computer Science students Jessica Colnago and Xiaolong Wang are among 23 Ph.D. students named Facebook Fellows and Emerging Scholars for 2018. The Facebook Fellowship program encourages and supports promising doctoral students engaged in innovative research across computer science and engineering that is relevant to Facebook. The Emerging Scholars program recognizes talented first- or second-year Ph.D. students from under-represented groups in the technology sector. More than 800 Ph.D. students around the world applied to the programs this year.
Colnago, recognized as an Emerging Scholar, is a second-year Ph.D. student in the Institute for Software Research's Societal Computing program, and a member of both the CyLab Usable Privacy and Security Laboratory and the Privacy Economics Experiments Lab. Her research includes identifying and understanding people's most salient privacy concerns and behaviors surrounding new technologies, and identifying users' preferred approach to privacy in different data-sharing contexts, such as social networking sites and the internet of things.
Wang, a fourth-year Ph.D. student in the Robotics Institute, was awarded a Facebook Fellowship. His research interests include computer vision and machine learning. He studies how to exploit redundancy in visual data to learn visual representations, and has proposed ways to automatically extract supervisory signals from depth images and video data where human labels are hard to find. He also explores the modeling of long-range pairwise relationships between redundant patterns in neural networks to improve general video-classification and image-recognition tasks.