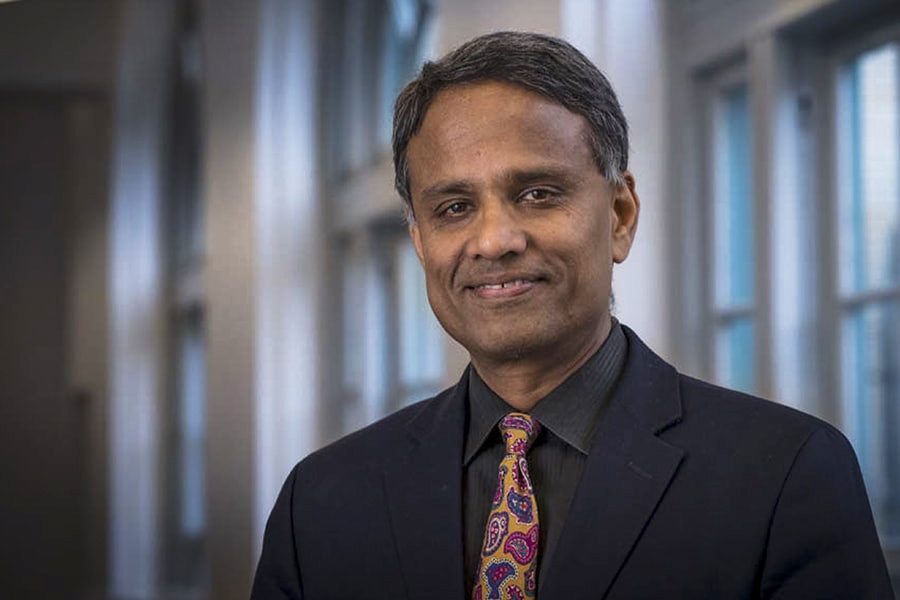 December 05, 2018
Personal Mention
Heinz College Dean Ramayya Krishnan has received the 2018 Bright Internet Award (Jae Kyu Lee Award) from the Korea Society of Management Information Systems. The award honors those who have made excellent scholarly achievements and contributions in the field of management information systems, especially in the area of Bright Internet research and development. Krishnan is the W. W. Cooper and Ruth F. Cooper Professor of Management Science and Information Systems at Heinz College and in the Department of Engineering and Public Policy. He founded the information systems management program at CMU and has led the establishment of funded research centers focused on data driven decision-making in key societal domains. These centers include Traffic21, Metro21 Smart Cities Institute and the Risk and Regulatory Services Innovation Center. Krishnan has presented at the World Economic Forum on smart cities and big data. Find out more about Krishnan. 
Kaytie Nielsen, a 2016 alumna and international filmmaker, is the fourth CMU student to earn the highly selective international Marshall Scholarship, which funds up to two years of graduate study in the United Kingdom. Nielsen, who earned her bachelor's degree in humanities and arts with concentrations in creative writing and drama, plans to study screenwriting at the National Film and Television School in Beaconsfield or the Royal Central School of Speech and Drama in London. The award covers a year of university fees, tuition, books, a thesis grant, research and daily travel, including airfares. Nielsen's portfolio includes creating films in France and India. At CMU she worked with Mame-Fatou Niang, an associate professor in French and Francophone Studies, to create a documentary investigating Afro-French womanhood by exploring the lives of seven influential women of African and Caribbean heritage from diverse professions and socioeconomic backgrounds to shed light on a multicultural France. Find out more.

Hima Tammineedi, a graduate student in the School of Computer Science, has been named to the 2020 Class of Schwarzman Scholars, a highly competitive graduate fellowship program inspired by the Rhodes Scholarship that features one year of study at Tsinghua University in China. He is the second CMU student to be named a Schwarzman Scholar. Launched in 2016, the program prepares future global leaders to meet the geopolitical challenges of the 21st century. During their year of study, the world's best young minds explore the economic, political and cultural factors that have contributed to China's growth as a global power. Tammineedi, who will earn a master's degree in machine learning in May 2019, will study public policy as a Schwarzman Scholar. He is one of 147 students worldwide selected for the program from more than 2,800 applicants. 
The School of Computer Science has named seniors Tanvi Bajpai and Serena Wang recipients of its 2018 Mark Stehlik SCS Alumni Undergraduate Impact Scholarship. The award recognizes undergraduate students for their commitment and dedication in and out of the classroom.
Bajpai has conducted research with Ramamoorthi Ravi, the Andris A. Zoltners Professor of Business, and Rohet Tolani, Distinguished Professor in SCS and the Tepper School of Business. In summer 2017, she interned at Microsoft, and this past summer she traveled to the University of Maryland to work on research with Samir Khuller, the Distinguished Scholar Teacher and Professor of Computer Science. Bajpai believes her biggest achievement at CMU was being a teaching assistant for a series of computer science and discrete math classes.
Wang has been a teaching assistant every semester since her sophomore year, and has been involved with ScottyLabs and Women@SCS since she was a freshman. She has also performed research on provable security and privacy with SCS Assistant Professor Jean Yang, and developed a passion for entrepreneurship while participating in the Kleiner Perkins Engineering Fellows Program. Wang believes the most incredible opportunity she's had at CMU was organizing TartanHacks, a CMU-wide hackathon.