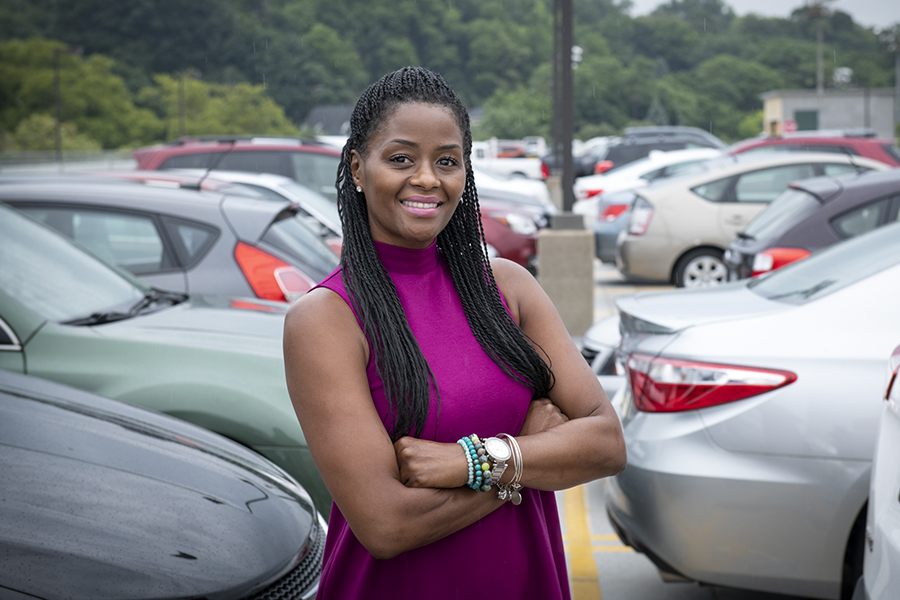 August 14, 2018
Porter Drives Parking at CMU to Next Level
By Kelly Saavedra ksaavedra(through)cmu.edu
Michelle Porter has always been driven to succeed.

She arrived at Carnegie Mellon University in 2003 to work in the Office of General Counsel. A single mother of two, Porter earned her bachelor's degree in business management while working full-time at the university.

After three years as an administrative assistant, Porter felt ready to take on more responsibilities. When a managerial position opened in Parking and Transportation Services, she applied for the job and was accepted.

"My first plan of attack was just to learn everything I could about the job. I used to work 14-hour days here, just learning what's involved and what we could do better," she said.

Porter has since completed a strenuous program through which parking professionals earn their Certified Administrator of Public Parking (CAPP) credential. CAPP certification is respected worldwide as the leading designation in her industry.

"Parking is not a career where people say, 'Oh, I want to grow up and be a manager of parking,'" she said. "I think it's something you just jump into, and once you're in it, there's so much involved that you don't get out. You've invested too much of yourself."

When she first joined the team, Parking and Transportation Services consisted of a parking security officer and a garage manager. Today, she manages a staff of 12.

Summer is their busiest time of year. The parking enrollment period ends in May, kicking into gear the tedious process of figuring out who's going to park where in the upcoming academic year, and ordering and distributing more than 2,600 permits.

Making things even more challenging are the logistics surrounding several large construction projects on campus. When ground was broken for the Tepper Quad in Morewood Lot, Porter and her team had to find parking for 450 people whose spaces were eliminated.

"I think we are all creatures of habit, and when you're used to a daily routine, you become somewhat anxious when it is disrupted," Porter said. "I know I cannot make everyone happy, but I, at least, want to try, and I want to let people know that I do care."

Porter spends a lot of her time outside of work supporting her children in their athletic pursuits. Her son graduated from St. Francis College in Brooklyn, New York, and is preparing to play professional basketball overseas. Her daughter, who also plays basketball, is now a sophomore at the University of Cincinnati.
Have a suggestion for Staff Spotlight? Send it to piperweekly@andrew.cmu.edu.