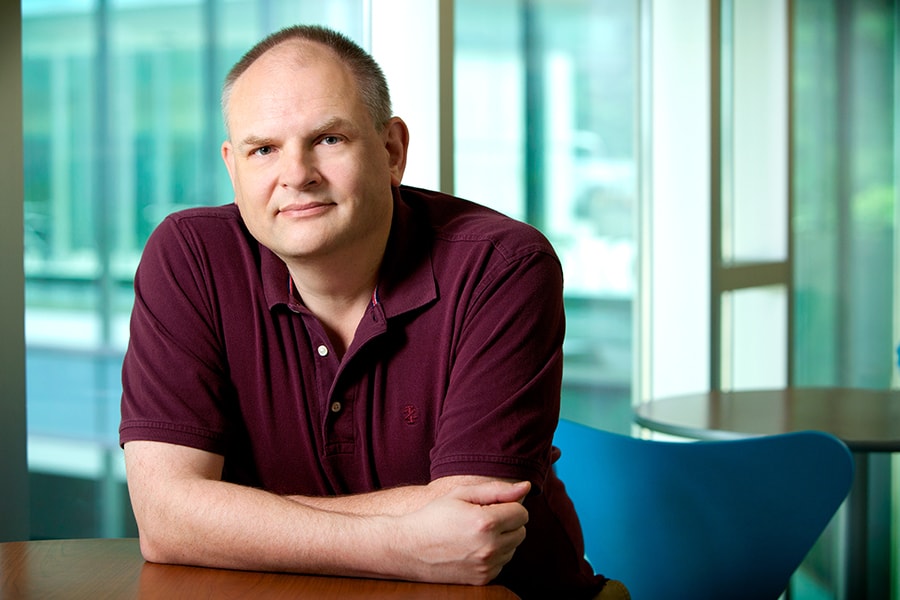 August 29, 2018
Personal Mention
Andrew W. Moore will step down as dean of the School of Computer Science and as a professor of computer science and robotics at the end of the calendar year. Moore, who said he is accepting a new professional opportunity, joined the Carnegie Mellon faculty in 1993. Known for his expertise in artificial intelligence and robotics, Moore has pushed to increase the size and diversity of SCS's student body, in response to the overwhelming demand for the school's graduates. Women have reached parity with men in the last three incoming classes of undergraduates and the size of the incoming class has increased from 139 in 2014 to a record 211 this year. New undergraduate degrees in computational biology and artificial intelligence have been established under his leadership, and he also has led the creation of a CMU AI initiative that now includes more than 200 faculty from across campus working together on some of today's most pressing issues. President Farnam Jahanian said Moore's impact on CMU and Pittsburgh cannot be overstated. "Andrew Moore has been passionate about the impact of technology on society and a leader in the way technology enhances people's lives. At this pivotal time for both the School of Computer Science and Carnegie Mellon, we will make sure the momentum he built will continue," Jahanian said. Find out more.

Wendy Arons, professor of dramatic literature in the School of Drama, has received the 2018 Association for Theatre in Higher Education/American Society for Theatre Research Award for Excellence in Digital Scholarship. She was honored for her work, "Lessing's Hamburg Dramaturgy: A New, Complete, and Annotated Edition," which is the first version of Lessing's seminal theater essays to be translated into English in its entirety, complete with annotations, and which has been published digitally by MediaCommons Press. "Our translation includes the entire text — all 104 essays plus Lessing's notes and drafts," she said. Her work with collaborators Natalya Baldyga and Sara Figal was a labor of love for more than 10 years and will be published by Routledge Press in early 2019. The work is currently online.

Kit Needham, director of the startup incubator Project Olympus, has received an Alexa Innovation Fellowship to serve as a resource to help students start companies that integrate voice with their technology.  Needham will be travelling to Amazon headquarters in Seattle for two days of training. She will receive funding and Alexa devices and hardware that can be used to help startups add voice interfaces to their technologies. In addition to her role at CMU, Needham is an advisory board member of Chatham University's Center for Women's Entrepreneurship and adjunct faculty in their MBA program. She also provides consulting services to promote economic growth to chambers of commerce, individual entrepreneurs, and non-profit organizations. Needham joins Ph.D. student Ran Zhao as an Alexa Fellow. Zhao received an Alexa Graduate Fellowship last year. Find out more. 

Professor Daniel Oppenheimer will be the guest speaker at the Carnegie Science Center's Café Scientifique at 7 p.m., Monday, Sept. 3. In his talk, "A Dozen Short Studies in Judgement and Decision Making," Oppenheimer will speak about how judgements can be influenced by irrelevant information, and how people's decisions can be easily manipulated. During his presentation, he will share some of the highlights of what he has learned, and explore some of the most exciting findings currently being investigated in his lab. Oppenheimer, who has joint appointments in psychology and decision sciences, studies judgment, decision making, metacognition, learning and causal reasoning, and applies his findings to a diverse array of domains, such as charitable giving, consumer behavior, education and electoral outcomes. Register for the event.

Robert Cavalier wrote an article about cities as centers for deliberative democracy for the blog Public Agenda. In his piece, Cavalier says whether dealing with climate change, immigration or even trade, cities and metropolitan areas have taken initiatives and formed networks to address pressing social and economic issues. Cavalier is a teaching professor emeritus in the Department of Philosophy, and is currently the director for the department's Program for Deliberative Democracy, which won a 2008 Good Government Award from the Pittsburgh League of Women Voters. Read Cavalier's piece.