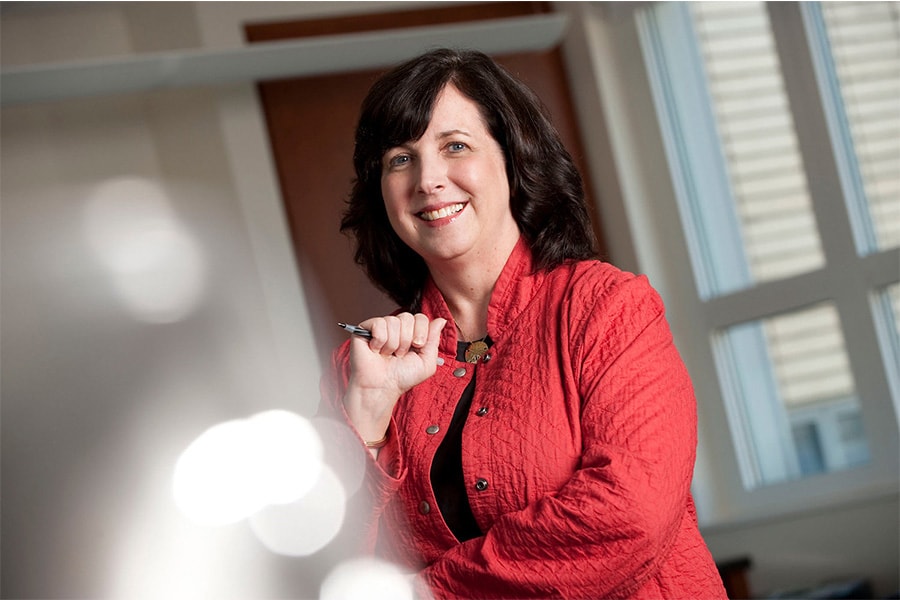 August 01, 2018
Personal Mention
Linda Argote has received the Joseph E. McGrath Award for Lifetime Achievement in the Study of Groups from INGRoup, the interdisciplinary organization for group research. Argote's research focuses on organizational learning and knowledge sharing within and between teams. She publishes frequently, often with fellow faculty at the Tepper School, on topics such as transactive memory, group processes and performance, social identity, and knowledge and communication networks. "It's gratifying to see Linda recognized for her pioneering research on groups and teams as the recipient of the Joseph E. McGrath Award," said Tepper School Dean Robert Dammon. "This prestigious award highlights Linda's path-breaking research and demonstrates her extraordinary reputation in the field of organizational behavior." In recent years, Argote has been recognized as a distinguished scholar by the Strategic Management Society, the Institute for Operations Research and the Management Sciences, and the Academy of Management, which also named her a fellow in 2013. As part of the award, Argote is a lifetime member of INGRoup and will present at its 2019 conference in Portugal next summer.

Angela Campbell has joined the Center for Student Diversity and Inclusion as its first executive director. She will provide critical leadership for the center's team and initiatives, and continue to build the innovative partnership between the Division of Student Affairs and the Office of the Vice Provost for Education. Campbell comes to CMU from Cabrini University, where she was assistant dean for the School of Education, assistant professor of education, and inaugural co-director of the Center for Urban Education, Equity and Improvement. In her various roles, she has led faculty development seminars on racial and ethnic identity development, micro-aggressions, racial and gender socialization and inter-cultural competency trainings. She has facilitated workshops on restorative justice, stereotype threat, inter-racial/ethnic healing, leading effective diversity and inclusion efforts, and women's leadership and empowerment. Campbell earned her Ph.D. in urban education with an emphasis on the social context of education and gender identity development from Temple University. Find out more.

Anna J. Siefken has been named the Wilton E. Scott Institute for Energy Innovation's inaugural executive director. Previously, Siefken was the institute's associate director for Innovation and Strategic Partnerships, a role in which she deepened engagements and developed an innovative partnership strategy for the Scott Institute that promotes energy-related collaboration with industry, government, nongovernmental organizations, foundations and other universities. "I am looking forward to further amplifying the Scott Institute's role in the energy space, forging new strategic partnerships and startups and helping to drive initiatives integral to the Scott Institute's mission and vision," Siefken said. Siefken also is an adjunct professor in the Heinz College, where her recent work focuses on creating a "Smart Data Utility" in Pittsburgh. Working with the City of Pittsburgh and the major utilities in southwest Pennsylvania, she advised students in the Master of Science in Public Policy and Management program as they developed a deployment strategy that maps Pittsburgh's underground infrastructure. Find out more.


Linda Babcock was featured in a special issue of the Negotiation and Conflict Management Research journal that celebrated the achievements of the International Association for Conflict Management's Rubin Award recipients. Babcock, who received the award in 2007, was featured in a paper titled "Linda Babcock: Go‐getter and Do‐gooder," which was written by CMU's George Loewenstein and Harvard University's Max H. Bazerman, Iris Bohnet and Hannah Riley Bowles. The paper highlights Babcock's contributions to diverse lines of research, her tireless and effective efforts to put the insights of her research into practice and the impact she has had on the co-authors' lives. Babcock is the James M. Walton Professor of Economics in the Dietrich College of Humanities and Social Sciences and the Heinz College and head of the Department of Social and Decision Sciences. Read the paper.


Associate Professor of Chemistry Maria Kurnikova is co-organizing this week's Ionotropic Glutamate Receptor Retreat in Pittsburgh. Eighty scientists from around the world will be attending this annual event for researchers who study all aspects of glutamate receptor structure, function and regulation. Commonly found on neurons, glutamate receptors play a role in learning, memory and neurodegenerative disease. Joining Kurnikova as a co-organizer of this year's conference is University of Pittsburgh Professor of Neuroscience and Psychiatry Jon Johnson. The conference is being co-sponsored by the CMU Chemistry Department, the joint CMU/Pitt Center for the Neural Basis of Cognition and Pitt's Department of Neuroscience and Brain Institute.

Kim Bittner has been named manager of CMU's Coulter Welcome Center in the new Tepper building. Currently a receptionist in the Office of Undergraduate Admission, Bittner will begin her new role Aug. 20. "Kim's role in Admission made her uniquely qualified to become the manager and work with visitors ranging from prospective undergraduate and graduate students and families, to returning alumni, corporate partners, donors, prospective employees and the many guests that will be frequenting the Tepper building," said Beth Wiser, director of visitor experience at CMU. Bittner, who had 13 years of customer service before joining the Office of Admission, was recently the subject of a Staff Spotlight in the Piper Weekly.