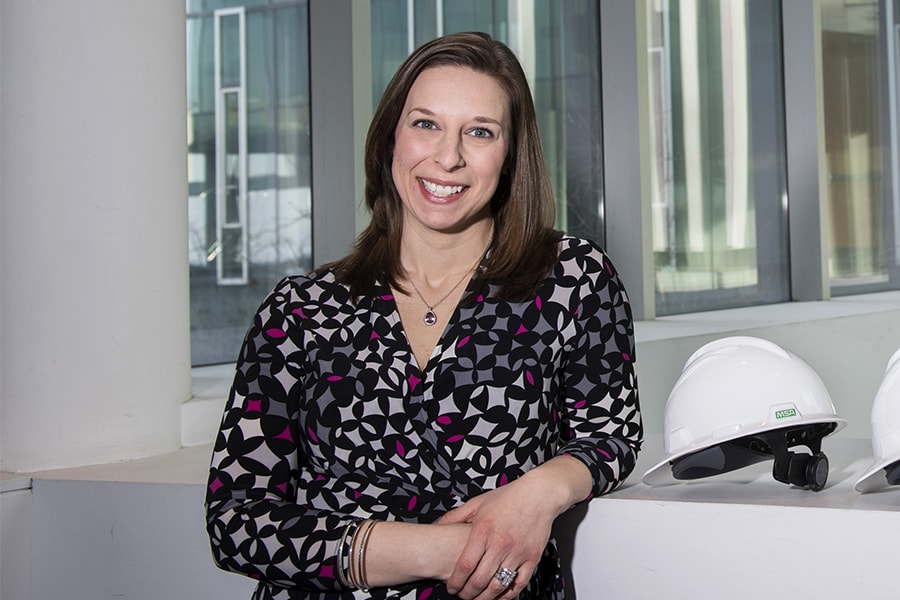 April 11, 2018
Safety Is No Accident for Cicco
By Kelly Saavedra ksaavedra(through)cmu.edu
A safe work environment is no accident for Rebecca Cicco; it is her life's work.
Cicco manages workplace safety for faculty, staff and students at Carnegie Mellon, whether they are in the office, in the laboratory or out in the field.
Her many responsibilities in the Environmental Health and Safety Department include developing and implementing safety programs, conducting ergonomic evaluations, ensuring people have adequate training and protection, and conducting various types of safety inspections. 
Cicco also is in charge of placement and maintenance of CMU's automated external defibrillators (AEDs) for treating sudden cardiac arrest.
"I really like the people at CMU. I like the relationships I've been able to build with all the different departments on campus, and the friends I've been able to make," she said. "Everyone's end goal is to create a safe environment for visitors and for people who work on campus every day."
Safety training is available online to anyone with an Andrew ID. Among the most popular courses are defensive driving, safe lifting practices, shop safety and the proper use of hand and power tools.
"Our online courses meet the needs of many students, faculty and staff who prefer to be able to take the training at their convenience," Cicco said, "but classroom courses are also available upon request."
With Spring Carnival just around the corner, Cicco and her colleagues have begun weekly meetings with the students who will be participating in Buggy and Booth.
"We assist them with their safety planning and design," Cicco said. "During Build Week, our department rotates through Midway making sure the students are working safely, using tools correctly, and disposing of their items properly."
Prior to CMU, Cicco worked for U.S. Steel Corporation where she traveled to all of the company's locations in the U.S. and Europe to conduct safety audits and help implement the company's corporate safety program.
Unlike most people in many other kinds of jobs, Cicco never actually sees the results of her efforts.
"I don't know if my conversation with someone about safety glasses has prevented them from getting an eye injury," she said. "But I do like knowing that I'm getting people to think more about safety and to integrate safety into their work environment."