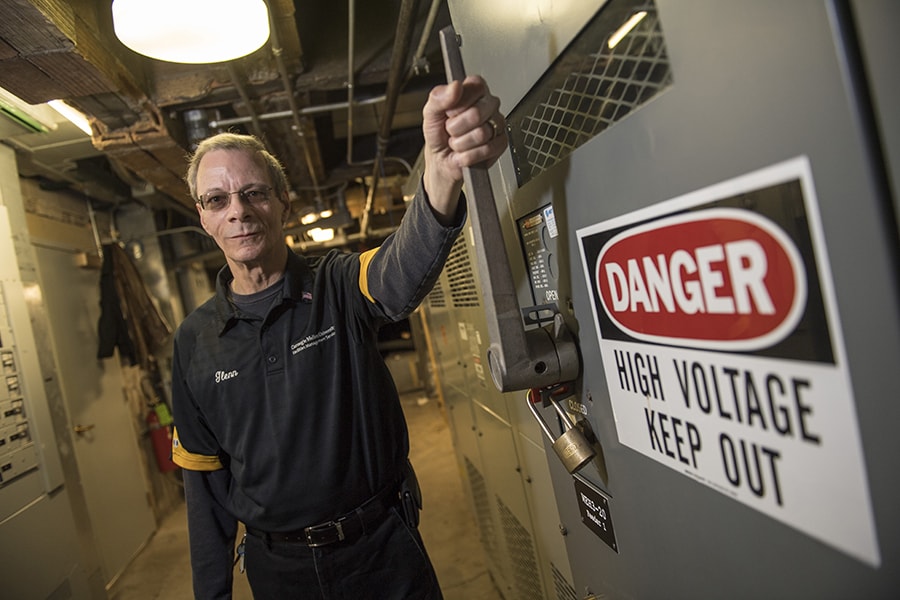 April 17, 2018
Gross Keeps Spring Carnival Running
By Bruce Gerson bgerson(through)cmu.edu
Glenn Gross and his team have provided the electrical power for Spring Carnival for the past 23 years.
Gross joined CMU as an electrician in 1995. Spring Carnival was his first major assignment.
"It was an opportunity to prove myself," said Gross, who was promoted to electrical supervisor for Facilities Management and Campus Services in 2006. "I quickly became the temporary power specialist for campus events. If they needed power I would figure out where to tap it from and how to get it where it was needed."
Today, the main source of electrical power for Spring Carnival comes from the College of Fine Arts electrical room. Gross creates three, 200-amp breaker boxes, or "panels," that he mounts on dollies to transport where needed.
"We could roll these temporary panels anywhere, and then we have cable to connect to the source, and the students have power where they need it. It's pretty much have power will travel," he said.
Prior to Spring Carnival, Gross, who said he feels responsible keeping the students safe, puts together a training class on the basics of wiring. His electricians teach the class on weekends.
"The class teaches them how to work with wiring, plugs, lights and switches safely and how to do things properly. It provides a teachable moment that will help students during carnival and for the rest of their lives," he said.
Gross assigns work and supervises 14 electricians who cover the campus. He meets with them every morning to review assignments, upcoming events, special projects and safety protocols.
"As a supervisor, I feel responsible for keeping my guys engaged and safe," Gross said. "We have a terrific crew. As a team there is nothing on this campus that we can't handle."
In his spare time, Gross enjoys fishing and attending antique car shows.
"I have a 1969 red Ford F-100 pick-up truck that I love to tinker with," he said. "I've had it for 30 years. I keep it running."
Just like Spring Carnival.