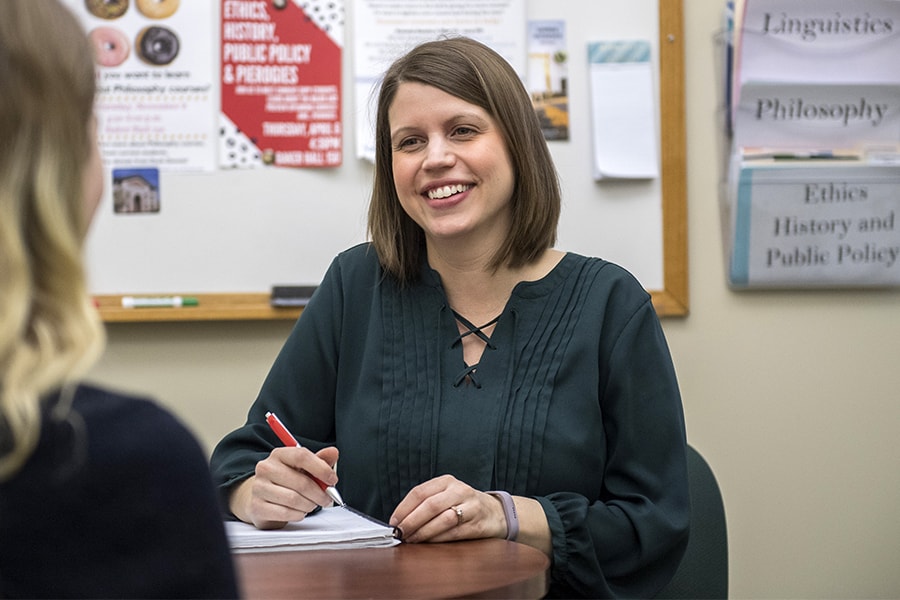 April 24, 2018
Dandoy Is a Guiding Light
By Kelly Saavedra ksaavedra(through)cmu.edu
Correy Dandoy is a mentor to young people on and off the job.

As coordinator of undergraduate programs in CMU's Department of Philosophy, she advises and helps recruit students in the department's four majors: philosophy; linguistics; logic and computation; and ethics, history and public policy.

"No two students are alike," Dandoy said. "Some know they want to go to law school. Some know they want to go into business. Some have no idea what they want to do. So, it's figuring out what they're passionate about and how to apply a humanities foundation toward putting that passion into action."

Dandoy said employers are seeking out philosophy graduates today more than ever, and the range of careers available to students is as unlimited as their imagination.

She keeps a poster on her door of people who many might not know studied philosophy. The list of names ranges from past U.S. presidents to Pope John Paul II and includes well-known comedians, composers, athletes, authors and activists.

"I tell students that in philosophy, or in any of our majors, what they get is a breadth of education in being able to think critically about problems, to look at things from different perspectives, to write well and to argue well," she said. "They have to forge their own path."

Dandoy also serves as a communications coordinator, writing and sharing student success stories, managing the department's website, Facebook and Twitter accounts, and preparing a biannual newsletter.

Off the job, Dandoy acts as a big sister to a 13-year-old in Pittsburgh's Big Brothers Big Sisters program. She takes her "little sister" to see the Pirates and the Penguins play, to local museums and to other fun places around the city.

"My little sis was very nervous about starting high school, but I told her how scared I was, too, when I was her age. We had great conversations about the value of putting yourself out there even though you might feel uncomfortable at first," Dandoy said. "She is much more outgoing now, and I am happy to see she has made a lot of new friends."

Dandoy is a member of the program's advisory board in Washington County. In 2017, she won the Washington County Board Member of the Year Award and was recently named a 2018 Western PA Rising Star Honoree by the Get Involved organization.

"I love being on the Big Brothers Big Sisters advisory board because I have a secret passion for event planning," she said.

Dandoy's passion for event planning has risen to a new level this year. She and her husband are preparing to welcome their first child in May.
Have a suggestion for someone to feature in Staff Spotlight? Send your ideas to PiperWeekly@andrew.cmu.edu.