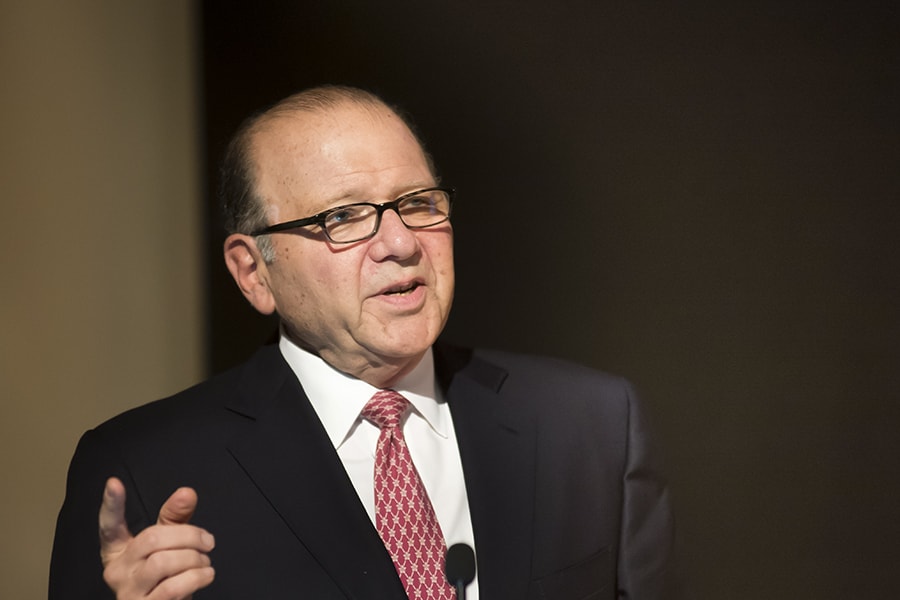 April 18, 2018
Personal Mention
Carnegie Mellon University President Emeritus Jared L. Cohon is this year's recipient of the Pennsylvania Environmental Council's Lifetime Achievement Award. Cohon, director emeritus of CMU's Wilton E. Scott Institute for Energy Innovation and University Professor of Civil and Environmental Engineering and Engineering and Public Policy, is being recognized for his devotion to promoting innovative environmental efforts that enhance the quality of life in western Pennsylvania. Under his leadership, CMU offered its first environmental ethics course, built the first LEED-certified residence hall in the world and pledged to purchase 100 percent of the university's electricity from renewable energy sources. Before joining the university, Cohon was the dean of Forestry and Environmental Studies at Yale University (1992-1997), and was a faculty member and administrator at Johns Hopkins University (1973-1992). He served as chairman of the U.S. Nuclear Waste Technical Review Board and coordinated a U.S. National Academy of Sciences study on the hidden costs of energy. Cohon will be honored at the Western Pennsylvania Environmental Awards Dinner and Awards Ceremony on May 24. Learn more.

Lenore Blum, Distinguished Career Professor of Computer Science, was one of six women honored at the 2018 Women of Spirit Awards Gala April 5 at Carnegie Music Hall. Established by Carlow University in 1993, the Women of Spirit Awards recognize outstanding women who exemplify the university's mission of providing access to under-represented groups and closing educational, socioeconomic and leadership gaps, particularly those that disproportionately affect women. Blum has long been a champion of greater representation of women in computer science. She helped transform the culture of Carnegie Mellon, creating the Women@SCS program to provide support for women in what was once a male-dominated computer science program. CMU's School of Computer Science has since become a leader in gender diversity, with nearly half of the last two incoming undergraduate computer science classes comprised of women.

Google has named Gierad Laput, a Ph.D. student in the Human-Computer Interaction Institute, as one of 39 Google Ph.D. Fellows, and one of three fellows in Human-Computer Interaction for 2018. Google's fellowship program recognizes and supports outstanding graduate students doing exceptional research in computer science and related disciplines throughout North America, Europe and the Middle East. Laput's research explores novel sensing for mobile and wearable computing, smart environments and the internet of things. His work on novel sensing won several Best Paper Awards, and his work on EM-Sense won the prestigious Fast Company Innovation by Design Award. He is editor-in-chief of XRDS, the Association for Computing Machinery's premiere magazine for students. Find out more.

Joseph Zoller was named the Carnegie Mellon Student Employee of the Year at the Student Employee Appreciation Lunch on April 11. Zoller has worked for Academic Development as an EXCEL Mentor/Supervisor for the past two years. He is a mathematical sciences major from San Jose, Calif., who will earn his bachelor's degree this May. In the fall he will be attending UCLA to pursue a Ph.D. in biostatistics. "His passion and enthusiasm have been an inspiration to not only his students and mentees, but to everyone around him," said his nominator Jessica Owens of Academic Development. "Joseph has worked with more than 97 students during his four semesters in a course where it is rare to find anyone to lead, let alone exhibit passion and enthusiasm. Joseph has done an outstanding job of inspiring students in his sessions to want to learn the material."