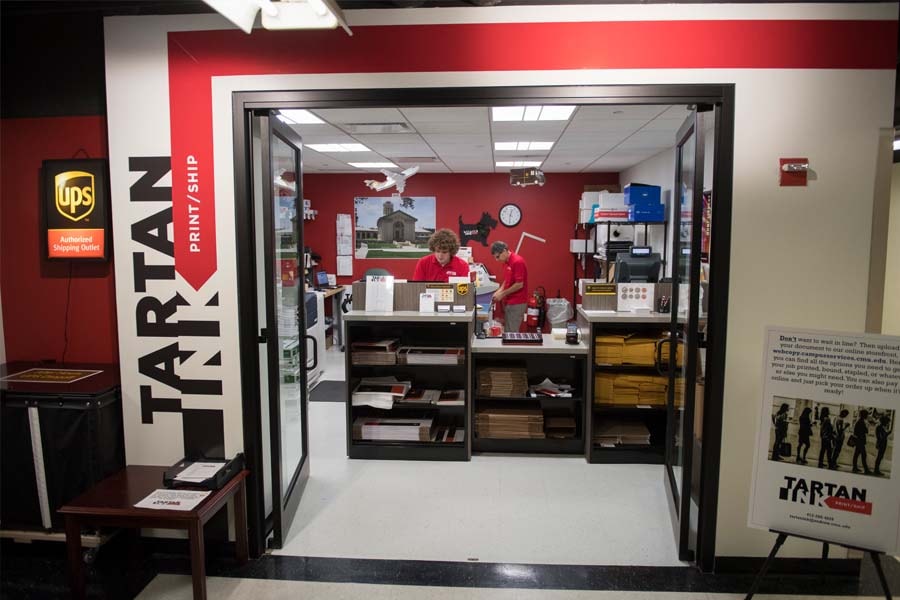 September 19, 2017
Tartan Ink a One-Stop Shop for Printing, Copying, Shipping Needs
By Bruce Gerson bgerson(through)cmu.edu
After more than 12 years at 6555 Penn Ave. near Bakery Square, Campus Printing and Mailing Services has joined University Copy Centers to form Tartan Ink, a new storefront on the lower level of the Cohon University Center.
Tartan Ink, which is in the space previously occupied by FedEx/Kinkos, offers students, faculty and staff many printing and copying services. Customers can order business cards, flyers, large format posters, university letterhead and envelopes, passport photos and postcards. Tartan Ink also offers copying and lamination services, and is a drop-off location for shipping packages via UPS.
Printing and large copying jobs are produced at the Penn Avenue location, but orders are taken at the storefront.
"It's nice to be back on campus because I see people I haven't seen for a while, and that generates business," said Dan Tyson, manager of Campus Printing and Mailing.
Campus Printing and Mailing moved to Penn Avenue due to campus construction in 2005. The Gates Center for Computer Science now occupies the space where campus printing resided.
"Despite being off campus, we actually grew the business. We kept our customers, and customer loyalty brought us new business," said Tyson, who is optimistic that business will continue to increase.
"Tartan Ink is going to take off. It's already been successful and it has only been open for a couple months," he said. "We missed the student traffic before, and now we're getting that with the storefront. Being in the Cohon Center is a very convenient location for people."
Andrea James, associate sports information director for the Department of Athletics, likes the personal touch Tartan Ink provides.
"If I have a question about a printing project I can walk to the store and get answers easier than trying to explain what I want in an email," she said. "In the past we've had campus printing do standard jobs like business cards, postcards and small booklets, but now we're planning to add large posters thanks to the location of Tartan Ink."
Patricia Herbster manages the copy center side of Tartan Ink. She and Tyson bring 70 years of experience to the operation.
"Many people didn't realize the copy centers — one at Penn Avenue and one in the Tepper School of Business — still existed," she said. "We have more of a visual presence at Tartan Ink, and there's more walk-up business. We're working with a lot of student groups that we had not worked with before. Business is looking good."
Jon Beck, director of marketing for CulinArt, likes the customer service he received at the store.
"James (Ward), Jerry (Segal) and the Tartan Ink staff accommodated all of my unique and demanding needs, and produced everything from menu boards, to brochures and stickers," Beck said. "They also are very personable and remembered all of my preferences, suggested great options and even caught my mistakes."
Like Tyson, Herbster said she is grateful for the opportunity to return to campus.
"Special thanks should be given to our Vice President of Operations Rodney McClendon. He believed we could open the center and maintain the quality of service to our students, faculty and staff," she said.
Tartan Ink is open from 8 a.m. – 8 p.m., Monday – Friday.