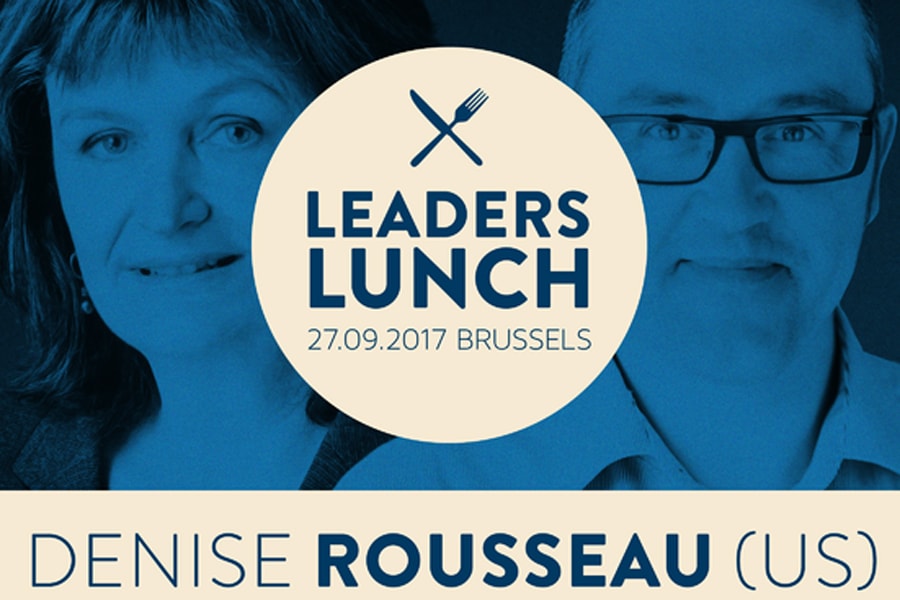 September 19, 2017
Personal Mention
Denise Rousseau, professor of organizational behavior and public policy at Heinz College of Information Systems and Public Policy and the Tepper School of Business, will be a keynote speaker at "Leaders Lunch: Trust at Work," Sept. 27 in Brussels. Rousseau's work centers upon evidence-based management and workers' impact, HR strategies, changing the psychological contract and the effects of organizational culture on performance. The program will discuss why trust matters at work, how to build high-trust organizations and how to integrate trust into HR practices. The lunch program is sponsored by wiskeys: keys to the future of work, CEBMa and Balance Human Resources.

Donald K. Carter, director of the Remaking Cities Institute, is on a speaking tour of Scotland and England. He will be talking about his new book, "Remaking Post-Industrial Cities: Lessons from North America and Europe" (Routledge, 2016). The book examines the transformation of 10 post-industrial cities after the precipitous collapse of big industry in the 1980s on both sides of the Atlantic. It features in-depth case studies of five cities in North America (Buffalo, Detroit, Milwaukee, New Orleans and Pittsburgh) and five cities in Europe (Bilbao, Liverpool, Rotterdam, Ruhr Region and Turin). The book documents their recovery in the 30 years from 1985 to 2015, and concludes with "lessons learned."

Kathy M. Newman will be featured in a panel discussion, "BANNED: Art, Censorship and the First Amendment," at 4:30 p.m., Friday, Sept. 22 at the Casey Droege Cultural Productions, 937 Liberty Ave. This discussion is presented by the Arts and the Law Committee of the Allegheny County Bar Association, ACLU of Pennsylvania and City of Asylum. Newman is an associate professor of English. Joining Newman on the panel will be Tuhin Das, writer for City of Asylum, and Sara Rose, senior staff attorney for the ACLU of Pennsylvania.

Anupam Datta, associate professor of electrical and computer engineering, is leading a $3 million National Science Foundation-funded project to improve automated decision-making systems, which affect everything from online advertising and health care industries to criminal justice. "A key innovation of the project is to automatically account for why an automated system with artificial intelligence components exhibits behavior that is problematic for privacy or fairness," said Datta, who is based at CMU's Silicon Valley Campus and is a part of CyLab, CMU's Security and Privacy Institute. "These explanations then inform fixes to the system to avoid future violations." Find out more.