September 07, 2017
Ward Puts Authenticity on Stage
By Kelly Saavedra ksaavedra(through)cmu.edu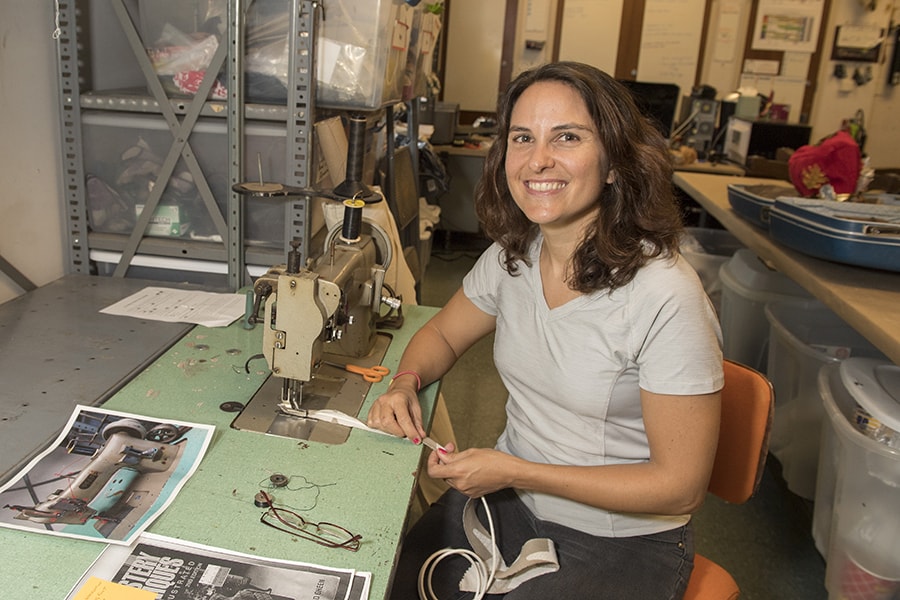 Kristin Ward props up drama students with her artistry and ingenuity.
As a fulltime props coordinator working in the Purnell Center for the Arts, Ward assists students in creating every conceivable item the actors need on stage to achieve their most authentic performances.
"At the moment, we're upholstering furniture for a show set in the Victorian era. But the script calls for an exploding can of tomatoes, and soon I will have to help the students figure out how to make that happen," she said.
Ward fell in love with theater in high school, mostly from a performance perspective. She graduated from Nazareth College of Rochester, where she learned acting, costuming and how to build scenery.
"There are certain ways that you build scenery and you do that over and over again. It's the same with costumes; even when you have different designs, you're using the same set of skills," she said. "With props it's always something different, and that's what I like about it. It allows me to constantly learn and use my imagination."
When she is not working behind the scenes, Ward likes to return to acting. She wrote, produced and performed a one-woman show, "Swan," inspired by Hans Christian Andersen's fairy tale "The Ugly Duckling."
"'The Ugly Duckling' is a story about how the outside world can be so brutal. For me, that hasn't been my experience," she said. "I wanted to create something about learning from others who are different from you, and about sharing and finding commonalities and defining who you are not just by how you were born but how you've been shaped by the world around you."
Ward performed "Swan" at the Pittsburgh Fringe Festival in March, and she will perform it again at 1 p.m. Friday-Sunday, Nov. 17-19, at the Children's Museum of Pittsburgh. She said the message she works to convey through the show is that to find where you belong, you must look with your heart.
"Even if you feel like the odd one out, sometimes you just have to open up, step forward and find your belonging through a little bit of bravery," she said.
Ward feels like she belongs at CMU.
"I like the community feel of Carnegie Mellon University," she said. "I feel like I'm part of something, that we're all on the same team."
Have a suggestion for the Piper Spotlight? Send it to piperweekly@andrew.cmu.edu.