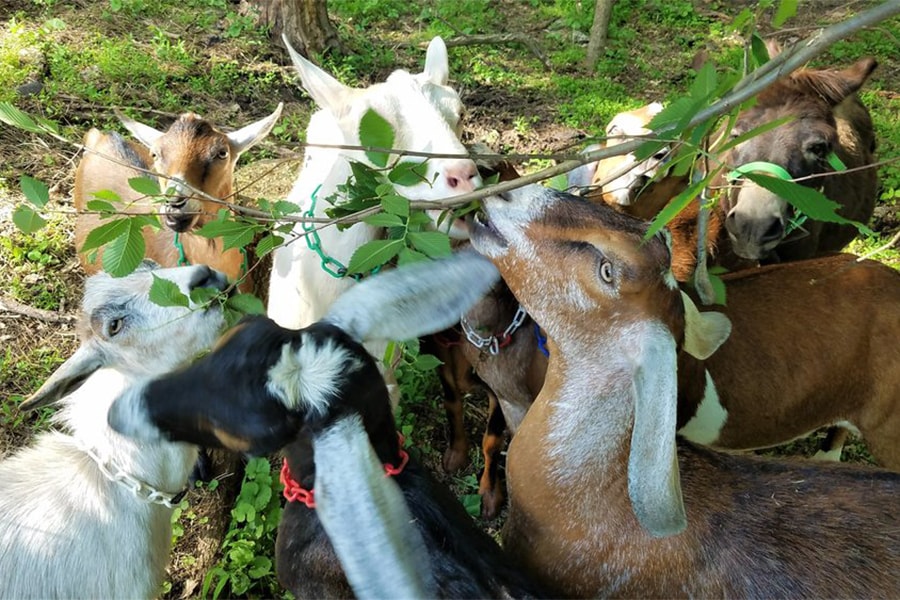 September 06, 2017
CMU Going Green with Grazing Goats
By Bruce Gerson bgerson(through)cmu.edu
Carnegie Mellon University is farming out a landscaping job for the environment's sake.
Goats from Allegheny Goatscape, a herd of four-legged, eco-friendly laborers, will spend about three days and nights on campus, Sept. 13-15, to clear the steep, overgrown hillside between the Gates Center and Purnell Center for the Arts. The area has been invaded by Kudzu vines, which are strangling the native plants and trees.
Steve Guenther, director of operations for Facilities Management and Campus Services (FMCS), said this is a trial program in support of the Green Practices Committee and the university's commitment to a healthy environment.
"Goats do a good job of eating invasive plants and weeds, their hooves are gentle on the ground, not like a heavy piece of equipment, and the end product is fertilizer," said Guenther, who noted the goats' digestive system kills the weeds' seeds.
"We don't want to start spraying that hillside with herbicide. We're hoping the goats will eradicate the area and cut down on the regrowth. It's all part of our commitment to a long-term maintenance plan that may combine goats with manual labor," he said.
David Wessell, FMCS supervisor, said an electric fence will keep the Nubian goats and their protective miniature donkey inside the work area on the hillside. FMCS will install a three-foot-high, green plastic fence with signage around the perimeter of the electric fence to keep onlookers at a distance.
"We'll set it up, and they'll put the donkey and goats in there. About six goats can clear an acre of ground in a week and we have about two-thirds of an acre. So, we're thinking three to four days should do it," Wessell said.
"This is the first time on campus for something like this. This is an ecological approach to general vegetation removal. It's a learning opportunity for the campus community," he said.
Gavin Deming, founder and executive director of Allegheny Goatscape, said he is excited to come to Carnegie Mellon and is glad people are thinking about goats to help landscape difficult, overgrown areas.
"When we use goats we're avoiding using any kind of chemical that goes into the plants, into the ground and into the air. It's surely a benefit if we can avoid pesticides and herbicides at any cost," Deming said. "Also, when you're using goats you're not using excess gasoline and oil for machinery that is often used in trickier landscaping situations."
Deming said it makes sense to take advantage of what goats do best.
"It's a very natural thing for goats to eat nearly any type of plant. So, why not make use of what they do naturally," he said.
The best place to view the goats at work will be from the Pausch Bridge.
"We will be putting up signs on the bridge. There's a perfect view from there," Guenther said.