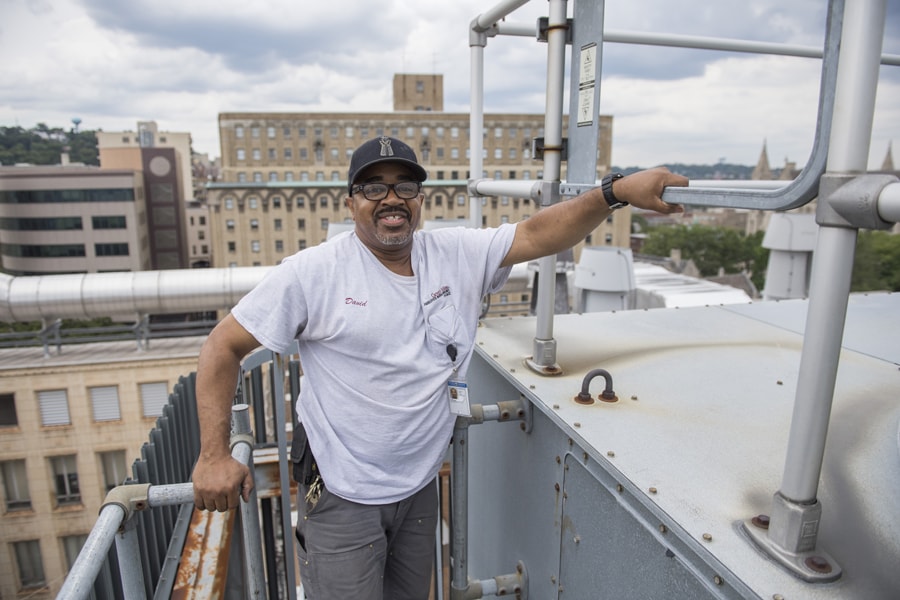 September 13, 2017
From New York With Love, Stubbs Works To Pay it Forward
By Bruce Gerson bgerson(through)cmu.edu
David Stubbs' family reunion in the early 1990s brought him from the South Bronx, New York, to Pittsburgh, where he became part of a second family as an HVAC technician at Carnegie Mellon University.
"We're a close knit group. We help each other," Stubbs said of his fellow craftsmen in Facilities Management and Campus Services (FMCS). "We're related for eight hours a day, so we should have fun at what we do and leave happy."
Stubbs said he gets great satisfaction doing his job well. A typical day for him includes handling heating and air conditioning service calls and performing preventive maintenance on air handling units, fan coils, cooling towers and chillers.
"I love to look at what I've accomplished at the end of the day and leave knowing things are working correctly," he said.
Stubbs joined CMU in 1994, working in the cafeteria kitchen in Resnik Hall. He moved on to catering and then to the FMCS storeroom before becoming an HVAC apprentice. He earned his HVAC certification two years ago.
"When I first took this job I had a fear of the machinery. Now I walk up to the machines without hesitation. I'm sure of what I'm doing. I'm confident," he said.
Stubbs is based in the Software Engineering Institute and works in the FMCS Mellon Zone, which includes several campus structures, including Mellon Institute, four buildings on and near South Craig Street, and the Pittsburgh Technology Center on Second Ave.
"I love the freedom of being able to work independently," he said.
Stubbs spends his free time with his wife and 9-year-old daughter. He hopes his daughter will attend CMU.
"There's a scripture in the Bible that says 'a man who works and doesn't leave an inheritance, lives for not.' I hope to leave her a CMU education. That will sign her ticket for the future," he said.
Stubbs said he is very proud of his more than 20 years working at Carnegie Mellon.
"CMU has been instrumental in my life. I came from New York and I came to CMU, and I've been here ever since," he said.
Have a suggestion for the Staff Spotlight? Send it to piperweekly@andrew.cmu.edu.