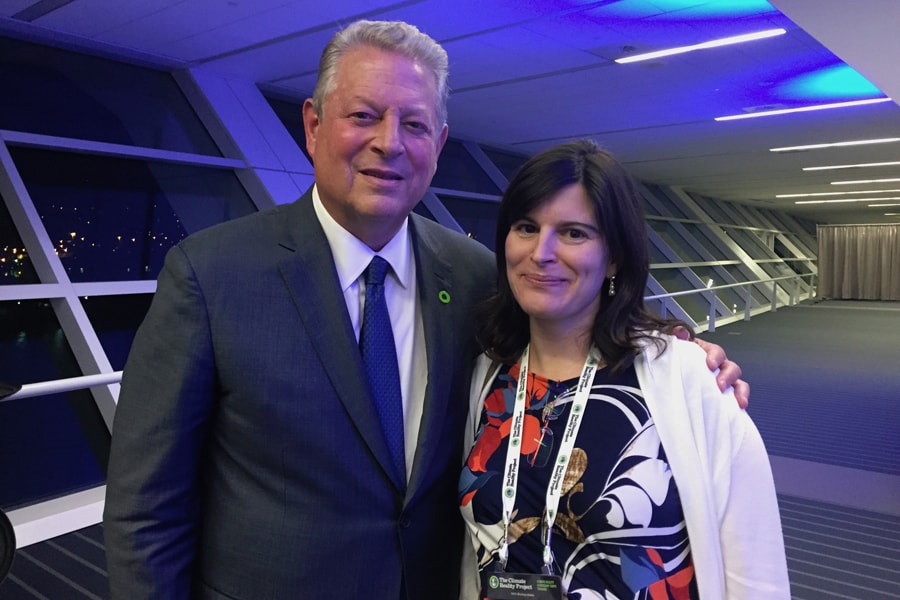 October 25, 2017
Personal Mention
Inês Azevedo, professor of engineering and public policy and co-director of CMU's Climate and Energy Decision Making Center, participated in a panel discussion at the 36th Climate Reality Leadership Corps Training, Oct. 17-19, in Pittsburgh. Azevedo's panel, moderated by Heinz College Adjunct Professor Matthew Mehalik, discussed the future of energy systems in our region, how cities can combat climate change with innovative solutions and how others can steer decision-makers toward a more sustainable future. Climate Reality founder and former U.S. Vice President Al Gore provided training on the understanding of climate science, communicating climate change and how to inspire others to take action. CMU President Farnam Jahanian and Anna J. Siefken, associate director of Innovation and Strategic Partnerships for the Scott Institute for Energy Innovation, also attended the conference.

Jennifer Wegner has been named executive director of the Tepper School's Undergraduate Business Administration program. As executive director, Wegner will report to Burton Hollifield, the PNC Professor of Finance, professor of financial economics and head of the Undergraduate Business Administration program. Wegner joins the Tepper School after more than a decade at the University of Michigan's College of Engineering, where she held various positions in the Office of Student Affairs. She earned a bachelor's degree in communications from Oakland University and a master's degree in higher education student affairs administration from the University of Vermont. She recently earned her doctorate in higher education administration from New England College. Find out more. 

Matthew Mason, a researcher renowned for his work in robotic manipulation, is the winner of the 2018 IEEE Robotics and Automation Award, one of the top awards in the field of robotics. The IEEE awards committee cited Mason, professor of computer science and robotics and a former director of CMU's Robotics Institute, "for scientific and educational contributions to the mechanics of manipulation enabling real-world robot autonomy, and for leadership in robotics." Mason will accept the award at the IEEE/RSJ International Conference on Intelligent Robots and Systems in October 2018 in Madrid. He is the first CMU faculty member to receive the award, which was first presented in 2004. Read more.

Tuomas Sandholm was featured in the October issue of Pittsburgh Magazine. The article, "Chasing Rabbits: Why Tuomas Sandholm Almost Always Wins," discusses the career path of the Carnegie Mellon computer science professor, who is one of the world's leading authorities on artificial intelligence and a championship windsurfer. Sandholm's accomplishments in artificial intelligence have benefited business, security industries and kidney transplantation. His work has centered around the development of algorithms that can sort through data in search of solutions to pressing problems. Read more. 

Virginia Schatz, a 1943 graduate of the School of Music and beloved member of the Carnegie Mellon University family for more than 70 years, died Sept. 22. She was 96.
 
While attending the university, she met her husband, Edward R. Schatz, who also graduated from Carnegie Mellon before becoming a member of the CMU faculty and a senior administrator. Ed Schatz died in 1996.
 
Virginia joined the faculty of the Western Pennsylvania School for the Deaf in 1960 and for many years brought great innovation and energy to teaching music to deaf children. She was one of the longest active members of the Carnegie Mellon Women's Association, which she joined in 1948, and of CMU's chapter of the music sorority Sigma Alpha Iota. She was an original member and fundraising leader of the university's Library Development Board, was an Alumni Association Board member, chaired reunion giving for her class, served as overall reunion giving chair for all classes celebrating during her reunion years, and served on numerous reunion planning committees.

Among her awards, she was honored with CMU's Alumni Service Award, Alumni Distinguished Service Award and the Andrew Carnegie Society Recognition Award.