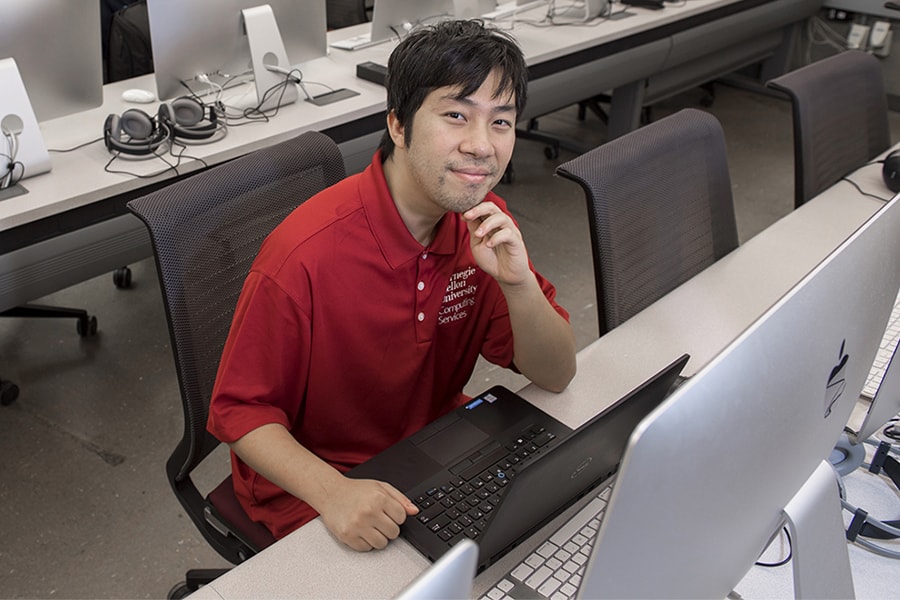 October 18, 2017
Luong Connects with Customers in Supporting Role
By Kelly Saavedra ksaavedra(through)cmu.edu
Everyone is happy when Khoi Luong arrives on the scene.
Luong is a desktop support technician who assists staff members in the Human Resources and Marketing & Communications departments at Carnegie Mellon University.
For the past two years, he has been troubleshooting and problem-solving computer-related issues, connecting users to printers, giving access to shared drives and installing applications.
"Sometimes the problem is as simple as 'I can't login to my computer,'" Luong said. "I like helping people."
Prior to CMU, Luong provided desktop support for an office of eye surgeons. He was on vacation when he got the call from a recruiter about an open position at the university.
"This is the place to be because we are always innovative here, and we're always learning new technologies. I really love it here," he said.
Outside the office, Luong stays up to date on the latest technologies. But his easygoing attitude and unlimited patience are just as important to his success.
"I don't really get stressed out about work much. I approach it from a customer service role," Luong said.
"I try to get to know people and what they do, and I try to think about the situation from their perspective — how frustrated they must be if they can't access their email or access their machine," he said.
"It feels good to help somebody."
Have a suggestion for the Staff Spotlight? Send it to piperweekly@andrew.cmu.edu.