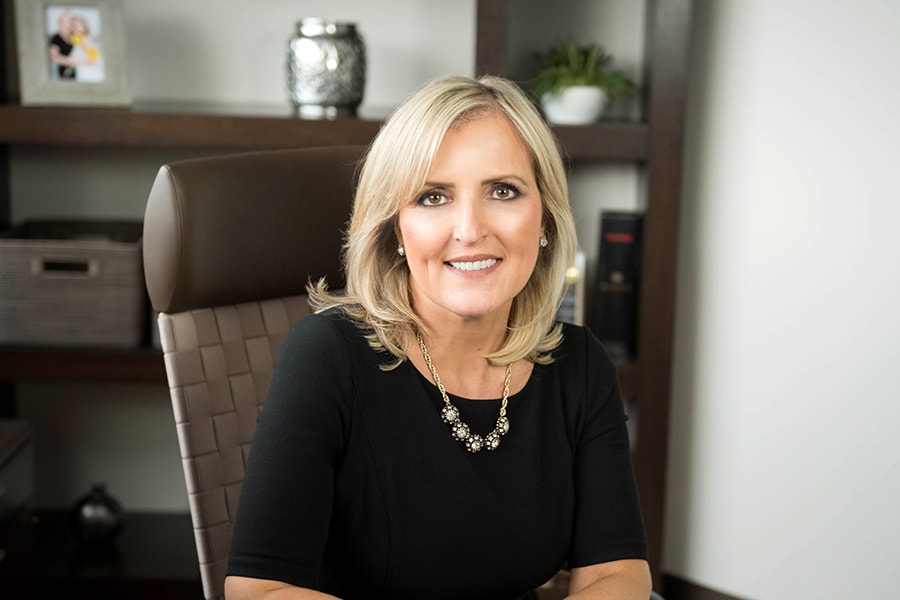 November 08, 2017
Personal Mention


Dena Haritos T​samitis, ​director of the Information Networking Institute (INI), was honored with an award from the Executive Women's Forum (EWF) on Information Security, Risk Management and Privacy at the EWF National Conference on Oct. 25. The award recognizes her leadership and commitment to increasing diversity in the field of information security through a decade-long fellows initiative: the EWF INI Fellowship. Over the past 10 years, the INI and EWF have partnered to offer full-tuition fellowships to underrepresented minority and female graduate students. ​By removing financial barriers to earning a Carnegie Mellon master's degree, the fellowship supports students who would not otherwise have had the opportunity to advance their education. In addition to financial assistance, fellows gain access to the EWF community of mentors who have reached executive levels in their careers. This intense level support has helped to lift these scholars toward success in their careers in information security. Learn more.

Shefali Umrania, a master's degree student in the School of Computer Science, has been named a 2017 fellow by the Association for Computing Machinery's Special Interest Group on High-Performance Computing (SIGHPC). She is one of 12 graduate students worldwide to receive the SIGHPC/Intel Computational and Data Science fellowship. Umrania is pursuing a master's degree in computational biology. As part of her work, she's performing research with Computer Science Professor Tai-Sing Lee in the Center for the Neural Basis of Cognition to understand the computational principles underlying biological vision. Her work uses neurophysiological principles to advance machine learning and computer vision algorithms. Through the fellowship, Umrania will receive $15,000 annually to support her graduate studies. She will be attending SIGHPC's flagship SC17 conference, Nov. 12-17 in Denver.

Jim Daniels' 16th book of poetry "Street Calligraphy" was published by Steel Toe Books. Jim is the Thomas Stockham Baker University Professor of English.  In "Street Calligraphy," Jim, a Detroit native, explores the city of the American Midwest, its concrete, factories, and  graffiti. As poet Afaa M. Weaver said, "It is the beauty of tough beginnings in American cities." Daniels is the Thomas Stockham Baker University Professor of English. Read more.



For the third time, Baruch Fischhoff is co-organizing the National Academy of Sciences Colloquium on the Science of Science Communication. The focus of the seminar, which will be held in Washington D.C. on Nov. 16-17, will be inspiring novel collaborations and building capacity. In addition to Fischhoff, the Howard Heinz University Professor in the Institute for Politics and Strategy and Department of Engineering and Public Policy, Carnegie Mellon will be represented by Interim Provost Laurie Weingart; Granger Morgan, Hamerschlag University Professor of Engineering; Illah Nourbakhsh, professor of robotics; and Wändi Bruine de Bruin, collaborating professor in the Department of Engineering and Public Policy. Learn more and watch a live stream.

Deborah Stine, associate director for Policy Outreach for the Wilton E. Scott Institute for Energy Innovation, will represent CMU at the 2017 United Nations Climate Change Conference, Nov. 10-15 in Bonn, Germany. The conference brings nations together to discuss global warming initiatives and what can be done to advance the goals of the Paris Climate Change Agreement. Stine, who is also a professor of the practice in the Engineering and Public Policy Department, will highlight Carnegie Mellon researcher's work on climate change. Specifically, she'll discuss The Power Sector Carbon Index, which provides an estimate of the carbon dioxide impact of the U.S. electricity industry using publicly available federal and industry sources. The index, which launched in March 2017, was created by Scott Institute researchers, led by professors Inês Azevedo and Constantine Samaras.